Cat finds love after surviving snow, frostbite and a heart condition
Image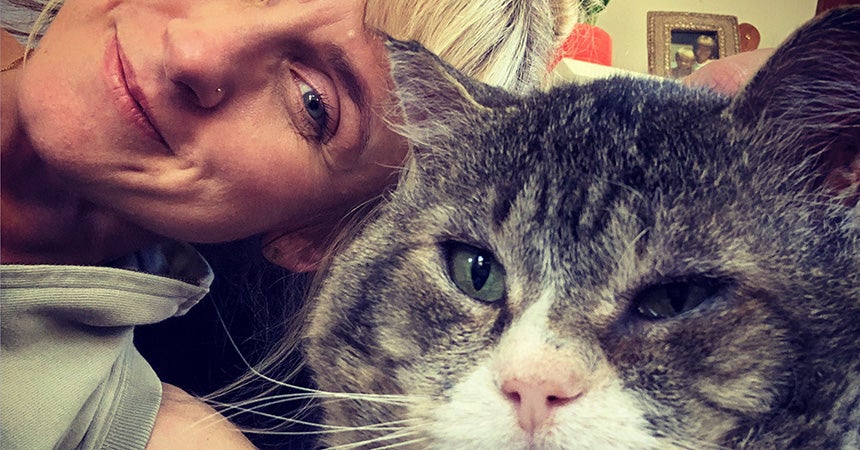 Cat found in snow with severe frost bite, requiring amputation of part of his tail, recovers and goes on to be fostered and adopted into loving home.
By Nicole Hamilton
Cara Haslam was at dinner with her family when she received a call that made her burst into happy tears in the middle of the restaurant. The call from the Best Friends Lifesaving Center in Salt Lake City let her know that the cat she had fostered, Mr. Henry Cheeks, had been adopted.
Cara didn't mind one bit that she got emotional at the dinner table. After all, these were warranted tears of joy, especially considering how difficult Mr. Cheeks' journey to adoption had been.
In fact, there's no telling where Mr. Cheeks would be had he not been rescued one snowy night in December. And it's entirely possible that being brought to a local shelter saved his life.
A hard life outdoors
No one's sure how Mr. Cheeks ended up out in the snow long enough to get a serious case of frostbite on his paws, nose and tail. He didn't have a collar and tag or microchip, and no one came looking for him at the shelter. When found, his legs were tangled up in a rope, making it nearly impossible for him to escape the cold, even if he had a favorite warm, cozy shelter. But he was sweet and friendly, so it's clear that someone had loved him at some point in his life.
Because his frostbite wounds needed immediate critical care, he was transferred from the shelter to Best Friends.
Treating a cat for frostbite
As it turned out, Mr. Cheeks needed even more medical attention than originally thought. An X-ray showed he had a BB pellet lodged in his side, and while the veterinarian determined it did not have to be removed, Mr. Cheeks' tail was so damaged (likely from frostbite) that it was necessary to amputate part of it. The vet also discovered Mr. Cheeks had a heart murmur that would need to be routinely monitored.
And then there was another possible cause for concern: those cheeks. The vet had never seen cheeks so big. Luckily, a fine needle aspirate of his cheeks confirmed that Mr. Cheeks just had — really big cheeks.
Where do those big jowls come from?
Diagnosis: Incurable irresistibility
After his surgery, Mr. Cheeks returned to Best Friends, where he proved to be irresistible. Everyone wanted to hold and take care of him.
"Through everything — from the poking and prodding, the countless exams and the healing process of his rope burns, to taking oral medications and the recovery from the tail-tip amputation — Mr. Cheeks was the nicest gentleman you could imagine," says Shemia Splonskowski, kitten nursery supervisor. With no kittens in the nursery over the winter, adult cats like Mr. Cheeks get to stay there.
Shemia said that if you called to Mr. Cheeks from across the room back then, he wouldn't always acknowledge vocally. But if you watched his huge, wounded feet, you'd see they were making very slow, deliberate biscuits.
Soon Mr. Cheeks was well enough to go to a foster home and that's where Cara came in. "All he wanted to do was cuddle," says Cara, who besides giving him all the cuddles he wanted, made sure to give him the prescribed doses of medicine to help his frostbite heal.
After staying with Cara until he was healed, Mr. Cheeks was ready for adoption. Cara left Mr. Cheeks at the Best Friends Lifesaving Center that day, and while she was sad that she wouldn't get to cuddle with him anymore, she was excited for Mr. Cheeks' future, which as it turned out, was only 48 hours away.
Timing is everything
Jennifer Bigler will never forget the moment she saw Mr. Cheeks for the first time. "He was in his little 'loaf' pose, content as can be, and when they opened the door for me to pet him, he purred and purred," says Jennifer. She adopted him that day and it was this news that made Cara, his foster mom, cry those happy tears at the restaurant.
How Best Friends is helping Utah become a no-kill state
A scary diagnosis, made less scary
Not only does Mr. Cheeks have a rocky medical past, he also has hypertrophic cardiomyopathy (HCM) which, in severe cases, can result in an already thickened heart enlarging to the point that it crowds out other organs and causes respiratory distress. After his adoption, Jennifer took Mr. Cheeks to a cardiologist, who Jennifer says was a "miracle."
"She spent several hours with us, running all the tests again, and she found that while Henry does have HCM, it didn't look as imminently life-threatening as we thought," she says. In fact, some of Mr. Cheeks' issues were caused by asthma, so the cardiologist sent him home with an inhaler. "Since this day, I have a brand new cat," says Jennifer.
Grateful for every moment
Today, Mr. Cheeks acts just as healthy as a cat without a heart condition. He loves playing with toys and will meow sweetly from the other room to get Jennifer's attention. Sometimes he'll let her know when there's a bird in the backyard, and he often wags his stubby tail like a dog when he's happy.
At night, Mr. Cheeks sleeps in Jennifer's bed and shares a little corner of the pillow with her, and in the morning, he gets on the floor next to the bed and waits for her. Then, when she gets up, Mr. Cheeks races out of the room with her and heads straight for his two favorite things — his scratch pad and his food and water bowls.
"He is so proud to show me these things each morning," she says. "It seems he would never dream of doing them before I'm there to watch. It makes me wonder if he ever had his own things before we met. He is grateful for every pet, every treat, every bit of attention. He doesn't seem to take any of it for granted."
Jennifer doesn't take her time with Mr. Cheeks for granted, either. "He is the best part of my every day," she says. "No matter what I'm doing, he wants to be near. He has given my days purpose and structure, while teaching me to slow down and be present. I truly feel we were meant to find one another."
Best Friends in Utah works collaboratively with animal rescue groups, city shelters and passionate individuals who are all dedicated to the mission of making Utah a no-kill state. As part of this mission, Best Friends hosts adoption and fundraising events, runs the Best Friends Pet Adoption Center in Salt Lake City, operates two spay/neuter clinics and leads the No-Kill Utah (NKUT) initiative. Together, we will Save Them All.
Photos courtesy of Jennifer Bigler and Natalie Simpson