Cat friends: Papa Perry pays it forward
One cat, a former stray, befriends a reluctant cat who doesn't allow people to get too close to her. Both cats are FIV positive.
By Christelle L. Del Prete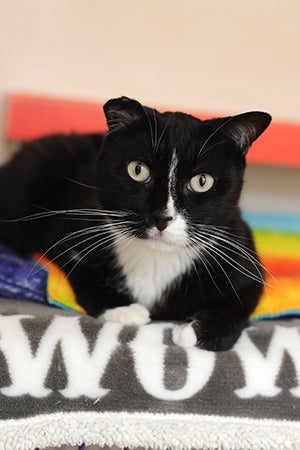 Papa Perry knows a thing or two about rough beginnings. He also knows how nice it is to get a helping hand when you're down on your luck. Maybe that's why he's become the kind of cat who will reach out to other cats when he notices they could use a helping hand — or paw.
Papa Perry spent the first few years of his life as a community cat. Also called stray cats or feral cats, community cats are neighborhood cats who roam freely outdoors, with kind people feeding them and looking out for them.
One day, the person who fed Papa Perry noticed that he had a large wound on his chest and leg that wasn't healing. He was also very skinny in spite of getting regular meals. Luckily, when his rescuers brought him inside to see the vet, Papa Perry didn't resist. He seemed to know his life depended on the kindness of strangers.
What is FIV?
Once Papa Perry got the medical help he needed, he was on the mend and gaining weight again. But, at the vet, he tested positive for feline immunodeficiency virus (FIV). FIV in cats can weaken their immune systems and make them more susceptible to secondary infections (such as respiratory infections). While cats with the FIV infection can and do live normal, happy lives, Papa Perry would need routine veterinary checkups to stay healthy and feel his best.
Sadly, the neighborhood Papa Perry lived in was not very accepting of free-roaming cats. While kindhearted people were happy to care for Papa Perry and his counterparts, others would chase them away. No shelter in his community had the resources to take him in and find him a home. So, instead of going back to the cat colony, he was brought to Best Friends, where he'd be safe.
Shy cat softens up
When he first arrived, Papa Perry wasn't thrilled to be living around people full time. He made his caregivers work to gain his trust. Once they did, he started coming down from the rafters more and hanging out around humans. Over time, he's softened up and has become really outgoing and friendly.
Not only is Papa Perry a marshmallow with people now, but he's also a great friend to other cats. He's even taken them under his wing when he sees they need some help.
Cat friendship: Papa Perry and Janis
Papa Perry recently befriended a little black cat named Janis who was struggling with befriending new people. Janis came to Best Friends because her chances of being adopted at the shelter where she lived were pretty slim. Not only was she a senior, but she, too, has FIV, an often misunderstood condition. On top of it all, she wasn't the friendliest or the most outgoing cat.
Cat World caregivers knew that, given time and patience, Janis would come around just as Papa Perry had. But he stepped in and speeded up the process. Now that she has a more confident friend, Janis is doing better than ever. Although she wouldn't let people get too close to her before, she's following Papa Perry's lead and placing her trust in her caregivers. If she's sitting beside him, she'll even let people pet her.
The art of kindness
Because of their friendship, Janis looks better and happier than ever, says Cat World caregiver Eric Smith. "Papa Perry's company has led her to be more easily approached by us, because cats copy that kind of behavior. She trusts us more now and takes her food and medicine better because she sees Papa Perry doing it."
Once mistrustful and standoffish, Papa Perry is now a sweet, eight-year old cat well-practiced in the art of kindness. After people brought him in from the outdoors, he's found a way to pay it forward by helping his cat friends fit in and feel at home — at least until they (and he) can find their happy endings in forever homes.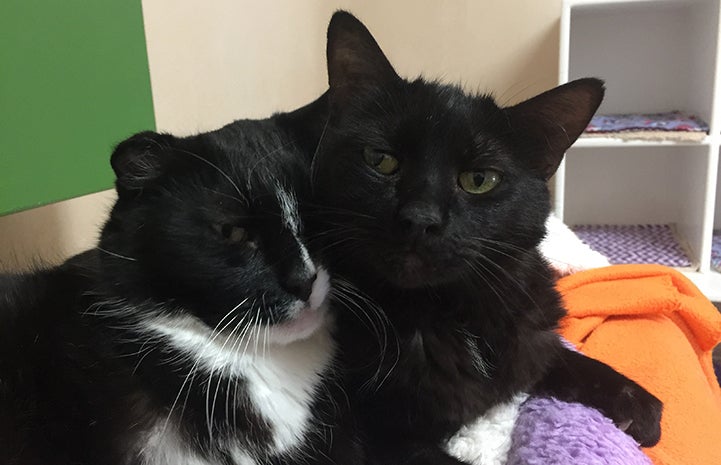 Photos by Eric Smith and Best Friends staff