Cat play groups
Image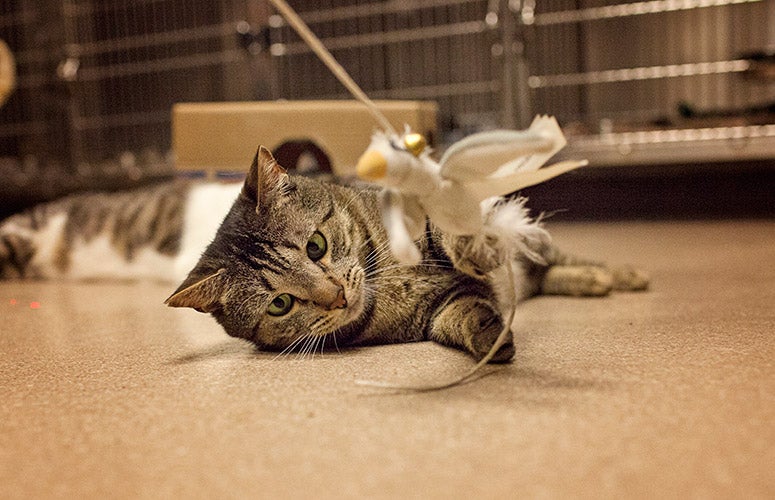 Shelter cats receive socialization with other felines, learning to get along with and play together, by participating in cat play groups.
By Kelli Harmon
What can you do when cats are acting especially catty? (There's no better way to put it.) Peek At Choo, a young orange and white cat with big golden eyes, wanted nothing to do with other cats when she first arrived at the Best Friends Pet Adoption and Spay/Neuter Center in Mission Hills, California. Caregivers gave her a suite of her own where she'd be more comfortable, but they weren't convinced Peek At Choo would have to live a solo life forever. If she could learn to accept other cats, she'd have a better chance of finding a home sooner because many people like having more than one cat. She was the perfect candidate for kitty play groups.
Fun with a purpose: Feline play groups
The goal for each cat at the center (all come from one of six L.A. city shelters) is to find them a good home as quickly as possible so that another deserving shelter cat or kitten can have the same opportunity. But some cats are complicated. There's nothing wrong with them. It just takes a bit more time, expertise and attention to figure out what makes them tick. Play groups help do exactly that.
Similar to dog play groups at the center, cat play groups allow cats to romp and socialize with one another outside their enclosures. They chase toys, frolic together and get treats from people in the play group room. While it all may feel like fun and games to the animals, play sessions give staff invaluable information that ultimately helps cats make their way into great homes.
Cats get to know each other
Cat team lead Janette Nevils says, "Play groups help us learn what each cat responds to, what they like and don't like."
Peek At Choo at first put on a big show whenever other cats came near her, but after several play group sessions, as Janette says: "She's learned nothing's going to happen to her when another cat approaches. She's gotten less combative and defensive." Now, instead of trying to hurt cats who make her uncomfortable when they get too close, Peek At Choo retreats to her safe place in a bed beneath a chair, where she can regroup until she feels brave enough to come out again.
Cats learn by example
Harriet, on the other hand, absolutely loves other cats. The petite brown tabby rubs herself up against the front of another cat's enclosure, as if to demonstrate this fact. But, Janette explains, "She doesn't like to be touched." While she's incredibly comfortable around other cats, Harriet is just too afraid of people to be handled. But play groups are helping. "Harriet's very playful and it's really good for her to interact with cats who aren't afraid of people," says Janette. In fact, there are special cats who help fulfill that purpose.
Think of cats like Mordecai as the ringers in the group. He is a sleek, all-black cat who joins play groups as a sort of model citizen. Janette says, "He's a really social cat with both cats and people alike. He's very outgoing and super sweet and easy to handle." His role in play groups is twofold: Caregivers can learn whether he remains cool and collected even when his companions may not be, and the other cats in the group can learn from him.
While they may always be catty in certain situations (they're still cats, after all), that first sniff on the hand from shy Harriet, or Peek At Choo relaxing in the presence of another cat, shows that play groups can make a world of difference to special cats like them. Most important, those baby steps bring them closer to homes.
Get involved to help animals
Learn more about how you can help Best Friends make Los Angeles a no-kill city by 2017. Visit la.bestfriends.org.
Photos by Lori Fusaro