Cat is ready to hop into 2021 on two legs
Image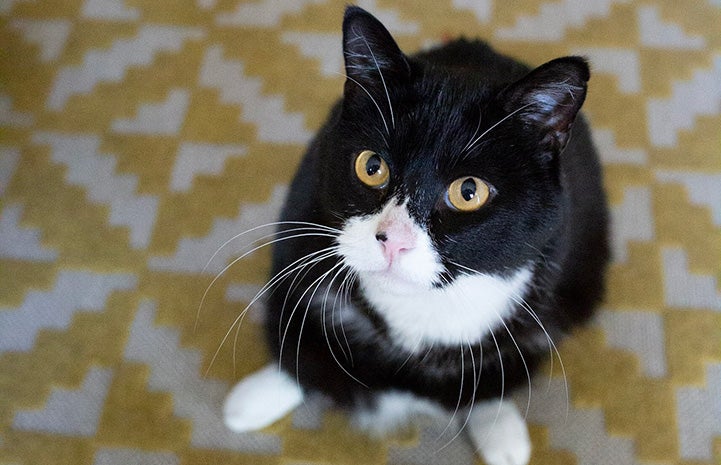 Rexie Roo's adopter reflects on life with her wonder cat and how he's taught her so much about patience, love, and resiliency.
By Nicole Hamilton
Remember Rexie Roo, the young tuxedo cat who gets around just fine on two legs? If not, allow us to fill you in: One night earlier this year, Rexie Roo ended up in a rural Utah shelter with two badly broken front legs. Unless he could get emergency medical treatment, stat, he was at risk of being humanely euthanized.
When the team members at Best Friends in Utah heard about him, they picked him up from the shelter and brought him to the lifesaving center in Salt Lake City, where veterinarians determined that his front legs had been crushed in several places and were showing signs of infection. To save his life (again), vets amputated his front legs. Through it all, Rexie Roo was a sweet boy and everyone who met him was rooting for him.
After healing from his surgery, he went on to two amazing foster homes where he wasted no time showing everyone that he wasn't going to let anything hold him back. Once he figured out how to get around, it wasn't long before Cairistiona Flatley saw him on Instagram and was "Insta-smitten." She adopted him and soon he was settling into his new life in her home.
[Fierce love for an incontinent cat]
Fab news about Rexie Roo
So how is Rexie Roo doing now? We checked in with Cairistiona, who says he's doing great. "I am constantly surprised by his progress and his tenacity."
In fact, today Rexie Roo gets around most of the time without any help at all and only needs assistance from Cairistiona is when he's descending from higher surfaces like the couch and the bed. That's a big accomplishment, because Rexie loves his independence. In fact, when he was first adopted, he didn't enjoy being held at all.
Cairistiona says that Rexie has also become the sweetest and best snuggler in the world and has revealed his biggest love. "I'd like to think I'm Rexie's favorite thing but deep down I know it is food," she says. "He's my alarm clock in the morning because he is ready for his breakfast to be served promptly at 8 a.m. every day."
[Survivor cat Poppy has a knack for helping foster other cats]
Cat brings peace in a year of uncertainty
Rexie has been Cairistiona's bright light in 2020. Although most of her friends have yet to meet him in person because of the pandemic, she's been amazed at how he's inspired them just through photos and social media. "I think he can teach people a lot about patience, resilience and love," she says.
She has some advice for those thinking about adopting a cat with needs similar to Rexie Roo. "Just because a pet looks a little different, moves a little different or has unique needs does not make them any less deserving of love," she says.
As for pets with a different way of getting around, she's found that it's only taken some minor changes to accommodate Rexie.
"When people tell me I'm so kind for adopting a special-needs cat and that he is lucky to have me, I can only think about how lucky I am to have him in my life," she says. "I love him so much and he has brought me a lot of peace and joy in a chaotic and uncertain year."
Give to the animals at Best Friends
Help more pets receive the gift of comfort and joy this holiday season and in the future.
Read more
Despite her difficult past, this dog is kind to everyone she meet
Cat brings joy during the lonely days of 2020
Photos courtesy of Cairistiona Flatley