Cat used to hide in the rafters, but is so much braver now
Image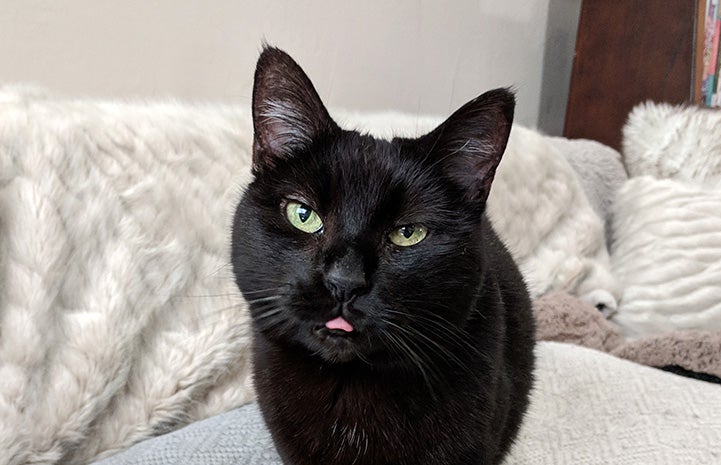 Introverted cat who used to hide in the rafters at the Sanctuary is adopted by a woman who allows the kitty to adjust and open up at her own pace
By Monica Brown
They don't stand out in a crowd, but they deserve love and second chances just as much as outgoing pets. Shy pets at shelters, rescue groups and sanctuaries across the country are waiting for a chance at homes of their own. These shrinking violets won't be the first to greet you when you visit. Blink twice and you might miss them entirely as they fade from sight while more confident animals vie for your attention and their moment in the spotlight.
If you take just a moment to give a shy animal a second look and second chance, it may change your life. It will certainly change theirs. That's what Monica Brown did for a shy cat named Harrison, who called Best Friends Animal Sanctuary home for a long time.
In the following interview, Monica tells us why she felt moved to adopt Harrison and why she's so glad she did.
Shy cat prefers the rafters
When the fires started burning near Los Angeles in November of last year, reports of lost pets and shelters straining to care for all the displaced animals started hitting my inbox and news feeds. I received emails from Best Friends Animal Society asking for people to foster and adopt animals in need of homes. I wanted to help, but I already had two young, formerly feral kitties who loved to wrestle, chase each other and turn all forms of paper into confetti. My sweet, spoiled princess of a cat had also recently passed away after more than 16 years of companionship, and the loss had been devastating. If the two former feral cats had not already been living with me, I probably wouldn't have risked another heartbreak.
Then, one of the emails from Best Friends featured Harrison as an adoptable cat. The email said she (yes, she) was older and good with other cats, but not very friendly with people. It seemed like she had trouble finding a permanent home, and that pulled at my heartstrings. I had a black cat when I was a child and have always had a soft spot for them. Though part of me said I didn't need another cat, I contacted Best Friends and said I could take her. I honestly didn't expect anything to come of it. She is beautiful, and I figured that plenty of other people would be interested in adopting her.
I heard back quickly, and the adoption specialists at Best Friends said they'd be happy to send her home with me. They made all her travel arrangements and were forthright about what my expectations should be.
Harrison had been a "rafter cat" — preferring to be up in the rafters rather than on the ground interacting with people. She would climb down for treats, but otherwise she seemed extremely shy and had little interest in people. I was told that she might never be friendly and would likely be a better companion for my kitties than for me. I didn't mind this. I just wanted to provide a safe place for her and free up some space at the Sanctuary so that more cats could be saved.
Shy cat opens up
When Harrison arrived, she was much calmer than I expected. I let her out of her carrier into my spare bedroom, and she quickly hid in the closet. She didn't come out for a few days, but the staff at Best Friends stayed in touch and gave me some helpful tips on Harrison's favorite treats and food. Other than leaving fresh food and water in the closet for her, I left her alone so she could get adjusted.
Eventually, I let my cats into the room to say hi, and they were quite shocked to find another cat in their apartment. They kept sneaking in to check out the new roommate, and it was a relief to see that the description of Harrison's skill with other cats was dead-on. She was curious but never pushy with my cats — affectionate but good about setting her own boundaries.
After about a week, Harrison started coming out of the spare bedroom and would sit at a safe distance and stare at me like an adorable, furry gargoyle. She looked like she was trying to figure out what to do with me. I kept feeding her the treats recommended by the Best Friends staff, putting the treats closer and closer to me. She started taking them from my hand, and eventually she let me pet her. I think we were both pretty surprised by this, but she seemed to enjoy it in spite of herself. She started to relax more. She would flop in the sunshine in the living room, and she was getting on especially well with my more skittish kitty.
Kitty companions gain confidence
After only a couple of months, I disrupted all our lives by moving to a new city. The cats handled the transition like champions, probably better than I did. They seemed to make each other more confident, and after only a few days they were starting to explore their new space. Now, they have all found their favorite spots to nap and places to hide my hair ties.
Since the move, I have caught Harrison stalking and attacking bits of fluff and chasing after her imagination like a young kitty. She has drawn out the less confident of my other two cats, and this kitty has become far more affectionate with me in the months since Harrison joined the family than she was in the previous three years that she lived with me.
Harrison has such an assertive, opinionated personality and it is a joy getting to know her. It warms my heart to watch her stake out her favorite pillows, ask for more treats two minutes after she had treats and to see all three cats rub against each other.
Adopting a shy companion
If someone is considering adopting a shy companion, I would say it's worth keeping in mind that an animal might be very different in a home than in a shelter or sanctuary setting. I think of shy animals like introverted people: They may never talk to you at a noisy party, but they might become your closest friends if you make the time to get to know each other.
I think it's important to not rush anything with a shy animal. Never try to force them to be more friendly or outgoing then they are ready to be, and don't put any of your own expectations on them. Just let them be themselves and appreciate them for who they are.
The support and regular communication from Best Friends were especially important with Harrison. Her caregivers knew what she liked, and their tips definitely made it easier for me to help her trust me. Harrison was with Best Friends for years, and there is something incredibly gratifying about being able to give her a space where she can feel safe for the rest of her life.
Save a life. Adopt a pet near you.
Photos courtesy of Monica Brown