Cavalier King Charles spaniel-Papillon survivor
Cavalier King Charles spaniel and Papillon mix beats distemper, but her muscle spasms and twitching made it difficult for her to find a home.
By Jennifer Hayes
It looked like Eudora the Cavalier King Charles spaniel and Papillon mix was down for the count. Picked up as a stray by San Antonio Animal Care Services, she appeared to have a neurological condition that caused a pronounced tic. As a result of this, her life was at risk in the municipal shelter because staff was concerned she might have a condition that was contagious. However, she's a survivor, and San Antonio Pets Alive (SAPA) saw past her twitch to a life worth saving.
Cavalier King Charles spaniel and Papillon mix distemper survivor
It was January 2012 when Renee Nank, co-director of SAPA's marketing team, and Dr. Ellen Jefferson, SAPA's executive director, began to rescue animals from the municipal shelter, and Eudora was just their kind of dog. Because of her tic, shelter workers thought she had distemper. However, Renee and Ellen quickly realized Eudora didn't show any other symptoms and, in fact, had overcome the disease, though still continued to display involuntary muscular spasms.
"She was clearly far past any symptoms," says Renee. "She just had this residual tic. She exemplifies what we do in so many ways. We're saving animals that otherwise literally wouldn't have a chance."
Searching for a forever home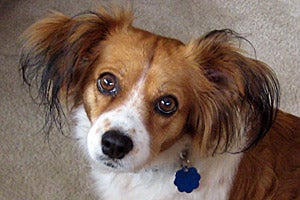 Now saved, it was time for Eudora to find a home. Life continued to throw her a few curveballs. Though the adorable dog was quickly adopted, she was just as quickly returned because her tic frightened the adopter's grandson.
SAPA staff was hopeful Eudora's second home would last, but the adopter's husband was diagnosed with terminal brain cancer. Overwhelmed, the adopter reluctantly returned Eudora to SAPA.
That's a lot for one little dog to endure.
Adopted at last
As fate would have it, Hope Bassinger and her husband were searching online to adopt a dog. They discovered SAPA and researched the lifesaving work they do on behalf of animals in San Antonio. And when they saw Eudora's online profile, something clicked. They immediately made an appointment to meet her.
"My husband and I just fell in love with her the second we set eyes on her," Hope recalls.
This is the forever home that Eudora has been waiting for. She fits right into the family. Hope is a disabled veteran who recently got out of the Army while her husband still serves and is often deployed. That has made for some lonely days and nights for Hope. Eudora has now taken care of that.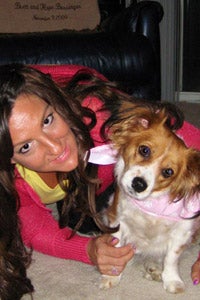 Though they bought her countless toys, Eudora would much rather be with her new family. She's a lapdog in the chair and a love bug who sleeps in between them in bed. In fact, wherever they are in the house, Eudora wants to be with them. She's not about to let this home go.
Hope just recently started a part-time job, and though she's only gone for five hours a day, Eudora has to make up for lost time. The other night, Hope came home from work and lay down on the couch. No invite was needed; Eudora hopped right up to lay next to Hope, placing her head lovingly on Hope's chest for an extended snuggle fest.
It breaks Hope's heart that Eudora was originally scheduled to be killed in the shelter. "Just because she's got the tic doesn't mean she's unadoptable," says Hope. Coming to them already well-behaved, housetrained, crate-trained and good with children, Hope considers Eudora the best dog in the world.
"She really makes our house a home, and she is just a blessing to have with us," says Hope.
Learn more about San Antonio Pets Alive.
Best Friends Animal Society supports lifesaving model programs that can be replicated in communities across the country to create a nation with No More Homeless Pets®. For example, since late 2011, we have worked with San Antonio Pets Alive (SAPA) and San Antonio Animal Care Services (ACS) to assist them in their critical work to save the lives of pets in San Antonio's shelter. In 2012, nearly 6,000 pets in San Antonio shelters were saved by the efforts of SAPA, and we're proud to have been of both financial and intellectual assistance. Additionally, through our partnership with ACS, nearly 4,700 free-roaming cats were spayed or neutered through our San Antonio Community Cat program in 2012.
Photos courtesy of Hope Bassinger