A Central Park dog romance
Adopted foster dog's tale becomes the perfect New York love story.
By Nicole Hamilton
Emily Morin was taking a stroll through Central Park one day when she first saw Lorenzo. She was immediately taken by his brown eyes, sweet smile and his spirited personality. And as Lorenzo made his way toward her, Emily's heart skipped a beat. At last, her long wait was over.  
She had finally found her perfect dog.  
"I took one look at him and said, 'That's him. That's our dog,'" says Emily, who was walking with her boyfriend Viren. The couple had scoured the city for months searching for the right dog to adopt, and up until that day in Central Park, they hadn't had much success.   
Luckily, Lorenzo was out that day with his foster parent, and because he was sporting a Best Friends "Adopt Me" vest, the couple knew he was looking, too.
As they petted Lorenzo, they learned he would be at a Best Friends adoption event coming up that weekend at a Brooklyn PetSmart. And when they said goodbye to him that day in Central Park, they knew it wouldn't be for long.
Learn how we're working together to Save Them All in NYC

Fun-loving dog finally has reason to celebrate
Not long ago, Lorenzo was a stray who ended up at Animal Care Centers of NYC. Just a few weeks after he arrived at the shelter, the one-year-old shepherd mix captured the attention of staffers at Best Friends–New York, who had the perfect foster home in mind for the energetic dog — a home where he could play and go on lots of walks in Central Park.
"We immediately saw how sweet and friendly he was," says Shannon Kirkman, foster and adoptions coordinator for Best Friends–New York. Shannon says it was pretty clear to the team that Lorenzo most likely lived in a home before becoming a stray.
"All he wants to do is have fun, but he's also very well-behaved and at ease with other dogs and people," says Shannon, who added that Lorenzo's joie de vivre wasn't always appreciated by his fellow canines. "Lorenzo would try to play with them at adoption events, but he was so excited, sometimes they'd just try to walk away."
Of course, it's Lorenzo's love of life that made Emily and Viren show up at the adoption event 45 minutes before it started, just to make sure they could take Lorenzo home. And as soon as Lorenzo saw Emily and Viren walking toward him, he began wagging his tail until it turned into blur. It seems there really is something about being at the right place at the right time.
Become a member of Best Friends

Dog takes Manhattan
It took about a New York minute for Lorenzo to settle into his new home. He also got a new name to go with his new life. Today Lorenzo goes by Mowgli, a name chosen in honor of Viren's Indian heritage and because he shares both a similar history and the same fearless, spirited personality as his namesake in The Jungle Book.
Mowgli the dog is living his own fairy tale these days ― except his is one that could only be set in The Big Apple. Since that chance meeting in Central Park, Mowgli has taken many walks in the iconic park. He also loves brunching at sidewalk cafes with other dogs and their families, and feels most at home when he's surrounded by a diverse group of canine friends at the dog park, where he playfully welcomes every new dog with a wag of his tail.
Emily says Mowgli's love of everyone (and life) is inspiring to her. The young dog has been a source of comfort and joy, just in time for the holidays. "It's a privilege to have Mowgli in our lives ― not the other way around," says Emily. "Mowgli shows us that as long as you have love, nothing can be taken away."
Help save a life. Sponsor a dog like Mowgli.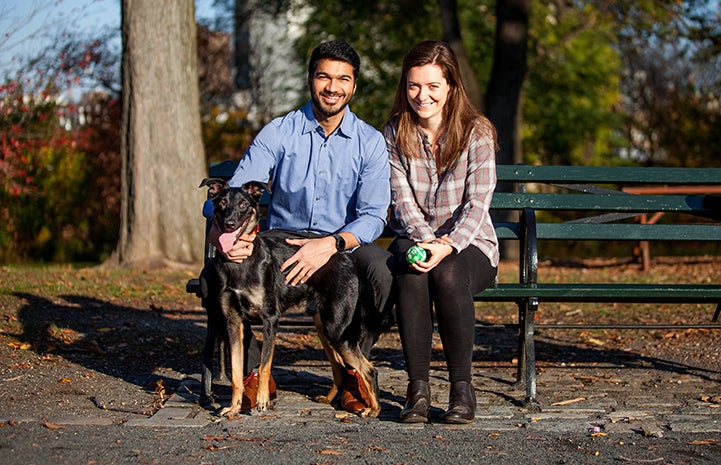 Photos by Robert Stoetzel