Championing the little guy (and gal)
Big personalities often come in small packages.
By Best Friends Animal Society
By David Dickson
For many years, if you took a Sanctuary tour at Best Friends with hopes of meeting smaller breed dogs, you often wouldn't find many.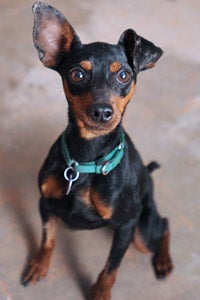 Balboa
However, things have changed in recent years. Thanks to the Pup My Ride program and other puppy mill rescue efforts, the number of smaller dogs coming to Best Friends has increased. So much so, in fact, that an entire building at the Sanctuary has been reserved for smaller dogs. Most dogs in Amra's, a building in Dogtown Heights, are 20 pounds or less. "There are so many small breed dogs out there," explains Best Friends dog trainer Tamara Dormer.
Utterly irresistible
At Amra's, there are always new faces to fall in love with and personality aplenty packed into each tiny frame. Consider Balboa the min pin. He's so excited to see people that he jumps up and down over and over again, leaping some three times his body height each time somebody approaches. (Ten points for enthusiasm, there, Balboa.)
Then there's Nudge the Chihuahua mix. "He's probably the smallest dog we have, but he's also the largest dog we have in terms of personality," says caregiver Tom Williams. Nudge can be a bit feisty if he's not happy with something, but that happens less often once he gets to know the people and dogs around him. "He's very loving, very easy to get along with," adds Tom.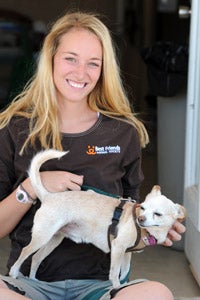 Nudge
It's always intriguing to see what friendships come out of play areas. Buddy Boy, for example, is approximately 12 years old, while Mr. Baggins is less than one. Yet these two have become inseparable. "They are playmates until the end of the day," Tom says.
Some of the dogs in the building, like Nudge, are staff-only. Others are so shy that it's all they can do to make eye contact. Quite a few, as it turns out, don't want to be picked up. "They have the right to not like that," explains dog trainer Tamara Dormer. "To me, it's like King Kong picking you up."
Calling all volunteers
With several staff-only dogs in the building, volunteers can't always enter the play areas. Fortunately, there are still many things volunteers enjoy doing. They can walk the non-staff-only dogs, clean play areas if staff-only dogs are in crates, and help socialize shy dogs. Remember, many of these smaller dogs had a rough past, in particular the ones who came from a puppy mill. They need all the extra help they can get.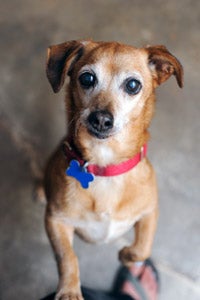 Saltho
As for their part, the small dogs at Best Friends love having a space all their own. And they put it to good use. While the building was created originally with larger dogs in mind, the current residents make terrific use of the ample outdoor space. "They actually run around quite a bit, and they love it," says Tom.
If you haven't been to Best Friends in a couple years and have a hankering to meet a few dogs on the lower end of the height spectrum, it's a great time to head over. If you happen to fall in love, however, here's a quick tip: Don't wait too long to fill out an adoption application. Adorable faces like these don't tend to stick around.
Adopt a little guy or gal
If you're looking for a pint-sized canine to be your best buddy, the Best Friends Sanctuary has several adoptable cuties.