Changing hearts and minds about TNR in the Salt Lake Valley
Trap neuter return for stray and feral cats has helped West Valley City and Taylorsville, both in Salt Lake County, Utah, achieve no-kill.
By Nicole Hamilton
Five years ago, Nathan Beckstead of West Valley Animal Services (WVAS) near Salt Lake City, Utah, was more than a little skeptical about certain ideas on how to save more cats in shelters. The field supervisor simply thought trap-neuter-return (TNR) does not work. So, when Best Friends approached him in the hope of partnering with WVAS on a program to help save community cats (sometimes called feral or stray cats), Nathan didn't have very high hopes about the idea. But he went home, did some research on community cat programs that have worked in other cities, and agreed to meet with the Best Friends community cat program team in Salt Lake City.
After the meeting, he reluctantly agreed to give it a try at WVAS. Now, five years later, Nathan is one of the Best Friends community cat program's biggest supporters. In fact, he's now helping other area shelters get onboard with the program. And his help has made a big difference as Best Friends and other organizations are working together toward making the entire state of Utah no-kill by 2017.
How TNR saves lives
Nathan says the program has helped both West Valley City and Taylorsville reach no-kill status. "The fewer feral or stray cats we take in, the more room we have for healthy, adoptable cats who are at the shelter and need to find permanent homes."
He adds that implementing the community cat program at WVAS hasn't just saved cats' lives, but it's had a positive effect on WVAS employees' lives, too. With training from Best Friends, the WVAS staff is able to help West Valley City and Taylorsville community cats stay alive, and that has increased staff morale.
"The partnership with Best Friends has been a great success here in West Valley City," says David Moss, director of animal services for the West Valley City shelter. "Working together has benefitted both of us but the greatest benefactors are the cats."
Learn how Best Friends helps community cats

Best Friends community cat program starts, and save rates rise
Autumn Wagner, Best Friends community cat program coordinator, has been working with Nathan at WVAS since the program began in 2011. And she remembers how reluctant Nathan was to get on board with the program and also how badly it was needed.
"The shelter was full of stray cats — most of whom should have been returned to where they were already living," says Autumn. "They just didn't have the help they needed to make that happen."
She quickly got to work training the staff and going out into the community to perform trap-neuter-return services on behalf of WVAS. It wasn't easy in the beginning, as shelter staff had to adjust to a very different program.
Previously, when stray or feral cats arrived at the shelter, the only option was to hope they'd get adopted. And that's not always the best option, especially when the shelter runs out of space and forces them to make tough decisions. But now when those cats arrive at the shelter, they are spayed or neutered and put right back where they were picked up. As the save rate for cats improved to 93 percent in 2015, working together became easy.
"In the beginning it was like a really awkward first date," says Autumn. "But now we're more like a family."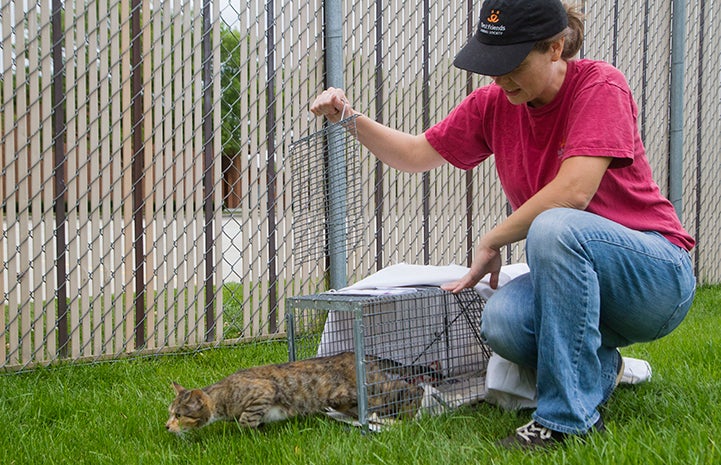 From skeptics to supporters: Residents change their thinking about community cats
When the community cat program first launched at WVAS, one of the first hurdles Nathan and Autumn had to overcome was getting the support of home and business owners who were unhappy with community cats on their property and wanted a quick solution.
A big part of getting the community onboard comes from Autumn's ongoing canvassing of Taylorsville and West Valley City neighborhoods to get to know residents and business owners who can help identify the community cat needs in the area. Once residents know there's a dedicated staff member working in their neighborhood, they can contact Autumn when they see new community cats or when they have issues with the cats they're already helping.
For a long time, residents were caring for community cats on their own without support from WVAS because the shelter would trap the cats but not release them back in their environment. In fact, before the Best Friends community cat program launched, feeding feral or stray cats was against the law.
Now that residents know that reaching out to WVAS about a stray cat means the cat will be cared for and not killed, Autumn says they're usually ready and willing to work with Best Friends to maintain their community cat colonies. And for home and business owners who are skeptical of the community cat program — or even frustrated because of problems community cats have caused at their property — Autumn offers patience and assistance.
"It's about letting them know that we are here to help them. We understand where they are coming from," says Autumn, recalling the time a resident saw the Best Friends van in her neighborhood and approached her. The resident wasn't happy because community cats were wreaking havoc in her gardens.
Autumn listened to the homeowner calmly and then explained the benefits of the community cat program and offered her support in protecting her garden from the cats. The resident decided to give it a try, and today she is one of the program's staunchest supporters.
"We help people understand that there is no quick solution," says Nathan. "The fact is that humans caused this issue — not the cats. I was one of those who doubted the community cat (feral and stray feline) program, but now I know that we have an obligation to help these cats live in the environment that we set up for them in the first place."
Help us Save Them All. Donate today.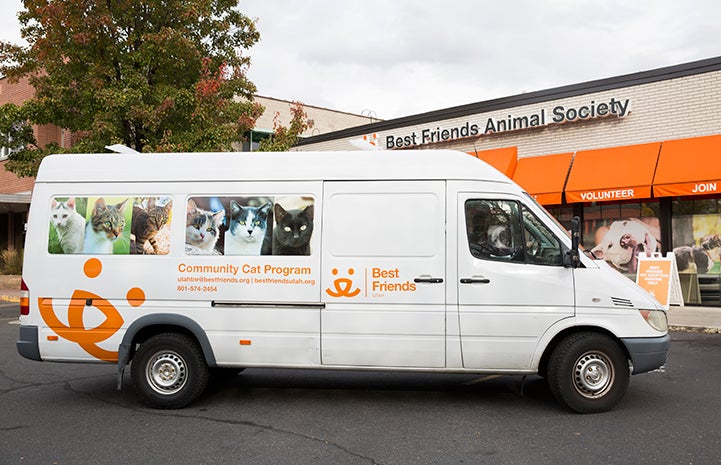 Photos by Best Friends staff