Chihuahua rescued from Nebraska puppy mill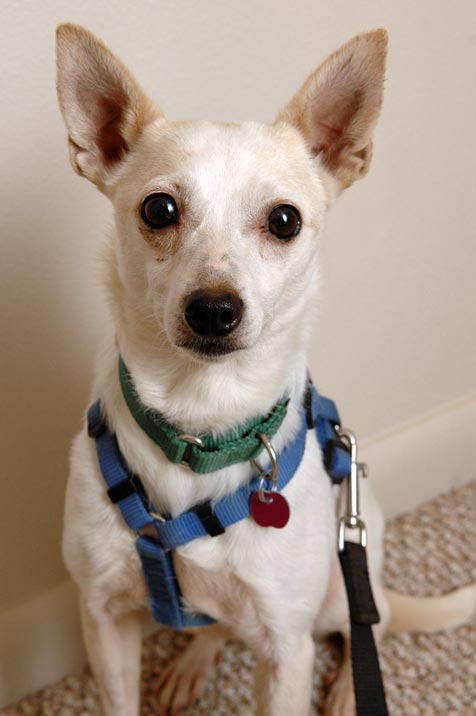 Twinkle the Chihuahua was rescued from a Nebraska puppy mill. She was scared of the world and people after her rescue but has made fantastic progress.
By David Dickson
You wouldn't recognize her from a few months ago. Twinkle the Chihuahua sleeps on the master bed with her new mom and dad. She wakes the family up with kisses to their faces and hands. She goes for walks and on runs with a big goofy grin on her face. She uses a doggie door and explores her new home with reckless abandon.
Chihuahua from Nebraska puppy mill bust
This from a girl who used to think humans, and the world in general, simply couldn't be trusted. Twinkle is one of the 10 dogs who came to Best Friends from the Nebraska puppy mill bust, where 173 small breeding dogs had been crammed into filthy, overcrowded cages. These 10 dogs were so traumatized that they needed extra time and care before they could be adopted, which is why they came to Best Friends, while the others went to local rescue groups.
As soon as she arrived at the sanctuary, Twinkle went right into foster care with Connie Ball, a Best Friends staffer, for some much-needed one-on-one time.
Little dog terrified of the world
At first, Twinkle didn't exactly want one-on-one time. Connie says the first few walks were pretty telling. Twinkle would lunge to the end of her leash and sprint in frantic circles, trying to escape all the strange sights and sounds. Remember, dogs in a puppy mill rarely, if ever, see the wide world. To Twinkle, a Chevrolet cruising by might just as well be a mountain lion looking for dinner. She was terrified of everything.
Adopted into a forever home
After months of hard work and lots of love, though, Twinkle rounded the corner in her climb up and out of the pit she'd grown up in. Her fears began to fade, including those on the daily walks. She even started trotting right alongside her foster mom without pulling on the leash. And soon she was in a brand-new forever home. She's now living out her very own happy-ever-after with Chris Long and Erin Holland in southern Utah. They say she's a perfect dog: very affectionate, super curious and way, way, way easygoing. (In fact, they've never even heard her bark!) How's that for a turnaround?
Photo by Molly Wald
Thousands of dogs just like Twinkle are still living in the same horrible conditions she once did. Learn more about puppy mills and what you can do to help.