Chocolate Lab is doting foster mom to tiny kittens
When it comes to fostering kittens, one family is learning a lot from Penny, their Labrador retriever.
By Kristi Littrell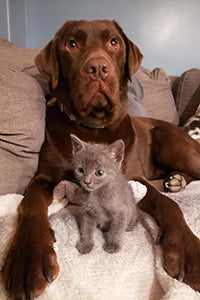 It all started with Penny, a five year-old chocolate Labrador retriever. "Penny is my soul dog," says Veronica Gonzalez, who adopted her when she was just a puppy. "I one hundred percent believe we were meant to be together." What she might not have expected was that the two of them would one day foster tiny kittens together.
COVID-19 inspires family to foster
Penny came to Veronica from a woman who'd purchased her from a breeder and didn't realize how much time and energy a puppy requires. Veronica adopted her and the two have been together ever since.
Veronica's first cue that Penny had a knack for helping other animals was when she saw how gentle and loving she was with the family guinea pig, Frida. After that, Veronica decided to foster pets and contacted Best Friends in Los Angeles. When she learned that a litter of six kittens from Los Angeles Animal Services needed a foster home, she stepped up to help.
The timing seemed right, especially since her 12-year-old daughter, Valerie, was home from school during the COVID-19 pandemic and taking part in remote learning. She was missing her friends and Veronica thought fostering kittens would help her feel better.
Soon after Veronica brought the kittens home, something unexpected happened: Penny began caring for them like they were her own babies. "Penny was so curious when the litter of six came home," says Veronica. "Watching the kittens with her would entertain us for hours. The best memory is the one where all the kittens are sleeping on Penny so naturally."
Fostering one kitten (let alone six) is a lot of fun, but can also be hard work. Courtney Bean, a lifesaving and care specialist at Best Friends in Los Angeles, says Veronica and her family did an incredible job, and it helped to have Penny around. "Exposing kittens to dogs and kids at such a young age shapes them into super well-rounded, friendly, confident adult cats, which is priceless as well as lifesaving," she says.
[Despite his special needs this kitten was born to be happy.]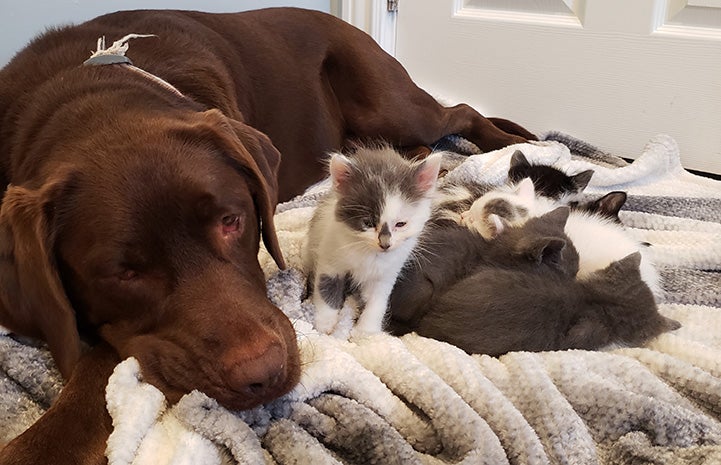 Kitten and dog form a special bond
When the kittens were ready to be adopted, Veronica decided to take the smallest one, named Pumpkin, who had formed a special bond with Penny. "We just couldn't let him go," she says. And while Valerie shed a few tears when the rest of the litter was ready to be adopted, she says fostering her first litter of kittens taught her that she had a lot of love still left to give.
Two weeks later, Veronica and Valerie again welcomed kittens to their home. This time, they're caring for two boys, Gepetto and Goofy, who are being bottle-fed. This means that they're getting up every four hours or so to feed them. It's a big commitment, but Veronica and Valerie are loving it, especially because Penny is there to help them every step of the way.
Three ways to help pets
Foster, volunteer or adopt a pet from your local shelter and help save lives.
Read more
[Strut Your Mutt goes virtual from coast to coast.]
[Puppy beats distemper with the help of two determined foster moms.]
[Three tough tabbies survive a wildfire.]
Photos courtesy of Best Friends staff