Couple adopts a low-key pit bull and gains a new human friend, too
Six-year-old pittie finds a BFF at Best Friends who not only "gets" him, but also helped him find a sweet home.
By Nicole Hamilton
When a big silver pickup truck recently pulled up outside of Cannoli's new home, the six-year-old pit bull recognized it immediately. After all, he'd spent lots of time in that truck cruising around Los Angeles with Danny Bress, a Best Friends volunteer and one of his biggest advocates while he was at Best Friends in Los Angeles.
Back then, Danny visited Cannoli nearly every day and worked alongside the dog behavior team to help him fine tune his behavior so he'd have an easier time getting adopted. You see, when Cannoli came to Best Friends from an L.A. city shelter, he tended to be reactive around dogs when he was on a leash. This, coupled with his size and booming bark, wasn't helping him get adopted.
Though Cannoli might seem like a tough guy when he's on a leash, he's actually a sometimes silly, always kind dog who loves nothing more than people and treats (except maybe a person with a treat). But then, what else would you expect from a dog named after an Italian pastry?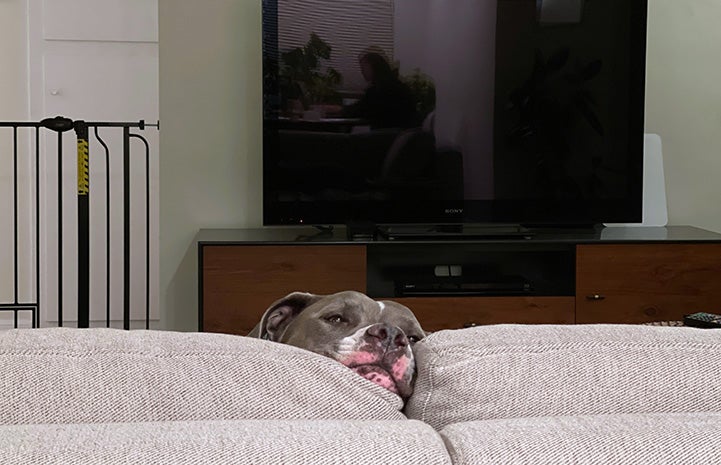 Dog gets a BFF at Best Friends
Helping Cannoli with his leash reactivity was an ongoing process that involved a good game plan, plenty of patience and a dedicated team that included Danny, who first met Cannoli at the encouragement of Amanda Yocom, Best Friends dog behavior specialist in L.A. Amanda knew Danny was looking for a dog to spend some extra one-on-one time with, and she had a hunch he'd love Cannoli and that the feeling would be mutual. Boy, was she right.
"When I got to his kennel, I saw this handsome, sweet face," says Danny, who was instantly smitten and not the least bit intimidated. "He was barking, but he was also wagging his tail."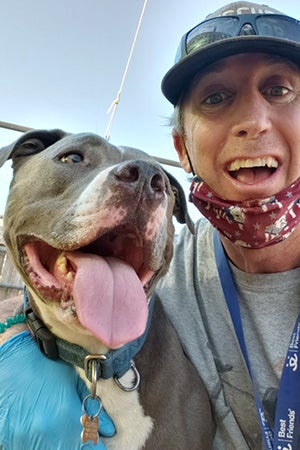 That day, Danny took Cannoli out in the yard for a little playtime to see him in action, and when it came time to walk him back to his kennel, he knew he'd be seeing him again (as in the next day and the day after that, too). Since Hollywood had come to a halt due to the pandemic, Danny (who works on television and movie sets) had more time to volunteer than usual, and he could think of no better way to spend it than by helping Cannoli.
[9 stories about volunteers who are making a difference for pets]
After a couple of weeks playing with Cannoli and taking him on walks, Danny got permission to take him on car rides. Together, they'd cruise the streets around the lifesaving center in Mission Hills. Occasionally, Danny would even treat Cannoli to a drive up the Pacific Coast Highway so he could see the ocean out the window.
"We were just two buddies driving up the coast, listening to music," says Danny, who used the trips as an opportunity to take photos and videos (including a TikTok video that got more than 400,000 views). The plan was to help potential adopters look beyond such things as the dog's large size, his propensity toward loud barking and occasional challenges on the leash, and instead notice what a laid-back, people-loving dog he truly is.
Connecting Cannoli to a family
When Best Friends shared a post on Instagram about Cannoli, it caught the attention of Li Lu and her partner, Julian Higgins. They had recently signed up to foster a dog and were waiting to be matched with one. Their ultimate goal was to adopt, but they also knew that fostering first would give them the time they needed to decide if the dog was a good fit for them (and vice versa).
Neither Li nor Julian had lived with a dog before, so this was a big step for both of them. And given the pandemic, the time seemed right. "The slowdown gave us the space to think about fostering," says Li. "It was a great opportunity to hunker down, do the homework and come up with a plan that made us comfortable."
Li and Julian loved what they read about Cannoli and were interested in fostering him, but before they got the ball rolling, they decided to get in touch with Danny. His personal Instagram page was filled with nearly a year's worth of stories and photos of Cannoli. They figured that if anyone could tell them more about the big gray dog, it would be Danny.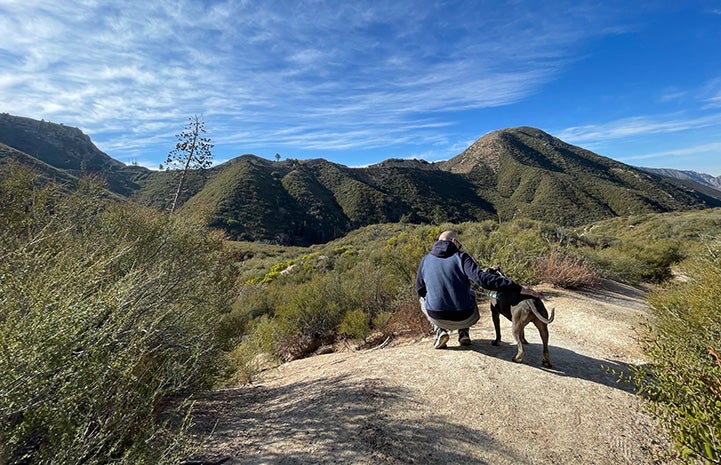 Low-key couple, low-key dog
Danny was over the moon when he got Li and Julian's first message. "They asked all the right questions," he says. He especially liked that they focused squarely on Cannoli's needs (rather than their own) and they seemed ready to meet Cannoli where he's at, while also being prepared to help him with his leash skills.
[Beautiful Lab, terrible manners]
The next step for Li and Julian was to meet Cannoli in person. So, they arranged a visit with Amanda and the man of the hour himself, who arrived with his tail wagging, excited to make some new friends. "We could tell right away that he was really smart," says Li.
With the initial meet-and-greet a success, Amanda arranged for Li and Julian to attend two handling sessions led by Amanda. Not only would the help them in the event that Cannoli became reactive toward another dog while on leash, but they also would set the couple up for success in introducing Cannoli to new people.
"Li and Julian have the perfect energy and personality type for Cannoli," says Amanda. "He is not a super high energy dog. He's pretty mellow and easygoing on the inside, and I think he found a wonderfully compatible match in Julian and Li, as they are also very easygoing, soft-spoken and relaxed."
The sessions with Amanda, coupled with their ongoing discussions with Danny, helped them feel confident that they could give Cannoli a foster home where he could continue to thrive.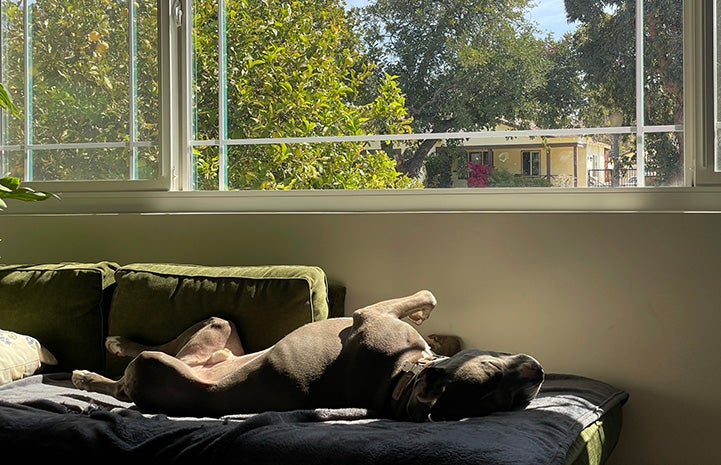 Patiently letting the dog take the lead
Because of the pandemic, Li and Julian had plenty of extra time to help Cannoli settle in at their place. But that's not to say it was easy ― at least not at first. Cannoli didn't seem to want to come out of his shell, so they decided to give it four weeks to see if he'd begin to feel more comfortable.
"During those four weeks there were a lot of highs and lots of lows," says Li. "We knew that good times would come, and bad times would come, too." Regardless, they decided to hang on for a month and their patience paid off ― perhaps because they tried to see situations from Cannoli's perspective.
By taking their cues from Cannoli and giving him the space to let his guard down on his own time, they started to see the Cannoli that made them decide to foster him in the first place and adopt him. "He's opened up," says Li. "And now he's really silly and expressive."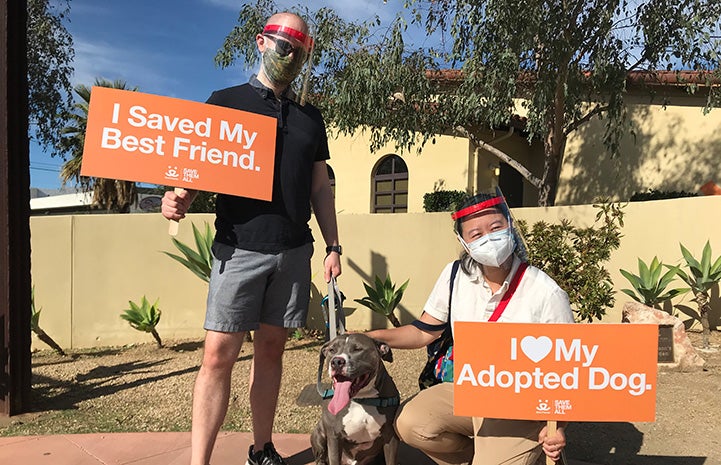 Li loves that Cannoli has brought more structure to her day, and when she takes a break to spend time with him, it helps her shift focus away from work. "Even walks are now really productive times," she says. "And that was a bit of a surprise."
As for Cannoli's leash reactivity, Li says they haven't noticed it much at all, although she has noticed that he's not a fan of skateboards. So when they take walks they switch to the other side of the street when they see a skateboard (or dog) headed their way, just to be extra careful.
Adopt a dog, gain a friend
Today Li and Julian consider Danny a part of the family, too. "It was important to us to honor Danny's time and relationship with Cannoli," says Li.
That's how Cannoli discovered Danny's pickup truck parked outside his new home. And when Danny hopped out and called Cannoli's name, the dog's tail wagged at warp speed, a sure sign that he was happy to be reunited with his BFF from Best Friends.
That day, Cannoli took a ride up the coast with Danny, just like old times. But this time instead of just taking in the ocean view, they stopped and played on the beach. That's when Danny realized everything had come full circle for Cannoli. All those drives, TikTok videos and Instagram photos had paid off. Finally, Cannoli had the life Danny always hoped he would.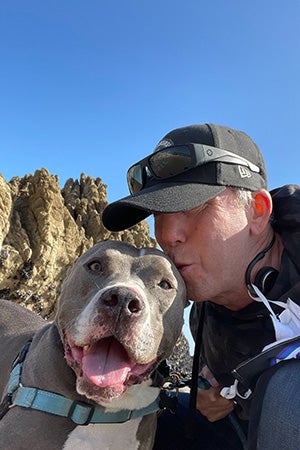 Foster a four-legged friend
Visit your local shelter, foster a dog and make a good friend in the process.
Read more
Book review: 3 tales of real-life blessings from special dogs
Baby meets a kitten his age, cuteness ensues
Veterinarian is a senior dog's prescription for the good life
Photos Best Friends in Los Angeles, Danny Bress and Li Lu and Julian Higgins