Couple donates gifts in memory of their daughter
Image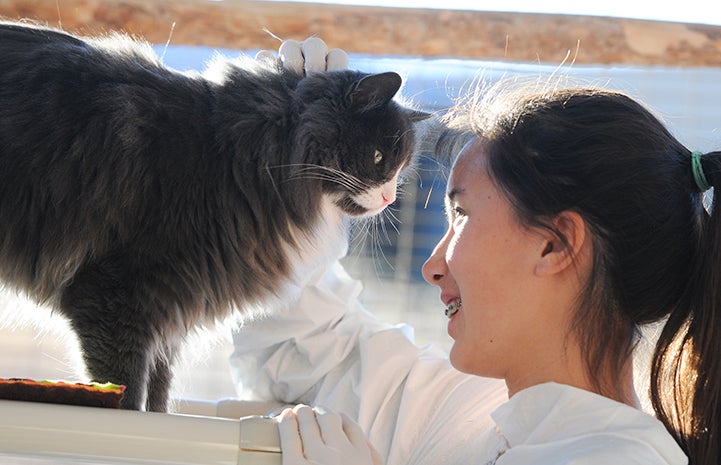 To honor their daughter's memory, John Sun and Carol Blaney donate handmade supplies to Sanctuary pets and start an animal intern scholarship.
By Christelle L. Del Prete
Best Friends Animal Society will always be a special place for John Sun and Carol Blaney, because it was their daughter Isabel's favorite place. They took their first trip to Best Friends in 2012, and later traveled many more times to the southern Utah sanctuary from the family's California home.
The family made many happy memories here. Best Friends was where Isabel wanted to spend all her spring breaks and summer vacations, as well as her Thanksgiving and Christmas holiday seasons. That's why, after losing Isabel in 2016, John and Carol started a tradition of returning to the Sanctuary to honor the memory of their daughter.
Couple brings gifts in honor of beloved daughter
John and Carol have made five such trips to the Sanctuary, and each time they return, their car is loaded with donations for dogs and cats. Isabel volunteered in all the animal areas at the Sanctuary at least once, but the animals at Dogtown and Cat World were the ones who captured her heart and drew her back again and again. Now, those animals and the people who care for them draw her parents back.
"We started doing this because we were looking for a way to honor Isabel and stay connected to Best Friends," Carol says.
During their most recent visit, John and Carol unpacked bags and boxes overflowing with dozens of dog leashes and fleece blankets. Each one was made with love by one of Isabel's friends and family members. From start to finish, these truly are gifts from the heart.
Creating donations in honor of Isabel
John and Carol have stayed in touch with Isabel's friends, including those away at college. On special occasions, such as Isabel's birthday or whenever her friends or extended family members are in town, they gather at John and Carol's home to make the gifts.
The couple first reaches out to their friends at the Sanctuary to take an "order." How many blankets could they use? Would they like leashes, too? Is there anything else they can bring to help the animals?
First, John and Carol shop at a fabric store and handpick fleece blanket patterns for the pet beds. Then, groups ranging from two to 25 gather and get to work. They cut and stitch the fabric into pet-bed-size squares and sew heavy-duty cloth elastic bands onto all four corners to hold blankets in place on the beds. (The elastic makes it easy to remove bedding for laundering or repairs). They also weave leashes from extra-strong paracord and clips of various sizes, so that some can be used for large dogs and others for puppies or cats.
More than 40 friends and family members participate in the project. The work gives them a sense of togetherness and accomplishment. "It feels like a gift for all of us that we can get together like this and honor Isabel," says Carol.
Keeping kindness alive
Once the batch is finished, John and Carol pack up everything and head for the Sanctuary. When they arrive, the fun begins. With their arms full of goodies for the Sanctuary's dogs and cats, they visit Dogtown and Cat World to reconnect with those who, through Isabel, have become family.
"Isabel had a huge love for animals, and Dogtown was one of her favorite places to volunteer," says caregiver Cristina Martinez. "Her parents and several friends brought these beautiful blankets for the dogs, and they explained that each blanket pattern symbolized something Isabel loved.
"Meeting John and Carol, Isabel's friends and loved ones, and hearing their stories were incredibly moving. Trying to choke back tears, I expressed my thanks and gratitude to them and promised I would help keep Isabel's memory alive. I really enjoy seeing John and Carol whenever they visit, and I love seeing what new patterns they picked out for the blankets. Our dogs really get good use out of them."
"The blankets are special to me because every time I see a dog like Holy Moly enjoying one, I am reminded of Isabel and her genuine kindness and her beautiful smile," says Dogtown caregiver Jess Cieplinski.
"Whenever I saw Isabel and her dad pull up in their car to volunteer, I knew it was going to be a terrific day for the dogs — especially the shy ones, because Isabel had a gift for working with shy dogs. It's a wonderful tribute to Isabel that her friends and family gather together to create the blankets for the dogs and keep alive her memory and the kindness she showed to animals."
Those in Cat World who knew Isabel and have stayed in touch with John and Carol couldn't agree more. "They are strong, lovely people and everything they do (for the animals) is a testament not only to Isabel, but also to themselves," says caregiver Dale Oster.
Volunteer coordinator Teresa Fifer, who met Isabel on her very first visit to the Sanctuary, says: "Isabel's family and friends have been so generous in making blankets for the cats. It shows the love that they have in their hearts, and it shows how much Isabel meant to them and how much her heart was here in Cat World. The gifts keep Isabel's presence here with us all. The fact that her family still wants to maintain that connection (with Best Friends) is really important. We want to maintain that connection, too."
Internships at Best Friends Animal Society
​Couple starts 'in memory of' scholarship
Isabel's kindness has been extended to people that the family never met, but whose lives will be forever changed because she lived. In 2016, John and Carol started a scholarship in memory of Isabel. Five-week, general animal care interns and species-specific three- or four-month interns are eligible to apply.
"It can be a life-changing scholarship because it allows someone to come and see if (animal care and welfare) is what they really want to do — to see if it's really a path they want to take in life," says Malissa Silvey, Best Friends intern coordinator. "The scholarship allows recipients to do something they wouldn't be able to do otherwise. I couldn't be more grateful to John and Carol for giving them that opportunity."
Mary Hartrich, a scholarship recipient, echoes Malissa's thoughts. "My experience at Best Friends would not have been possible without the scholarship that John and Carol set up in Isabel's name. I gained an immense amount of knowledge, forged meaningful relationships and became a better advocate for the animals. The memories from my time at Best Friends will be with me forever, and I'm eternally grateful to the Sun-Blaney family for changing my life."
Through all their generous contributions to Best Friends, John and Carol have ensured that their daughter's legacy will live on.
"We want interns to take the knowledge they gain here back to their communities," says Carol. "Isabel was interested in that. She was an activist in her own way, and she always wanted to be an intern at Best Friends one day. We wanted to do something that had meaning to her and to support the Sanctuary, because it was her favorite place in the world."
Honor a loved one with a donation to the animals
Photos by Best Friends staff and courtesy of John Sun and Carol Blaney