Curing a cocker spaniel mix
Image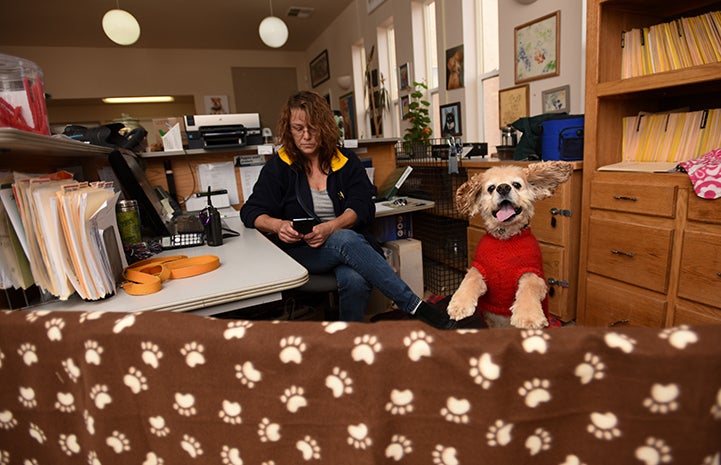 A cocker spaniel mix feels much better after receiving treatment for heartworms and an ear infection and is adopted into a forever home.
By Christelle L. Del Prete
In the last few weeks he spent at the Sanctuary, Josh acted as though his legs were spring-loaded. He'd sit behind the Dogtown reception desk looking dignified and dapper in his red sweater. But whenever he saw new friends approaching, he'd get animated and bouncy and start jumping up and down to greet them. When he was excited, the adorable little guy could really catch some air.
Josh's antics were more than endearing. They were proof of how much better he was feeling after getting excellent medical care at the Best Friends Animal Clinic. The difference between how Josh felt when he arrived at the Sanctuary in mid-July and how he was feeling when he left to go to his forever home in late October was like night and day.
Helping a dog with heartworm disease
The two-year-old cocker spaniel mix wasn't so zippy or exuberant when he first came to Best Friends. He'd been living with a No More Homeless Pets Network partner group in Louisiana, and they had started his treatment for heartworm disease. But Josh was still many weeks away from being cured, and he needed more help medically than the rescue organization could give him. On top of heartworm disease, he had a heart murmur, and both of his ears were badly infected. So Josh came to the Sanctuary.
Learn more about the No More Homeless Pets Network
In those early days, Josh's poor health showed in the way he would lie quietly on his bed in one of the Dogtown offices. The treatment for heartworm disease in dogs includes strict rest for about six weeks. That meant Josh couldn't run and play until he was heartworm-free. But he didn't feel energized enough to frolic anyway. He spent his days hanging out on his bed and enjoying the company of the Dogtown staff.
Freeing Josh from the pain of ear infections
The Best Friends vets worked hard to get Josh healthy again. While he finished the treatment for heartworm disease, he also got treatment for his ear infections. For a while, it was looking like he'd have to have surgery to drain his ears and help clear them. But luckily, the infections responded to regular cleanings and medication, so surgery wasn't necessary on Josh's path to recovery.
Finally, after two months at the Sanctuary, Josh was acting like a high-spirited two-year-old again. He was free from the heartworms and from the pain in his ears. While his heart murmur isn't curable, he didn't seem at all bothered by it. With the worst of his health issues behind him, Josh perked up and was ready to pick up the pace. That was when he started jumping for joy whenever he had the chance to meet new friends.
Bouncing back
To those who had known the little dog from the beginning, the difference in him was amazing. "He is way more spunky now than he used to be," says Dogtown team lead Julie Tasch, who shared her office with him.
Almost as soon as he was ready for one, Josh found a new home and leapt into an exciting new life. His new person, Connie, says, "He settled right in and has been on the go ever since. The toy boxes stay empty. Every toy is either on his living room bed or on the bedroom bed. As soon as I pick all the toys up, he has to empty the toy box right away again. This is a routine that gets repeated several times a day."
Though Josh needed some serious help at the clinic, once he bounced back he needed no help stealing Connie's heart. "He's such a wonderful, outgoing, lovable dog and I am lucky to have him," she says. "I cannot go anywhere without him being right at my side. He has become my shadow."
Help more animals like Josh go from homeless to home
Photos by Kurt Budde