Cushy retirement for a working cat
Sassy the cat went from life as a mascot and working cat at a feed store to cushy retirement with cat lover Armando Resendez.
By Sarah Thornton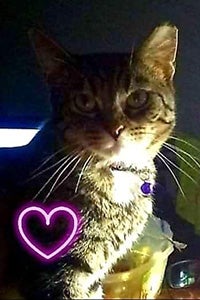 After moving from Los Angeles to the Coachella Valley near Palm Desert and spending nearly six years without a feline friend, Armando Resendez wanted to adopt a cat. So, he applied with a local rescue group, but their answer to him was no, because he preferred a cat who could go both indoors and outdoors.
While that was disappointing, Armando had another option. He was referred to Best Friends Animal Society's Coachella Valley community cat program, and that's how he learned about Sassy, a cat who was happily living an indoor-outdoor life, but needed new digs.
Sassy had always lived outdoors. She liked people, though, and the Best Friends team had placed her as a "working cat" in a feed store. In exchange for food, comfy shelter and affection (on her terms), Sassy's job was to deter rodents from snacking on the stock and to "supervise" the human staff with her cool kitty gaze. She enjoyed roaming around the property and would sometimes relax inside, but there was a problem: The feed store was about to close.
When Armando contacted Best Friends, he was referred to community cat program assistant Sam Rhodes. Sam had helped place Sassy at the feed store and knew all about her personality and how well she did with free indoor-outdoor access.
[Adopting working cats in L.A.]
Adopting an indoor-outdoor cat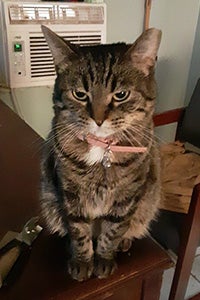 Armando had lived with cats his entire life and while he was growing up, two of his cats lived with him for more than 20 years. He felt a special connection to his feline friends, and not having a cat around for so long just didn't feel quite right.
His timing was just right. He and Sassy needed each other. The tabby cat would thrive in a home where she had the opportunity to go outside or stay inside. The same thing that caused one organization to turn him away made Armando the perfect fit for Sassy — depending upon how an initial meet-and-greet turned out.
Carol Reyes, community cat program coordinator, loaded Sassy into a carrier and took her to Armando's house for a first meeting. Armando came out wearing a shirt sporting an image of a cat wearing a crown and sunglasses. He wasn't shy about being a cat guy.
"He instantly fell in love with Sassy," says Carol. "He was really excited to welcome her." Of course, with anything new, there would be some adjustment time. For the first few hours in her new home, Sassy hid under the kitchen cabinets before finally coming out to explore. But within a couple of days, she was hopping up on the bed. As she relaxed and got comfortable in her new home, her cushy life as a retired working cat began.
[Rescued cat who once avoided people now has therapy certification to help those in need.]
A working cat's retirement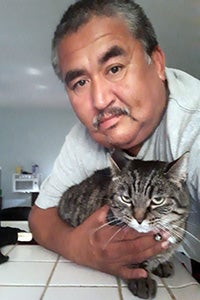 These days, the morning begins at 5 o'clock for Sassy and Armando. Armando makes coffee and feeds Sassy. There are plenty of breakfast options since Armando keeps different bags of dry food and a variety of wet food in stock. Sassy gets her pick.
"You know how cats are," Armando says. "Sometimes they'll take a nibble off of one thing and then they'll leave it, or they'll like a certain food and then you'll buy a case and they don't like it anymore."
With a wide variety of food on hand, Armando is prepared.
"I get three cans of different cat food, put them on the floor and I ask her which one she wants. And she looks at the one she wants," says Armando. "I'm trying to get her to put her paw on the can."
When she's done eating, Sassy joins Armando so he can brush her as he finishes his morning coffee. "She loves to get brushed," he says. "She looks at me, she looks at the brush and I know what she wants."
With the desert summer heat, there's lots of shedding that requires frequent brushing — two to three times a day. And with the cool floor, cool water and air conditioning inside, even when Sassy has the chance to go out, it's only for a moment before she trots right back in.
[Marvelously spoiled senior cat]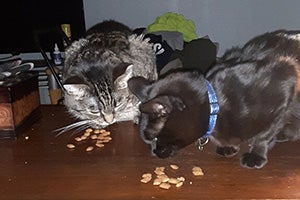 Sassy also gets daily visits from her new friend, a black cat named Kobe living with the next-door neighbor. He's younger and more rambunctious, but he's proving to be the perfect companion for her.
"He comes in here and they hang out and then he goes back to his house," says Armando, "He likes to run around and they play around a little bit, but she's more laid-back."
After her morning routine, Sassy likes to sit on the windowsill and watch birds from the comfort indoors. If Armando has to go out, he leaves the TV on and tells her he'll be back. Her new life is one of undeniable comfort, and she looks quite content lounging around the house.
"She keeps me company," Armando says, a smile in his voice. "Sassy is one of a kind. It's like she understands me and I understand her." And if we could ask Sassy, we think she'd say she's happy she didn't miss out on this retirement.
Give a pet a home
There are lots of pets in shelters waiting for a home. Could that home be yours? 
Read more
Chubby cheeks are cute on babies, but they're also adorable on cats
This cat's own tail was his worst enemy until he got help for chronic pain
Photos courtesy of Armando Resendez