This dog with behavior challenges may not be easy, but he's totally worth it
Pit bull terrier with behavior challenges, including problems getting along with other dogs and issues with overstimulation, gets help.
By Laura Moss
Every year, Nicky Bender travels from her home in Grimes, Iowa, to Best Friends Animal Sanctuary in Kanab, Utah, to spend a week volunteering. She usually left feeling renewed and proud of the difference she had made in the animals' lives. That is, until March 2013, her fifth visit to Best Friends, when she cried the entire flight home.
That was the trip when she met a two-year-old pit bull terrier mix named Bullseye, and it broke her heart to leave him behind. "The dogs are so well cared for there," Nicky says. "It's kind of like the jackpot of places to be if you're a homeless dog — even if you're a naughty homeless dog — so I never felt sad leaving because I know the dogs are in good hands. But that time I cried, because I knew Bullseye needed me."
The first time Nicky took Bullseye for a walk at the Sanctuary, he kept stopping and staring at the woman who held his leash. He was clearly curious, and Nicky wondered if she should try getting on his level. "As soon as I sat down," she says, "Bullseye jumped in my lap and put his head on my shoulder. At that moment, I knew that he picked me. I knew that he was going to be my dog."
A beautiful friendship with a pit bull terrier mix
That day, Nicky took Bullseye back to her cottage for a few hours, and he ended up staying the night with her and her mom. That's when Nicky realized that the dog she'd fallen in love with could be quite a handful.
As they played with Bullseye, he became overstimulated and they couldn't get his toy away from him. "He started to shake it uncontrollably and spin," Nicky says. "He would stop and offer it to us, but when we'd reach for it, he'd shake again. After a couple of times, he seemed to get agitated with us grabbing for the toy. We were concerned that if we let it escalate further, he wouldn't have the impulse control to stop." Finally, Nicky tossed treats into another room and closed the door, so she could retrieve the toy. Soon, Bullseye calmed down, and he climbed into the bed and spent the night cozied up to Nicky.
"He isn't an easy dog," Nicky acknowledges. At that point, Bullseye not only had quirky behavior like she observed on the sleepover, he had a history of getting into scuffles with other dogs. Because of that, he was moved to an area of Dogtown where he didn't have to share a room, and caregivers and
trainers could work with him on his specific issues. But despite all that, and in some ways because of it, Nicky had fallen for Bullseye. However, she already had two dogs at home, and adopting another dog wasn't in the cards. At least not yet.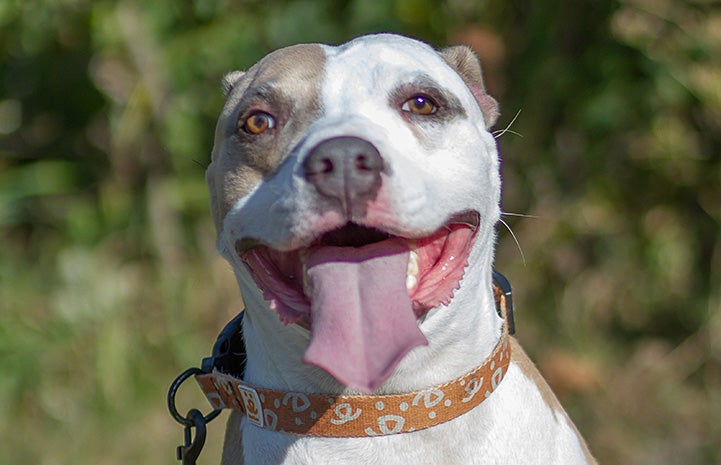 Bringing a new dog home
For the next year, Nicky regularly got email updates about Bullseye and she sent him care packages. Then she got word that he'd been bitten by a spider or a snake and was so sick from it that the vets worried he might not make it. Luckily, Bullseye pulled through, but the incident rattled Nicky to her core and she immediately filled out an adoption application. When she arrived at the Sanctuary in March 2014, Bullseye walked right up to her. "He remembered me," she says. "It was just like we had never been apart."
Nicky and her husband, Dave, knew it was going to take some extra work to integrate Bullseye into their home, but they wanted to try. During her trip to the Sanctuary, Nicky and one of the Dogtown trainers developed a plan. The trainer would film some sessions with Bullseye and send them to Nicky. In turn, Nicky would hire a trainer to prepare her other dogs to work around Bullseye's triggers. Whether or not he could eventually live among their other dogs, Nicky and Dave were committed to him.
In May, they returned to Best Friends and booked a one-way rental car. On May 19, Nicky's birthday, they drove Bullseye home. Once he was settled, they worked on slowly introducing him to his canine siblings. Things went well — better than they could have hoped for — but he'd occasionally become overstimulated and then there would be an altercation with the other dogs.
Nicky and Dave didn't give up on Bullseye. Instead, they accepted the fact that he'd have to be separated from the other dogs. But Bullseye had other ideas.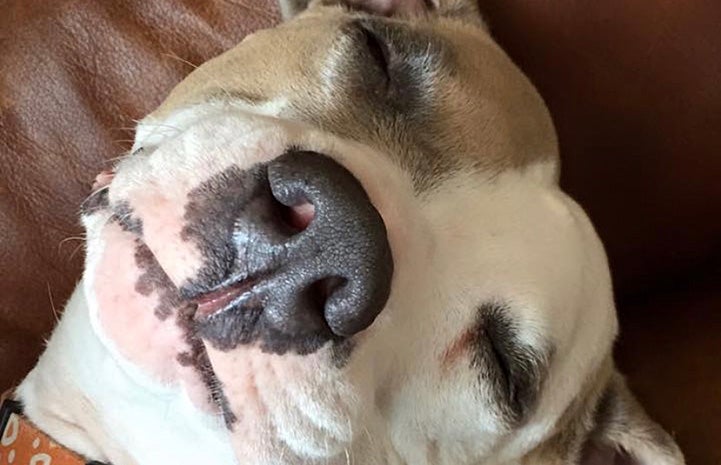 The comfort of canine companionship
The couple shares their home with Dave's mother, Tillie, who has end-stage Alzheimer's. Last fall, while Nicky was caring for a friend's Chihuahua, she started bringing the tiny dog into her mother-in-law's room, and she witnessed something magical. "Every ugly part of the disease — all the delusions, all the sleepless nights — stopped when she had this dog in her bed," Nicky explains. "The minute my friend came home and we took the dog away, though, everything started again."
So the Benders began looking into adding a small dog to the family. Nicky contacted a local rescue group and brought home several small senior dogs, but her own pups didn't take to any of them. Then she switched tactics and tried a puppy. That did the trick, Nicky says. "Enter Harley Quinn, the most perfect puppy ever."
Harley Quinn joined the household in March, and Nicky had every intention of keeping Bullseye separated from the tiny new family member. But Bullseye wasn't having it. When the puppy was in her kennel, he'd lie next to it and lick Harley Quinn through the grate. "He was playing kissy face with her, and she was loving on him," Nicky says.
Bullseye's love affair with the puppy went on for weeks, and eventually Nicky decided to let Bullseye sniff Harley Quinn as she held her. Bullseye was overjoyed, but Nicky knew she had to take things slowly to ensure that all her dogs were safe, so she continued to supervise Bullseye's interactions with Harley Quinn in the crate and occasionally let him sniff her.
"Over the next few days, I got brave," Nicky says. "We did it very slow and controlled and finally I just went for it, and Bullseye adopted this dog as his baby. Harley Quinn can bite his face, she can take away his toy, she can steal his bone, and Bullseye just loves her. If I (keep) them apart, he is completely lost." It turns out that Bullseye simply needed the right canine friend.
And Harley Quinn is the right friend for Tillie, too. "It is nothing short of amazing," Nicky says. "If Tillie is having delusions or restlessness, all I have to do is put Harley Quinn in bed with her. Almost instantly, all the bad stuff stops and Tillie will start petting her. And it seems like Harley Quinn just knows she has to be quiet and calm around her. Every night, Harley goes into Tillie's bedroom, gives Tillie kisses and then snuggles right next to her until Tillie falls asleep. It is about the sweetest thing you will ever see. No wonder Bullseye loves Harley."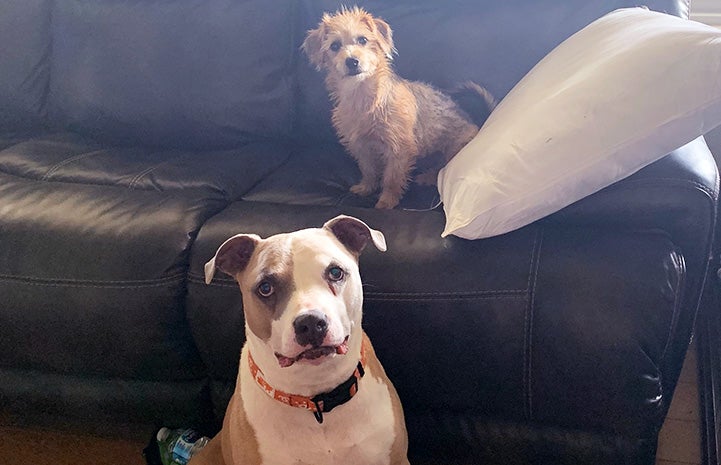 Dog with behavior challenges inspires career change
Bullseye has affected Nicky's life in another significant way. His adoption has altered her entire career path, leading to her helping other dogs who struggle with behavior challenges. Nicky had been employed by an insurance company, but her experience with Bullseye inspired her to seek a career working with dogs, especially those she lovingly refers to as "naughty dogs." So she started her own dog-training and pet-sitting business.
"The bulk of my clients have dogs that aren't easy, so I've found this niche market where I can act as a trainer and work with those people to develop skills for them and their dogs," she says. "The goal is to keep dogs that are considered somewhat marginal out of shelters. If we can make some changes to keep a dog at home, that's one less homeless dog. I've found that people really do love their dogs, but often they're in over their heads and don't know what to do."
Nicky says her entire life changed the day she met Bullseye, and she hopes their story will inspire people to put in the work to help every dog find a home. She believes that commitment benefits not only the dog but also the adopter. "I'm not going to say it's been easy having Bullseye," she muses, "but he makes me laugh every single day, and the happiness he brings me is worth a million bucks."
Photos courtesy of Nicky Bender