Dog finally home with adopters who loved him for years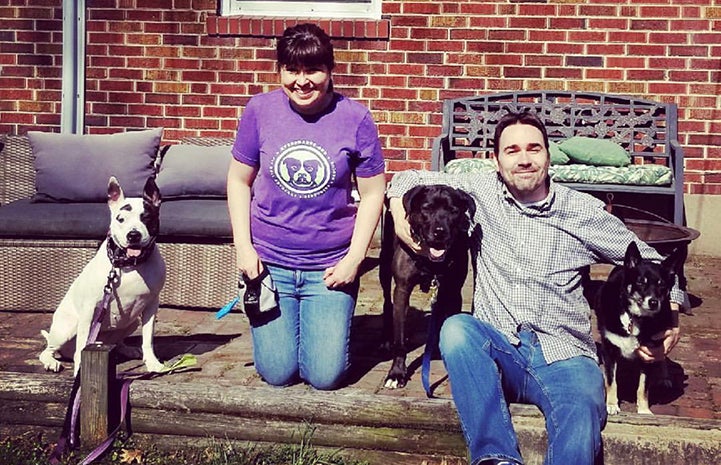 Dog is adopted by a couple who had loved him for years and are finally able to bring him home and give him the happily ever after he deserves.
By Christelle L. Del Prete
Swing was six years old when he moved into his forever home, but his fairy tale began long before that. He was the dog who everyone loved, but knew he'd be challenging to adopt — that is, until Elisha and Chris Edge changed everything for him.
Swing was just a puppy when he was brought to Best Friends Animal Sanctuary from a small rural shelter. He had lots of friends at the Sanctuary, and the Dogtown volunteers who took him on outings and sleepovers fell in love with him time and again.
Seeing a dog's true colors
With his zest for life and loving nature, Swing wasn't easy to forget. But he could also be very uncomfortable with strangers and sometimes be reactive by barking at them to signal that he needed to take things slowly. It was something that Dogtown behavior consultants and caregivers were helping him with, and Swing was progressing — but at his own pace.
Still, his true colors showed through enough to make Elisha and Chris want to bring him home right away. Even though they couldn't (because of strict pet limits in their city), they never stopped thinking about him. In their hearts, they knew they would bring him home when the time was right. Having lost their senior dog this past year, Swing was their silver lining.
Exuberant dog meets family-to-be
Swing met his family-to-be while they were volunteering in Dogtown. Elisha and Chris wanted to take a dog on a sleepover, and they chose Swing. Despite rave reviews from people who had taken him on sleepovers in the past, he hadn't been on one in a while.
Although Swing has an exuberant personality, his most exuberant dog greetings are reserved for people he knows well. With strangers he can be insecure, fearful and sometimes reactive. That didn't faze Elisha and Chris. They took it slow by taking him on a walk at Dogtown to make sure he felt comfortable with them before packing up and heading out for the evening.
"I was in love," says Elisha. "Swing was easily twice the size of our largest dog back home and acted like an overgrown puppy. We were fast friends. He was this big lovey boy who loved to give kisses and sleep in my lap."
A promise to an adoptable dog
From then on, Elisha and Chris never stopped thinking about Swing. From time to time, they checked the adoptable animals section of the Best Friends website to see if he was still there. Every year when they traveled to the Sanctuary from their home in St. Louis, they would first meet Swing in his area at Dogtown and, if he was comfortable with them, take him on a sleepover.
"He always seemed to remember us," says Elisha. "We always had a blast with him, then would tearfully return him in the morning, promising we'd come get him for good someday."
This year, they made good on that promise, and Swing flew to his new home in St. Louis. After giving him time to decompress from his travels, he was introduced (with the help of a dog trainer) to the Edges' other two dogs. The intro couldn't have gone any better, and the three dogs have been great friends since that very first day.
Adopt a pet from the Sanctuary

Happy ending for insecure dog
Of course, as with any big transition, there were some challenges. Living in a neighborhood with kids, bikes, cars and construction workers was overwhelming at first for the excitable dog. Fireworks in the area caused Swing to develop an intense fear of the backyard. That meant more walks in the neighborhood with all its hustle and bustle. Meeting new people continued to be a challenge.
Elisha and Chris reached out to Best Friends for help and worked with a Dogtown behavior consultant to come up with a training plan for Swing. With time, patience, creativity and lots of treats, he conquered his fear of the back yard and is now starting to confidently meet new people. While he still has some quirks and insecurities, the training has helped to relieve his stress so that he can move forward and fully enjoy his new life.
After a long wait and a few bumps in the road, Swing finally has his happily-ever-after. "Once upon a time, we took a dog named Swing on a sleepover and we never stopped loving him and thinking about him," Elisha says. "He was my long-distance love, a member of our family to be. Swing is finally home, and he makes me laugh every day."
Photos courtesy of Elisha Edge