Dog goes from angry and alone to canine soul mate, thanks to squeeze cheese
Image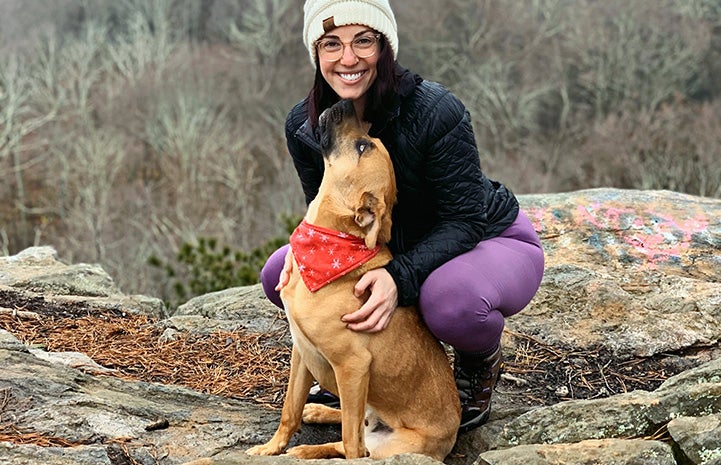 It took a week of treats before Charger let anyone get near him, but when he did, it changed his life forever.
By Sarah Thornton
Editor's note: We know the world is a scary place right now. If you're looking for information on pets and coronavirus, you can find that here. If you're looking for a break from serious news, we hope this brightens your day!
In most situations, it's not a good idea to feed hot dogs and squeeze cheese to a dog who's barking and lunging at you through a fence. In Charger's case, however, it changed his life, and eventually his new mom's.
Charger had been living on the streets with another dog when the pair was picked up and brought to an animal control facility not far from Best Friends Animal Sanctuary. While the other dog was quite friendly, Charger was the opposite. He wouldn't let anyone into his run to take him out. It would take a lot of treats and many days to win him over. So that's what Dogtown team lead Tierney Sain set out to do.
Working with a defensive dog
Tierney was determined to help Charger so he could get to the Sanctuary and maybe, just maybe, eventually into a home. She spent hours with him, every day, bringing him treats and toys and just talking to him so he'd get used to her voice. "It might have looked like I was reinforcing his reactivity," Tierney says. "But really I put all those rules out the window so I could build a relationship: Look, I come with cookies. Every time you see me, every night, I have good things."
Charger's friend, Agatha, unlike him, had no problem with their visitor and was happy to demonstrate how to accept a treat. She was an important part of the process, showing him that people aren't as scary as he might have thought.
It took a couple of days but, finally, Charger began to relax. When Tierney returned with Carissa Hendrick, also from Dogtown, they moved from the other side of the fence to inside Charger's room for the first time. The two stood just within the door and tossed treats to him as he kept his distance. Slowly, slowly, they threw the treats closer and Charger had to close the gap between them to get his snack. Eventually, he was eating out of their hands.
It made Charger nervous when Tierney and Carissa stepped farther into his space, out into the yard that he and Agatha shared, but they took it nice and easy, only a few steps at a time. Charger started sniffing intensely at their faces when he took a treat. And he must have smelled something he liked, because his demeanor changed. Suddenly, he wanted to play with them. He was a little rough at first, but after the initial excitement of new playmates, he calmed down. It began to look like Charger was going to be OK.
More about Dogtown at Best Friends
The friendliest fellow
After Tierney had spent a week working with him, Charger was ready to make the trip to the Sanctuary. While it's common for a dog to be cautious in a new situation, Charger blossomed when he arrived in Dogtown. He was relaxed and happy to see new people — any new people. He was delighted when he met a child through the glass door of his room, Tierney remembers. "He was so ecstatic to see her, super excited and wiggly and happy."
His reaction was so fundamentally different from how he was when Tierney first met him. It seemed that something about that week of constant treats and games had changed him deeply. He had transformed from a fearful stray who trusted no one to a cheerful dog who wanted to be around everyone.
Dog's calming presence in a scary situation
Charger's life changed again when Marisa Patelli came to the Sanctuary. She had signed up to volunteer in Dogtown, and the first area she set out to clean was Charger and Agatha's. "It was love at first sight," says Marisa. "He was this sweet-looking blonde boy, and the way he looked at and interacted with me made my heart want to explode." Before she had time to worry about the logistics of adopting him and getting him home to Connecticut, she found herself filling out an adoption form.
Marisa asked to bring Charger on a sleepover that night and decided to take him on a hike. That's when things got a little scary. Marisa says, "I am an avid hiker and have a decent sense of direction, but not that evening. Instead, I got us lost. Very lost." Kanab is in rural Utah, with hundreds of miles of sandy, rocky desert trails, and getting lost can be life-threatening. Marisa had no cell service and the sun was setting. "I began to panic, feeling like I was constantly taking the wrong turn," she says.
Marisa squatted down to give herself a little hug in an attempt to slow her racing heart and think more clearly. Chance approached her with curiosity. Marisa says, "He shoved his head and nose so he could get in closer to my chest. He then pressed himself up against me." Then he stepped away for the first time the entire hike, and tugged the leash. He pulled Marisa off the trail around a large boulder. When they rounded the boulder, she recognized where they were, and how close they were to the trailhead where they'd started.
"I was brought to tears … my heart had never felt so full. I was finally learning what it felt like to be loved unconditionally," says Marisa. Soon Marisa and Charger were on their way to Connecticut to start their new life together, and Charger got a new name — Chance.
Shelter dog helps with PTSD and anxiety
"Life with Chance has been nothing short of adventure and pure joy," says Marisa. "He's extremely eager to please, and between our connection and his love for food, he's learned a long list of cues." Marisa takes him everywhere she can, and he has already been on trips to several other states, hiking in the mountains. When they're home, he goes to doggy daycare, where he's a favorite.
"Chance has made every single day better. I am a cancer survivor and what comes with a battle like that is crippling PTSD and anxiety. Having Chance gives me a reason every single day to get up and not allow my anxieties to consume me," Marisa says. "He is the best friend I never knew I needed. I cannot wait to see the adventures life has in store for us."
Chance has come a long way from the barking, lunging, angry dog who wanted to keep everyone away. His transformation into Marisa's best friend just took a bit of faith, a lot of squeeze cheese and the recognition that a troubled soul needed someone to care.
Join Best Friends and help more pets like Charger
P.S. Agatha, Chance's sweet, silly friend, has also been adopted!
Photos by Kurt Budde and courtesy of Marisa Patelli