Dog with perforated intestine has emergency surgery
Senior dog with fluid in his abdomen from a perforated intestine needs emergency surgery. He is recovering nicely and feeling much better.
By Christelle L. Del Prete
Hatch the dog looks so good when he's strolling along the trails in Dogtown that you'd never guess that this spirited senior boy is especially lucky to be at Best Friends, with a medical team at the ready to handle emergencies. Today he's the picture of health, but two months ago, he needed all the expert help he could get.
Emergency vet visit for dog with perforated intestine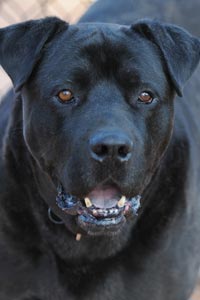 Because Hatch is the kind of dog who's always ready and waiting for his dinner, his caregivers knew something was wrong when he skipped two meals in a row. Besides his lack of appetite, he was lethargic — sprawled out on the floor of his room. His caregivers immediately called one of the Best Friends veterinary techs, who found that Hatch had an alarmingly high fever.
After being rushed to the Best Friends Animal Clinic, Hatch got some really bad news. He had fluid in his abdomen from a perforated intestine and needed emergency surgery. Hatch wasn't about to argue. Though he's normally a bit ornery when being handled for medical treatments, he just sat there calmly. The fact that he was a model patient was just one more sign of how poor Hatch was feeling.
Recovering from surgery
While Hatch was in surgery, his caregivers were worried, but the black dog showed his strength by pulling through the delicate procedure. And, after a couple of days in the clinic, he was feeling much better and was ready to return to the Clubhouse, the area of Dogtown where he lives.
It would take nearly two months and lots of medication (mainly to help digestion while he healed) before Hatch bounced back. But each day he gained more and more strength.
These days, Hatch enjoys walks and golf cart rides. He's lost some excess weight, and though he's still on some post-surgery medication, he's feeling pretty great. Out on the trails, his black coat gleams in the sunlight, and there's a noticeable bounce in his step.
Dog's renewed strength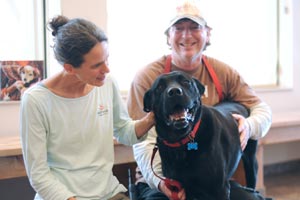 Hatch is back to his ornery self during veterinary checkups, which is another way everyone knows he's made a full recovery. And after his ordeal, he's even gotten a bit more affectionate. He'll ask for attention by rubbing his head against his caregiver and, on occasion, will act like an 85-pound lap dog.
"We are so happy to have him back alive and healthy," caregiver Tom Williams says. "To see him make such a strong recovery and look so good is really gratifying." With his crisis behind him and his strength renewed, Hatch will now go on to enjoy the rest of his golden years, feeling better than ever.
To bring hope and healing to more animals like these, become a Best Friends member.
Learn more about Dogtown at Best Friends here.
Photos by Molly Wald