From dogfighting bust to beloved family dog
After being rescued from a brutal dogfighting ring, one dog goes on to much happier life with her adopted family, which includes two cats.
By Christelle L. Del Prete
Talk about going from rags to riches — Pretty Girl the dog was plucked right from the middle of a fighting ring, a cruel and highly abusive "blood sport," during a police raid. After spending some time with a local rescue group in New York while waiting for the court case to wrap up, she came to the Sanctuary in August of 2014. And while she may look like a sweet, cute (but also somewhat ordinary) brown dog, Pretty Girl made a big impression at the Sanctuary before winning over a very special couple.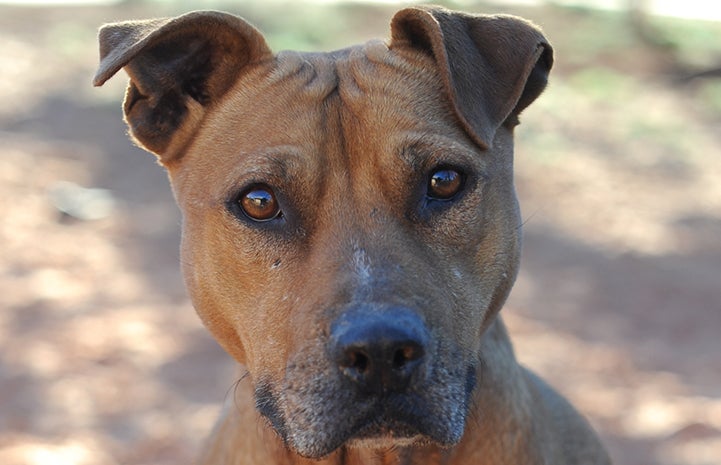 Treatment for canine babesiosis
In spite of the horrible conditions she'd lived in, Pretty Girl didn't have much emotional baggage. But the situation did take a physical toll on her. Pretty Girl has canine babesiosis (also known as babesia because it is caused by the babesia parasite), a blood-borne illness that can spread to other dogs through the kind of deep bite wounds common in illegal dog fights.
Poor Pretty Girl was emaciated and not feeling well at all when she first came to Dogtown. But with proper babesiosis treatment at the Best Friends Animal Clinic, her physical condition turned around quickly. However, because there is no cure for babesiosis in dogs, Pretty Girl couldn't have any canine playmates in Dogtown, and she was going to have to find a home where she would be the only dog.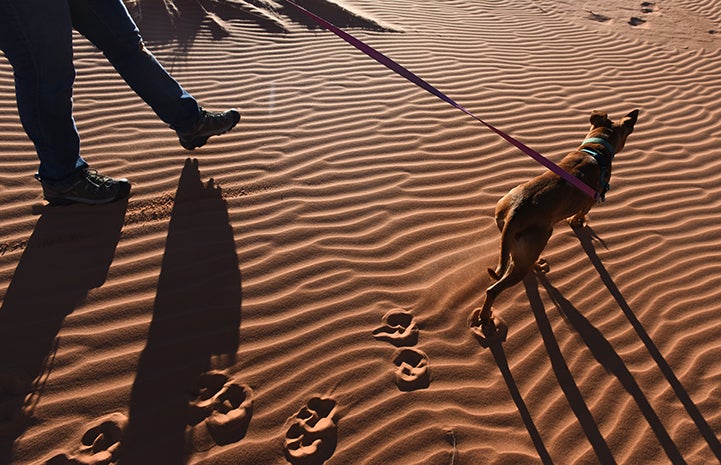 Joie de vivre
So-called single pets often wait longer for homes than those who can live with others. But this didn't worry Pretty Girl. Full of energy and life, she was determined to have the most fun possible for as long as she stayed at the Sanctuary. Her goofy, loving personality quickly turned strangers into friends and fans, and her joie de vivre was infectious. "You can't help but be happy around Pretty Girl," says Amy Hook, a Dogtown volunteer.
Meet some of the Sanctuary's wonderful single pets
While she lived in Dogtown, Pretty Girl greeted people on Sanctuary tours, went on fun outings with volunteers, cuddled with volunteers on sleepovers and took car rides to some amazing hikes. She was a favorite of the staff and of visitors alike, but a couple visiting from Pennsylvania proved to be her perfect match. With her sunny disposition, Pretty Girl easily charmed them and convinced them to take her home.

Pretty little Peanut
Now, Pretty Girl has a whole new life on the east coast. Her new name is Peanut and she lives peacefully with two cats. Adopter Jennifer Dylewski says: "She is doing great! Adam and I love her immensely. Her zoomies are hilarious. She is such an exuberant pup. Her happy spirit is contagious and she is a true testament of how love can help heal even the worst wounds."
From the nightmare of a fighting ring to becoming a Sanctuary favorite and much-adored pet, pretty little Peanut has a real life rags-to-riches story. But she isn't the only one who is feeling rich these days. "Peanut certainly exceeded our expectations about bringing us joy," Jennifer says. "My cheeks hurt in the best way from the smiles she has brought to us. Adam and I feel absolutely blessed to have her in our lives."
Help more animals like Pretty Girl go from homeless to home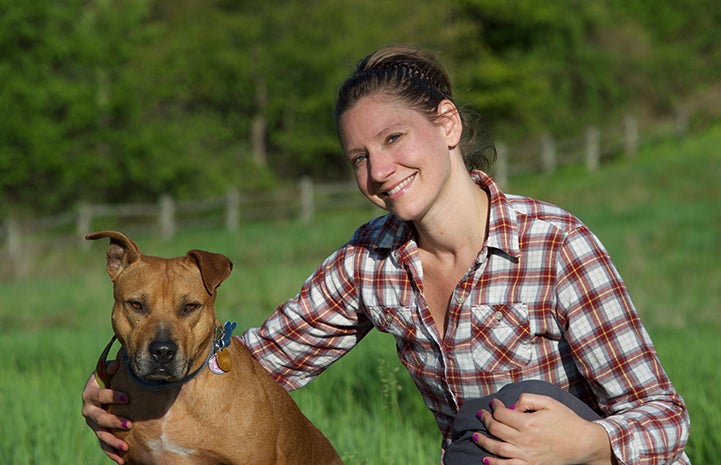 Photos by Molly Wald and courtesy of Jennifer Dylewski