A dog's bucket list
Image
Dog with a heart condition has a bucket list of fun things to do and experience.
By Christelle L. Del Prete
On the outside, Jessie looks like the picture of health. At just shy of four years old, her black-and-white coat is gleaming, and her eyes are full of light. She's athletic — always looking like she's ready for a long hike. Best of all, Jessie loves people and she's not shy about showing it. From the moment you meet her, she's all wiggles, kisses and tail wags.
But what you can't see by looking at her is that Jessie has a heart problem that could stop this happy, loving girl in her tracks. The condition, which sometimes makes her heart unable to pump enough blood to her brain, can't be fixed with surgery. It's likely that Jessie won't have a normal lifespan. In fact, there's no telling how much time she has left.
But we're making sure the time she does have is the best of her life. Since Jessie landed at the Sanctuary in early October, she's been living every single day like it's her last. And it has been awesome.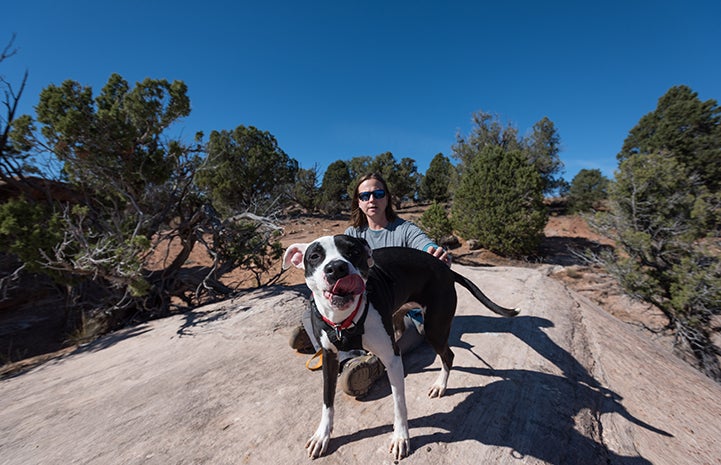 Making a sick dog's dreams come true
Instead of feeling sad before she's gone or worrying about the things she can't do, Jessie's Dogtown caregivers created a bucket list for her. They filled it with all the best, most fun things they could think of that Jessie might dream of doing, if she had the choice.
Even though Best Friends vets are carefully managing Jessie's heart condition with medication and restricted exercise, she can't romp and wrestle with other dogs, go tearing around a yard or play fetch. But the list of things she can't do is short compared to the list of things she can do.
Jessie's bucket list is filled with the most fun things imaginable for a dog who calls Dogtown home and has the whole Sanctuary as her playground.
---
Bucket list for a dog
1.) Play in the creek
2.) Make a trip to the drive-thru for lunch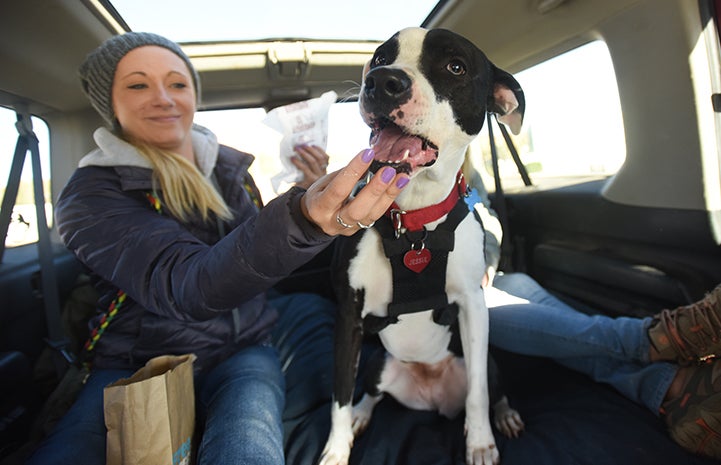 3.) Dress up for Halloween

4.) Get a job as an office dog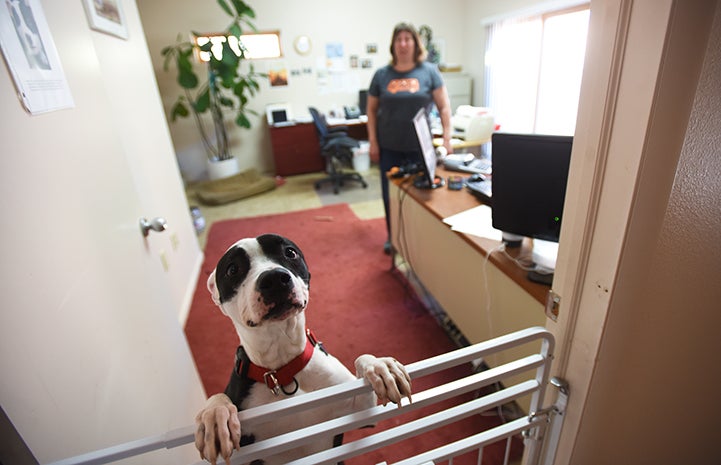 5.) Eat an ice cream cone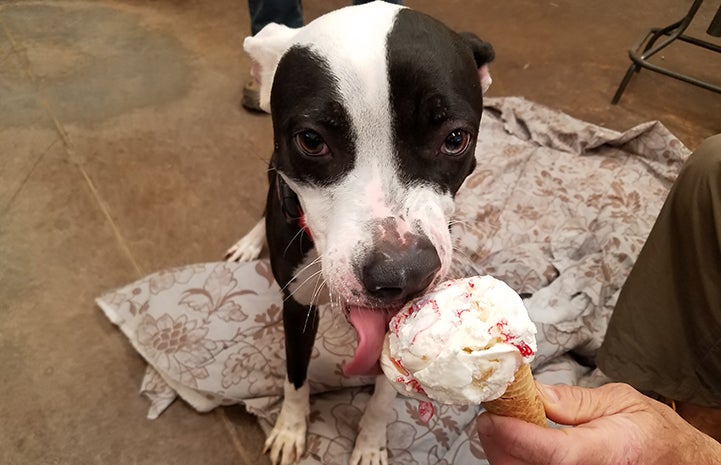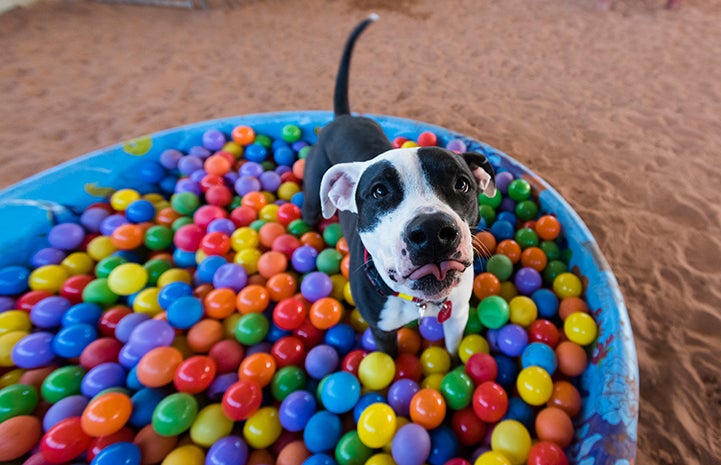 7.) Take a golf cart ride

8.) Go for an ATV ride

9.) Go whitewater rafting

10.) Have a birthday party

11.) Have a movie day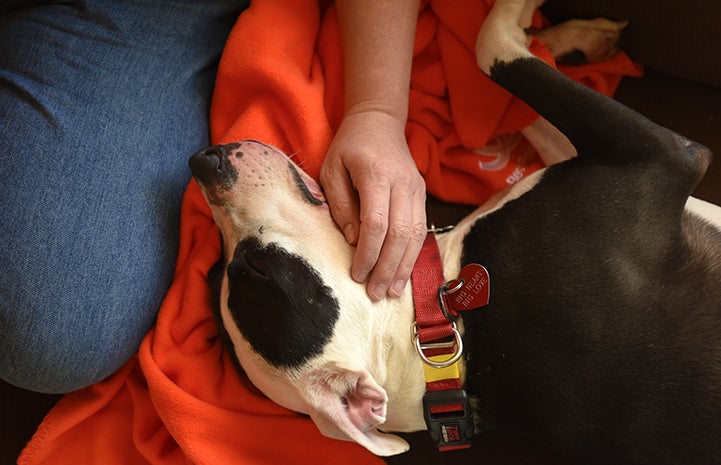 Every day is a great day
So far, Jessie has dressed up for Halloween and splashed around in the creek. She's carpooled with three of her caregivers to a fast food restaurant drive-thru, eaten an ice cream cone and been escorted around in an ATV. She's jumped around in a kiddie pool full of colorful balls until she got so excited that her caregivers had to give her a break so her heart wouldn't race.
Jessie landed that part-time office job, too. On Thursdays she goes to the office of Best Friends staff accountant Leslie Zion, where her job is to hang out and do whatever she wants — well, almost. "She wants to crawl into my lap when I'm working," Leslie says. But she's a little too big for that.
Jessie's also spent a Saturday in Leslie's home, where, after Jessie fully explored the house, the two hung out on the couch, snuggled and watched movies together.
Jessie enjoyed a Thanksgiving picnic in the Dogtown staff room, too. Her caregivers and some of her many friends gathered there with her to celebrate the holiday. "She loved cheese puffs," Leslie says. "She is so cute that people were sharing their sandwiches with her."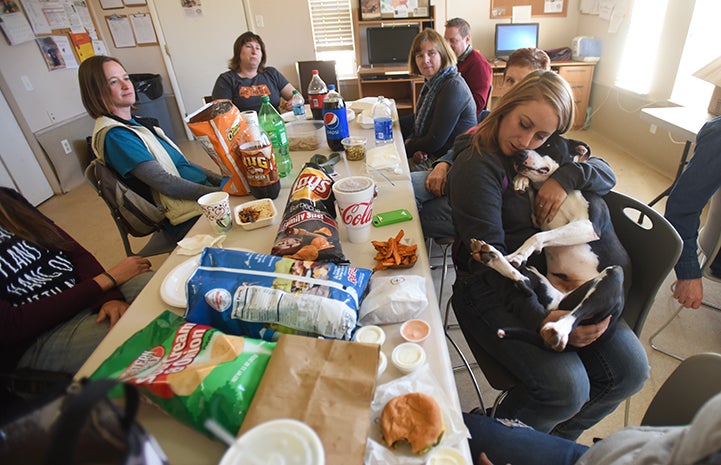 One of Jesse's favorite things so far has been riding in the golf cart. "She thinks she can fly, when she's up there," says one of her caregivers. "She leans forward into the wind." Of course, her caregivers have a tight grip on her to keep her safely in the cart and on the seat. But Jessie loves it just as much as if she were flying miles above the ground.
Enjoying every fun-filled moment
Next on Jessie's bucket list is a birthday party and the chance to open a handmade Christmas stocking with the letter J on it.
If her bucket list had the power to keep her around longer, there would be no end to the things on it. And as she gets nearer to completing the original list, her caregivers and friends already have been penciling in more fun ideas.
No one is dwelling on the fact that any one of her adventures might be her last — least of all, Jessie. All you see when you look at her is a dog who is truly alive and enjoying every fun-filled moment she has.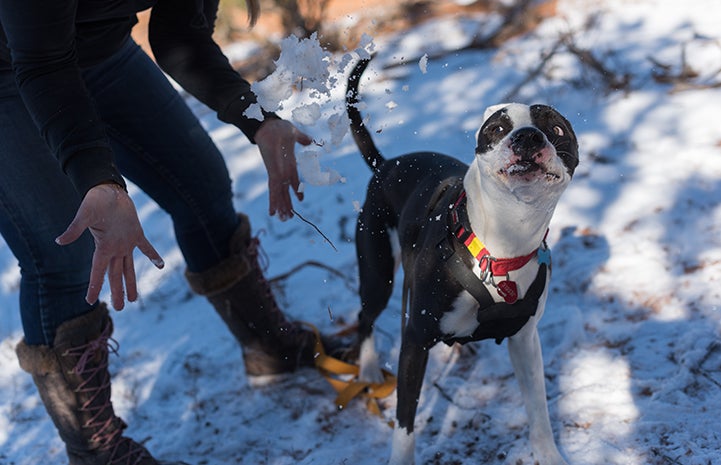 Photos by Molly Wald and Kurt Budde