Dogs sniff out joy with search and rescue training
Dogs find their happy place with search and rescue training at Best Friends Animal Sanctuary
By Sarah Thornton
Editor's note: We know the world is a scary place right now. If you're looking for information on pets and coronavirus, you can find that here. If you're looking for a break from serious news, we hope this brightens your day!
"8 … 9 …10 … Ready or not, here I come." Who doesn't remember the rush of adrenaline and trying to stifle your giggles as your friend scours the house searching for you? We've all played hide-and-seek as kids, but who would have thought some of us would still be playing as adults, with dogs?
At Best Friends Animal Sanctuary, hide-and-seek with dogs — or, more accurately, search and rescue training — is as fun as it is practical. The people working at Dogtown also make sure life is fun for the dogs, from hiding treats around their runs to taking them on outings. There is agility equipment to play on, and enclosed dog parks provide them with a place to run around and check out all sort of smells.
The dog parks — full of trees, scrub brush and all sorts of hiding places — are also excellent grounds for search and rescue. And search and rescue training is excellent for enrichment.
How training keeps dogs happy
Trainers look for specific traits to identify dogs with possible futures in search and rescue, but at Dogtown the training is just for fun. Any dog is welcome to give it a try, but it's especially helpful for those with a lot of extra energy to burn, or those with anxiety or confidence issues. Many times, those dogs just need a job to help them relax.
Teaching the rules of the game is the first step. You can't just say to a dog: "You count to 10. I hide and then you come find me." Instead, training starts with short, easy chases.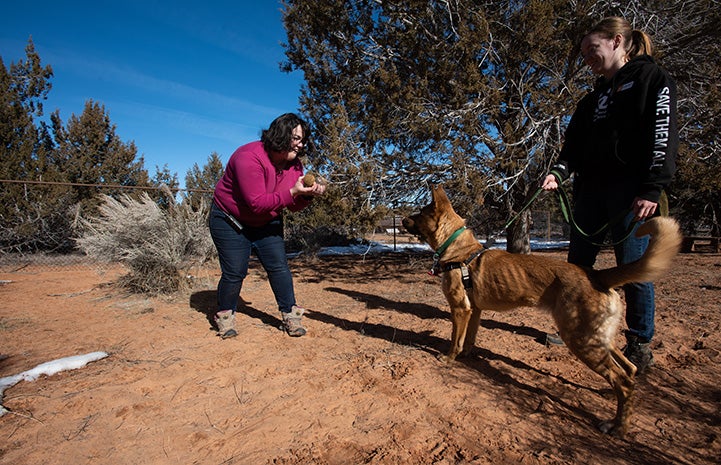 "The dog just learns that running to the 'victim' is super fun and earns a great reward," says Haylee Heisel, training and behavior specialist at Dogtown. Treats, toys, a short game of fetch — whatever motivates each dog the most — is the reward for finding their person (who is standing in plain sight close by). Once that's established and they're reliably going to the victim for their reward, the hiding begins.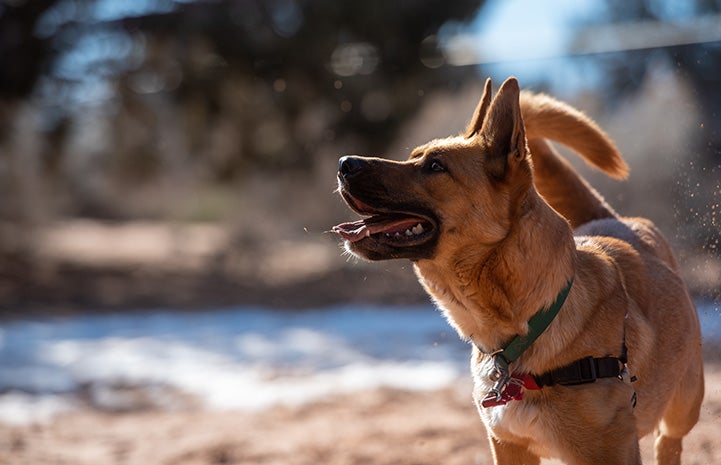 Dog search and rescue skills for fun
It's very simple, at first, with a person running off and hiding behind things. Then it gets trickier and trickier as the dog becomes more comfortable and confident. It's surprising how much of a difference there is between just hiding under a tree with low-hanging branches or lying in some bushes. With the latter, the foliage traps all sorts of different scents and suddenly you're invisible and the dog is doing circles around you, unable to find you.
Eventually, the dog no longer gets to watch as the person runs away to hide. And finally, the dog arrives on-site with the victim already hiding, having never seen the person before the search.
At the same time, separately, the dog is learning a trick that can be used as an indicator, a way to let the handler know the dog has found someone. Haylee says, "(The goal) is that the dog finds the victim, returns to the handler and indicates that they found them, then leads the handler back to the person before getting their reward."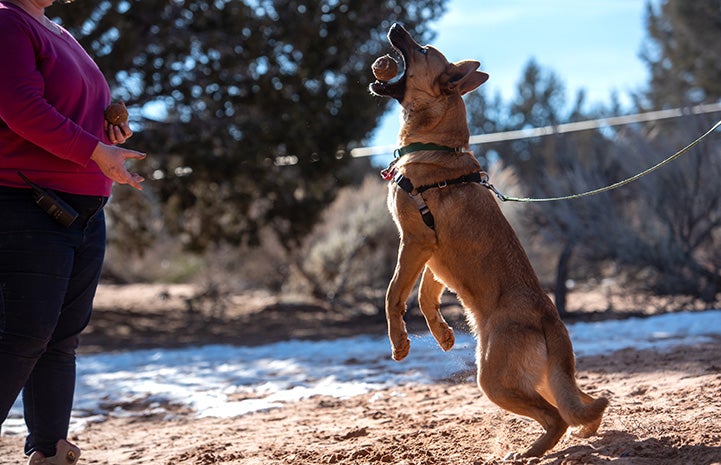 The searchers at Dogtown
For Manuel, a big, floppy-eared guy with a love for treats and a high drive for play, search and rescue is a great source of enrichment. Training started when he was in a pre-adoption program focused on teaching all sorts of new skills, and now search and rescue is part of that skill-building.
Manuel is a natural when it comes to search and rescue. It's an exciting game, and even an unexpectedly difficult hiding spot only slows him down briefly. He's so happy to find the hidden person that he could play all day if the humans could keep up.
Bonneville joined the search and rescue fun for the enrichment and to burn energy. Since she is more motivated by play than food, her reward for uncovering the hidden person is playing a few rounds of fetch. The built-in breaks after every few runs are definitely for the people involved.
The energetic pup was still working on finding increasingly difficult hiding spots and never quite made it to the last level. "It takes at least a year of intensive training to get a dog to the point where they can do the whole sequence," Haylee says. "We hope our dogs get adopted before they can do this."
For Bonneville, that hope has come true. She was adopted into a home where her new family is happy to play fetch as much as she wants.
Search and rescue training at Dogtown is the perfect enrichment and exercise for everyone involved. And while it may not be a career path for all the dogs (though it certainly could be for some), it's always fun to play a little hide-and-seek with your best friend.
Send love to an animal at Best Friends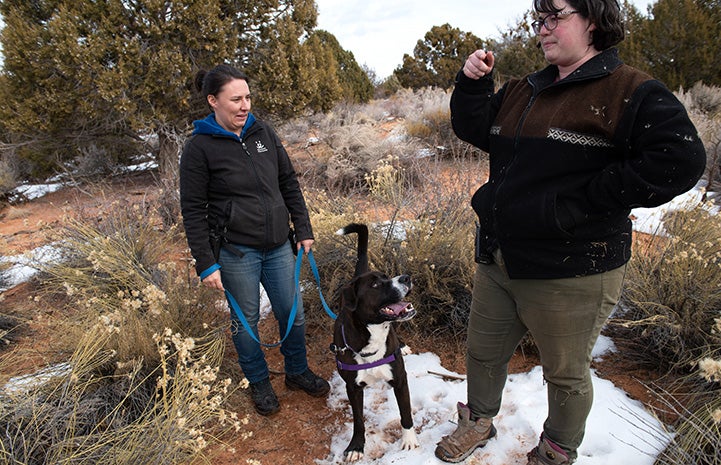 Photos by Molly Wald