Dogs on their best behavior
Image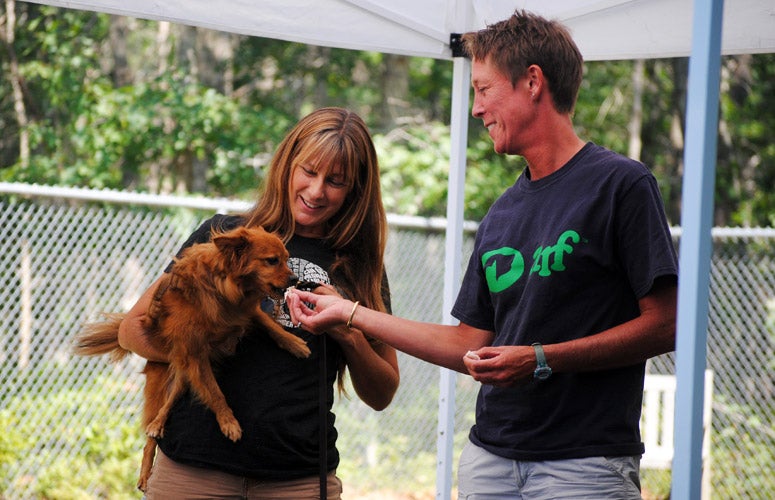 Best Friends mentors groups to assist pets in reaching their fullest potential.
By Denise LeBeau
Bella, the schipperke/Pomeranian mix, wasn't a bad dog, but she wasn't exactly on her best behavior, either. Many dogs end up acting just like her when they lose their homes, as they search for someone — anyone — to love them again. When Bella arrived at Animal Rescue Fund of the Hamptons (ARF) in New York, she didn't display the happy-go-lucky personality that would get her a forever home. What she did do was bond with the director of operations, Michele Forrester, and treat everyone else like the enemy. Bella wasn't the only dog with behavioral challenges that ARF needed help understanding and improving. When Best Friends animal behavior consultant Sherry Woodard traveled to the area for a workshop, she added ARF's tough cases to her itinerary in hopes of helping.
Hurdles on the path to forever homes
As a No More Homeless Pets Network partner, ARF was eligible for help from Best Friends. The No More Homeless Pets Network is a program of Best Friends Animal Society focused on working with other rescue organizations and municipal shelters across the country to end the killing of dogs and cats in our nation's shelters. Linda Gage, Northeast regional specialist, says, "Animal rescue groups are hungry for information to better assess and work with their dogs who are 'stuck.' These aren't vicious dogs, but they're not doing well in the shelter environment. Some groups have difficulty adopting out these dogs, so they stay in the groups' care for years. (The shelter workers are) willing and want to change."
Sherry holds animal behavior workshops and offers one-on-one consulting through the No More Homeless Pets Network. On her trip to the Northeast, in addition to ARF, she reached over 40 groups through seminars and consultations. Her shelter consultations include talking to the staff, observing the animals, and assessing the housing situation, along with hearing about their daily routines. The animals' entire shelter experience is taken into account before she makes recommendations.
"It's about listening"
Upon arriving at ARF, Sherry saw that the way dogs were housed might be the culprit behind some of the dogs' frustration and bad behavior. She honed in on Bella and identified one of her triggers as barrier frustration (barking and/or lunging when behind a barrier, such as a fence). Sherry talked with ARF staff about how the dogs could be housed differently to help them be calmer and more comfortable. Her immediate recommendation for Bella was to change her location to help her make more friends.
Sherry says, "One of the things that can be hardest on animals in the shelter is constant stimulation, and it can be fixed. You can rotate the animals or put in hedges between outdoor runs. Staff has to take the time to slow down and hear what the dogs are telling them."
Sherry also recommended some simple solutions like having fewer tours come through the facility. Every time tour groups came through, the dogs would bark and spin in their kennels as though in a contest to see who could make the most noise.
"ARF is doing a great job with their dogs, and asking for help to do even better shows they're motivated to expand their ability to Save Them All," says Sherry.
A beautiful match for Bella
"We learned a lot from Sherry's visit; we learned to listen to the dogs and better set them up for success," says Michele. The consultation was a success on all accounts. Bella, after being at the shelter for five months, found a great home.
Get involved
Learn more about how Best Friends helps No More Homeless Pets Network partners.
Find answers to your animal behavior questions in the Best Friends' resource library.
Photos by Jamie Forrester