Dog's two families make life complete
Ralph's person for 14 years bonds with his new adopters over stories of his past and present, as well as plenty of cute pictures.
By Sarah Thornton
Pets have a way of bringing people together. We meet neighbors while out walking our dogs, and the internet was practically made for sharing pictures of our cats and laughing about them. It's easy to strike up a conversation about our four-legged family members — where they come from, their silly habits and all the things we love about them. It's even true when you're sharing with people who have never met them before.
In the case of a sweet senior dog named Ralph, he brought together the people who love him most — the man who raised him since he was a puppy and the family who adopted the big, old boy 14 years later. Now, Ralph's families are laughing about stories of his past and present, sharing pictures and bonding over this very special dog.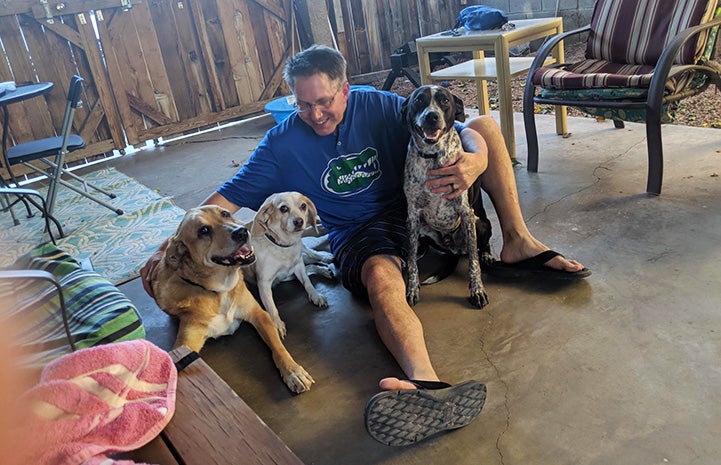 Ralph past and present
It is never an easy decision to say goodbye to a beloved pet. After all, they're family and we love them. Ralph had been in Lance's family for almost 14 years, ever since he was just a puppy. He still remembers when the bundle of fur came into his life. "He was supposed to be a husky," says Lance, laughing at the memory. (Ralph is far from a husky, and even as a little guy, his Great Dane and Labrador looks gave him away.) "My wife went to go pick him up … and she couldn't resist his face."
Ralph was a smart pup, with Lance teaching him every trick in the book: sit, heel, shake, wait, give kisses. He did it all and he could do it all with nothing but hand signals. "It only took me three weeks to train him for hand signals," Lance says. "He is one very, very smart dog."
[Senior dog finds a home for her "100th" birthday]
For those 14 years the two were nearly inseparable. But life can change fast. After a divorce, housing circumstances made it impossible for Lance to keep Ralph with him. He looked everywhere, but couldn't find a home that could accommodate the large senior dog. The only reason Lance's other dog was able to stay with him was because he was a registered support animal.
Saying goodbye to Ralph was a heartbreaking decision and one Lance did not make lightly. But it seemed it was either that or homelessness. So very sadly, Ralph was taken to his local shelter, where they did everything they could to help him out — including (because of the challenge of his age) getting him on a transport vehicle and off to the safety of Best Friends Animal Sanctuary.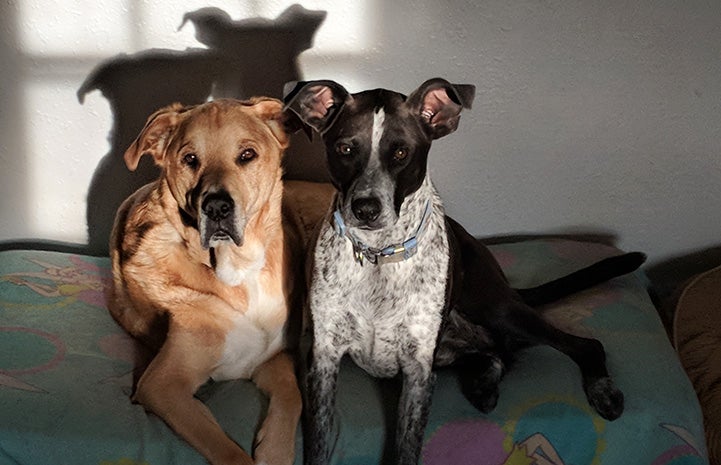 Elsewhere, Tina Taft was thinking about adopting a dog. "I was inspired by a friend of mine who had adopted senior pit bulls," Tina says. After spending time with her friend's dogs, she decided she wanted to do the same thing. Her son was old enough that she could teach him how to interact with a senior dog, and she knew she could give an older dog a good life.
While looking at Best Friends for a dog who could match what she was searching for, someone suggested Ralph. He wasn't a pit bull (much like he wasn't a husky), but he checked every one of Tina's boxes: He could get along with other dogs, cats and children. And he was definitely a senior.
So, she loaded up her son, Seth, and their other dog, Lucy, and made the six-hour trek down to the Sanctuary to meet and adopt Ralph. From the first night staying at the pet-friendly hotel, Ralph was at ease with the whole family. "We brought Lucy with us so that they could connect," says Tina. "Lucy's really chill and Ralph's really chill. They're totally cool with each other."
[Dog lands a charmed new life for his golden years]
Aside from running into a storm that Tina says had her white-knuckling the steering wheel as they crept along for three hours, the car ride home was smooth sailing for Ralph and his new family. He settled in, picked his favorite dog beds and made himself at home.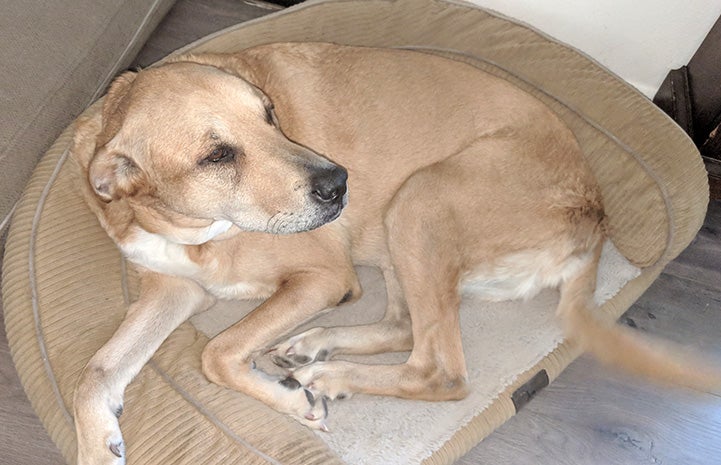 Dog's former person makes contact
Not long after Ralph had settled in at his new home, Tina got an email from one of the adoption specialists at Best Friends. Lance had been searching for news about Ralph, and he was interested in connecting with his new family. "I didn't have any ill will toward his former people at all," says Tina who, when asked if she would be willing to talk with Ralph's dad, immediately gave out her cell phone number and email address.
Just like that, Ralph's two families were connected, and soon they were bonding over their shared love for him.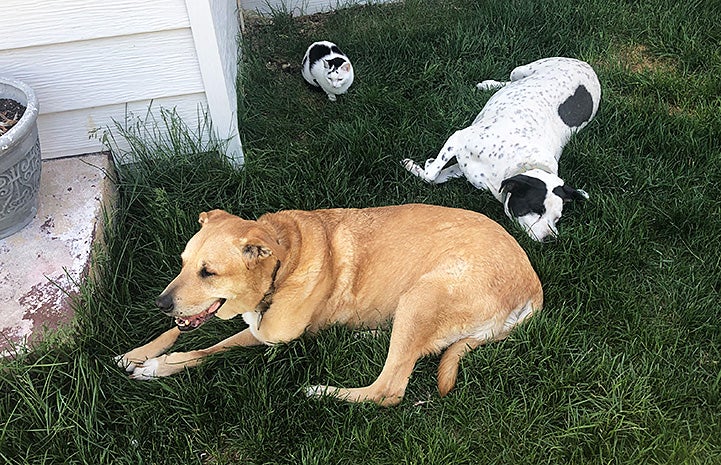 "It took a huge weight off my shoulders," Lance says on a group call with Tina, his voice shaking a little. "I'll probably tear up, but … it's hard, 'cause he was family, you know? But hearing from her and seeing pictures and seeing him … you know instantly. You can tell by a dog's demeanor how well they're taken care of … I don't have one thing to worry about at all." Tina is quick to respond: "Well you're family now, too, Lance."
[Couple adopts a low-key pit bull and gains a new human friend, too]
Lance has shared puppy pictures of Ralph, the story of how he got his name and how he got a little carsick on his initial ride home. He tells them about all the tricks Ralph knows, so they can try them out. And Tina sends pictures of Ralph relaxing on one of his many beds, and notes how he won't eat unless they mix in yummy wet food with his kibble.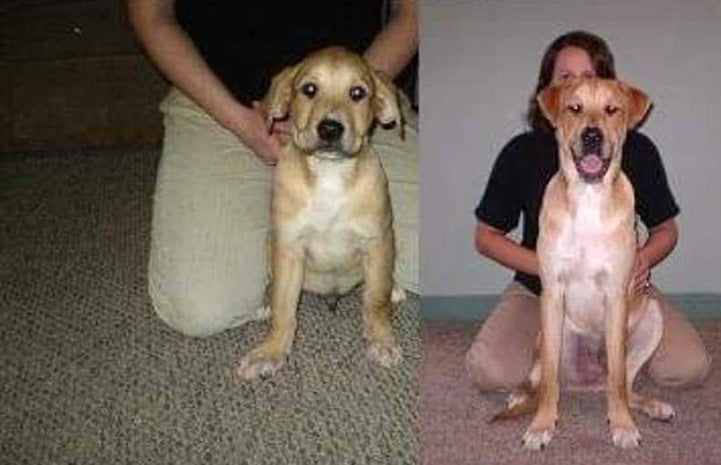 They laugh about Ralph's quirky way of "smiling," when his lips get caught up on his teeth, and how his little ears and wide face have earned him the endearing nickname, Fathead.
"He's such a good boy," Tina says. "We love him so much. He is such a sweet dog and that's a testament to Lance and how he raised him. I'm so grateful. He completes our family, and we know he's not gonna be around forever."
To that end, they've even been looking into a visit in the near future, so Lance can see the aging pup again in person. Tina and Lance say the communications and story sharing has been a good experience for both of them. "I know it's given Lance a lot of peace," says Tina, "and it's given me a lot of peace because I can know about Ralph as a puppy. We absolutely love it."
"What we have right now is perfect," echoes Lance. "It's absolutely perfect."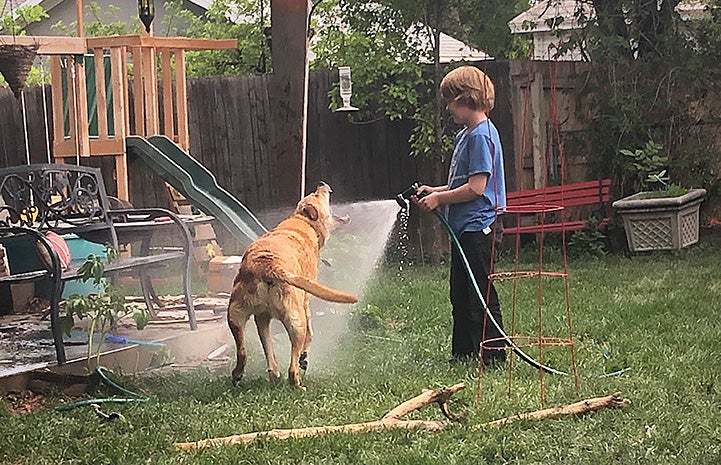 Make a pet connection of your own
Homeless pets all over the country are looking for someone to connect with. Could that be you?
Read more:
At 13 years young, senior pittie finds his perfect person
Long-lost dog reunited with family after six years
The Grey Muzzle Organization steps up for senior pets
Photos courtesy of Tina Taft and Lance Mattson