Ducorp's cockatoo gets royal send-off
Famous cockatoo, who has feather picking problem, finds a forever home.
By Christelle L. Del Prete
On a hot June afternoon at the Sanctuary, a crowd gathered inside the Parrot Garden gazebo and squeezed together in the shade. King O, perched on a giant bird tree, surveyed the scene and his fan club with delight. After a few tentative dance moves — like those of the first person to hit the floor at a dance party — King O stretched out his wings and let loose.
When Grand Funk Railroad's "Some Kind of Wonderful" came on, the Ducorp's cockatoo began bopping up and down and singing along as fast and as loud as he could. That really got the crowd moving. It was a wonderful day indeed, because King O was having his very own going-away party.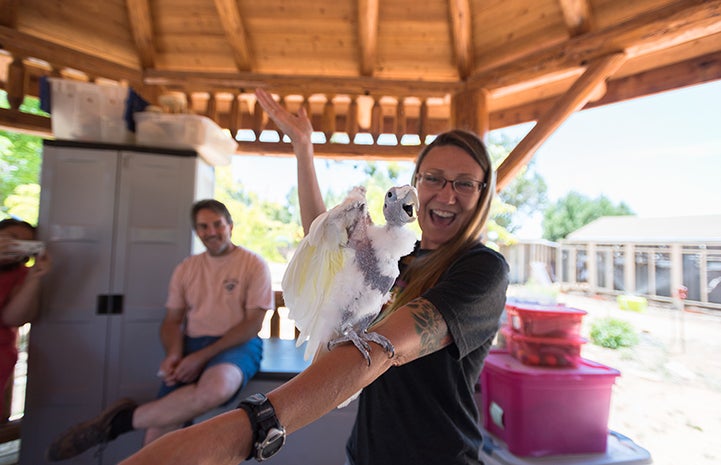 Cockatoo birds: Charming and challenging
In the six years he lived at Parrot Garden, the charming King O became one of its most famous personalities. He greeted hundreds of visitors and volunteers. He was a regular at the Best Friends village cafe for the parrot portion of many Thursday lunch talks. (Each Thursday, one of the Best Friends founders leads a weekly wrapup of events and happenings at the Sanctuary and in our national outreach programs.) He won a Best Friends holiday card contest back in 2012. And in 2014, Parrot Garden's brand new medical building was named "King O's Parrot Clinic" in his honor.
Learn more about Parrot Garden
Wherever King O was and whatever he was doing — he was the star of the show. But, at long last, it was time for him to go home. It was about time, though it's not entirely surprising that it took so long. King O had a lot of things working against him when he came to the Sanctuary. Like many cockatoo birds, he was a bit challenging.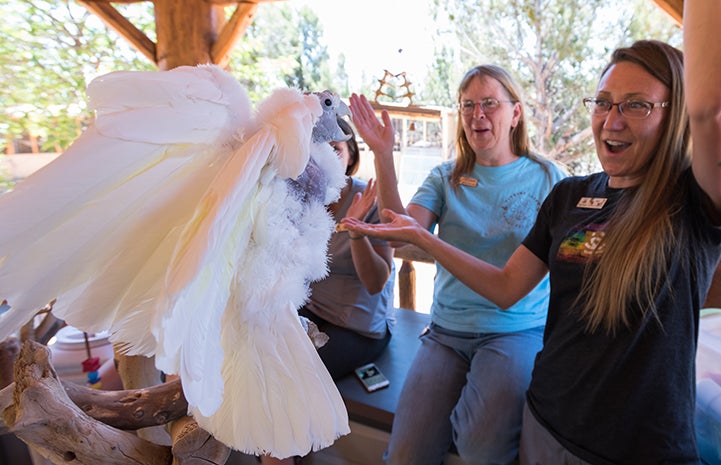 Cockatoo parrot develops bad habits
His first home had been perfect for him. He lived with an elderly woman who was with him around the clock and able to give him lots of attention. When she passed away, her family members tried to take care of the King, but no one had enough time to keep him busy, active and happy.
Bored and frustrated, the cockatoo parrot developed some bad habits. He picked his feathers until he was permanently bald, and he learned how to use his very loud voice to demand attention. Cockatoo screaming isn't just loud. In decibels, it's nearly as loud as a 747 jet engine. By the time King O came to the Sanctuary at 10 years old, he'd already been in four homes. The next one would have to be chosen very carefully.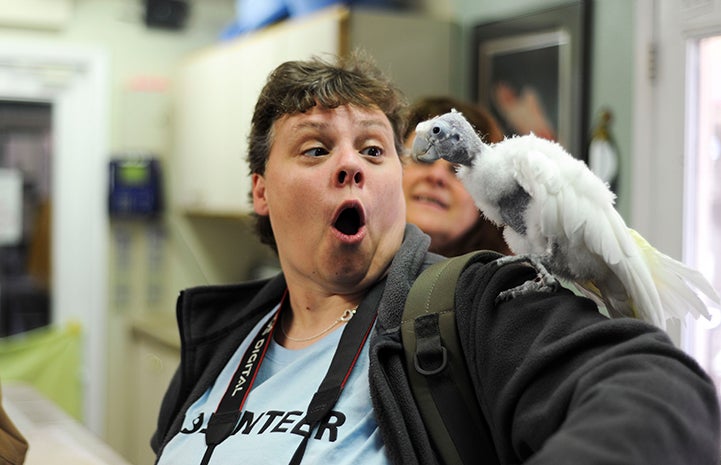 Dancing cockatoo's new home is fit for a king
At Parrot Garden, King O got to show off his best qualities. He has a wonderful personality and an amazing vocabulary. He's extremely outgoing and he loves dancing to music. The fact that he's selective with his human friends just makes people feel all the more special when he befriends them. And finally, a family he really liked saw him for who he really was and chose him as their very own.
After King O's send-off in the gazebo on that June afternoon, he was off to a new home that is truly fit for a king. He'll live like royalty in Reno, Nevada, with someone who will cater to his every need. King O's wait is over. But his real party has just begun. Since he arrived home, he hasn't missed a beat. He's hamming it up as much as ever and dancing on his cage top. And this dancing cockatoo is already building up a whole new fan club.
Help more animals like King O get the royal treatment
Photos by Molly Wald and Kurt Budde