A dynamic FeLV-positive kitten duo
Image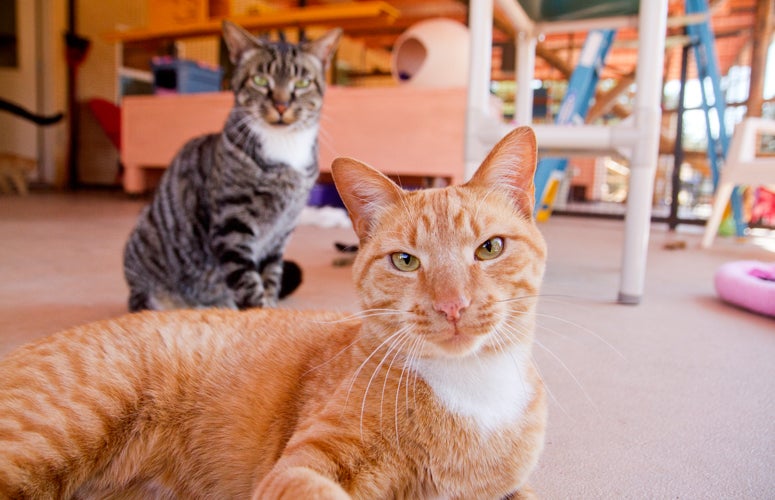 Two male kittens from the same litter have feline leukemia, but are doing well and thriving at the Sanctuary.
By Christelle L. Del Prete
Brothers Barney and Bo have always been pretty tight — a dynamic duo ready to take on life and all of its challenges. They were brought to the Sanctuary together from a humane society in Indiana, where staff members wanted nothing more than to give them the very best chance at normal, healthy lives.
Both brothers were born with feline leukemia (FeLV), a virus that weakens cats' immune systems and makes them susceptible to secondary infections. Kittens with FeLV are extremely vulnerable in their first year of life, and many don't make it past their third birthdays. But here at the Sanctuary, Cat World caregivers and the Best Friends veterinary team have plenty of experience caring for cats like Barney and Bo.
Special help for kittens with feline leukemia
With the help of that special care, the brothers are enjoying good health and are beating the odds. Now three years and eight months old, the "B brothers" live together in Calmar , the building in Cat World dedicated entirely to cats with FeLV. And they've not only adapted to life in Cat World, they are thriving.
Barney and Bo aren't the oldest cats in their room. (Cats who get FeLV later in life have a much better chance at longevity, since their immune systems have had a chance to develop, allowing them to fight off infections better than kittens.) But they've been there the longest. In fact, they're the ones who take new cats under their wing and show them the ropes when they arrive at Calmar.
Perfect, and perfectly ordinary
Though they rule their roost, Barney and Bo are peaceful and benevolent leaders. They always welcome and mentor newcomers. Cat World caregiver Amy Kohlbecker says, "Barney and Bo befriend them, and the next thing you know, the other cat is doing what they do and fitting right in."
The way they jump right in to help other cats is truly touching. But perhaps the most remarkable thing about the brothers is how perfect (and how perfectly ordinary) they are. Just like any other cats, they want to play and be loved. When they're not wrestling or playing with Da Bird toys, Barney and Bo can often be found cuddled up, "purring like little doves," Amy says.
Staying healthy and safe
They get to explore the world around them and interact with visitors, too. Both cats are sleepover favorites with volunteers who visit the Sanctuary and, although Bo is a little less adventurous than his brother, Barney likes to go for walks so much that he'll even go outside in the snow.
Of course, keeping the boys healthy and safe is a top priority for their caregivers. Recently, Barney had a small cancerous growth on his back. Since caregivers found it right away, it was removed and now Barney's doing just fine. And, with a little luck and a lot of great care, he and Bo will continue to thrive.
Find out about Cat World at Best Friends.
Photos by Molly Wald and Sarah Ause-Kichas