Feline immunodeficiency virus misconceptions corrected
There are misconceptions about the feline immunodeficiency virus in cats. It is not a death sentence, and cats with FIV can live long, healthy lives.
By Kelli Harmon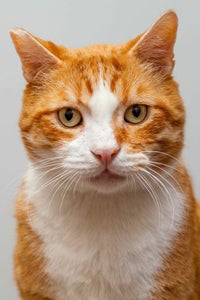 Matzo Ball is a big, bright orange tabby cat with a perfect white diamond between his eyes. "He's just a big mush," says Janette Nevils, lead cat caregiver at the Best Friends Pet Adoption and Spay/Neuter Center in Los Angeles. Since Matzo Ball arrived in December from a Los Angeles Animal Services shelter, he's been lounging around, settling in any lap offered to him and purring up a storm.
Matzo Ball and the other cats at the center are just like every other cat, except for one small thing. They have feline immunodeficiency virus (FIV); but they'd like the world to know that it doesn't hold them back.
The truth about the feline immunodeficiency virus in cats
"It's important that we champion these cats because there are so many misconceptions out there about FIV," says Janette. "People feel that because (the cats) have a label, there must be something wrong with them."
Public perception is important. If people believe there's something wrong with an FIV-positive cat in a city shelter, it decreases the likelihood of adoption and increases the chance that the pet will be killed.
Because its goal is to make Los Angeles a no-kill city, Best Friends helps the public understand that cats with FIV are just like other cats. They can live long, perfectly normal, healthy lives. Just like cats without the virus, some may live into their late teens or early 20s, while others may not. The most common symptoms of FIV in cats are that their immune systems can be slightly compromised and they sometimes are prone to dental disease.
Cats with FIV (like Matzo Ball) can safely be around other cats. "FIV is rather hard for cats to get," says Janette, explaining that the virus is transferred through bite puncture wounds or from an infected mom to her babies. Since the virus isn't airborne or transmitted through shared bowls or litter boxes, as long as there aren't serious scuffles between cats, the virus usually doesn't spread. Humans, dogs and other animals can't get it, either.
FIV doesn't stop cats like Matzo Ball from cuddling, purring, chasing toys and loving people. That's why at Best Friends they're treated just like other cats, and staff helps them find great families to love them back.
Tortoiseshell-colored cat positive for FIV adopted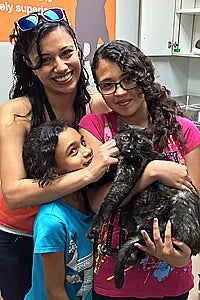 That's what happened for Cindy, a beautiful tortoiseshell-colored cat. Just like all the animals at the pet adoption center, she came from Los Angeles Animal Services. She tested positive for FIV, and then while waiting for someone to choose her, spent the next few months charming everyone who met her. "Cindy is one of my favorites," says Janette. "She loves to talk, and she will reach out to you with her paw when she wants attention."
So one day when a woman and her two daughters arrived looking for a friendly cat to adopt, Cindy was an instant hit. "They were looking for a loving lap kitty, and Cindy just loved the little girls," says Janette.
While many cats don't enjoy being picked up, Cindy is easy to handle and carry around, which makes her a great pet for kids. The staff explained what FIV is and how it might (or might not) affect Cindy. Armed with the information, the family took Cindy home and didn't look back.
Out of the several dozen adult cats at the center on any given day, six to 10 might have FIV. They live happily together in a free-roam room (as opposed to cages) — right up front so that every potential adopter sees them first. One family at a time, potential adopters are meeting and loving these deserving cats. Matzo Ball's time will come, when someone walks in looking for a big friendly mush of a lap cat.
Be a part of the good news by becoming a Best Friends member.
Learn more about how Best Friends is working to make Los Angeles a no-kill city by 2017.
Learn more about FIV in the Best Friends resource library.
Photos by Lori Fusaro and Best Friends staff