Feral Freedom program in Jacksonville
Image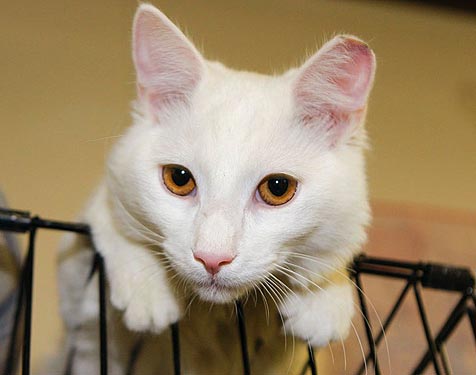 Feral Freedom TNR program is backed by Best Friends, the city of Jacksonville, First Coast No More Homeless Pets and the Jacksonville Humane Society.
By Jennifer Hayes
Nearly 1,300 feral cat lives have been saved over the past three months in northeast Florida, thanks to an innovative public/private collaboration backed by Best Friends, the city of Jacksonville, First Coast No More Homeless Pets and the Jacksonville Humane Society.
Feral Freedom program helping feral felines
Under the program, called Feral Freedom, all cats taken in by the city's animal control bypass the shelter system and are brought directly to First Coast No More Homeless Pets, where they receive the "full spa treatment" – sterilization, vaccinations, microchip, flea treatment and an ear tip. After a night of recovery, they are released back in the neighborhoods where they were captured. At its roots, Feral Freedom is a trap/neuter/return (TNR) program for "community cats" — free-roaming feral, stray and lost cats who live outside and don't belong to anybody.
This is an entirely new scenario for animal control, one that not only saves lives but frees up shelter space for adoptable animals. It is no wonder the program has been embraced by the city.
"Whether it is through innovative programs like Feral Freedom or other efforts to bolster adoptions through strategic partnerships such as the one with the Jacksonville Humane Society, we are always looking for ways to increase the number of live releases of animals from our shelter," said Ebenezer Gujjarlapudi, director of Jacksonville's Environmental and Compliance Department. "I believe this new program is another step in the right direction toward accomplishing that goal."
Rick DuCharme, founder of First Coast No More Homeless Pets, added, "So not only is it going to save some 4,000 cats this year, but it will bring us all together and teach us all how to work together better."
Overwhelming success of TNR program
This level of cooperation between nonprofits and municipalities is revolutionary, particularly when it comes to ferals.
"Our goal is to create a paradigm shift in the way society relates to community cats," said Paul Berry, Best Friends' chief executive officer. "These cats are not nuisances to be destroyed. They are part of the fabric of our communities."
The response by the local community has been fantastic – beyond their wildest dreams, in fact. Previously hesitant to contact animal control because they were afraid the cats would be killed, caring individuals now are more likely to ask for help with feral cats.
"What is so exciting to me about this particular project is there are a lot of communities looking to Jacksonville to see how it turns out," said Shelly Kotter, feral cat program manager for Best Friends. "So this is a really unique opportunity for not only Jacksonville to save a lot of lives, but it's also a huge opportunity for other communities, cities and towns that are looking at this project to potentially do the same thing."
First Coast No More Homeless Pets is collecting information on all cats who go through the program. The data will be given to Dr. Julie Levy, of the University of Florida College of Veterinary Medicine, to create a model that Best Friends will make available for other communities.
Beaucoup cats
While the majority of Feral Freedom felines are released back to their communities, a few have gone to local rescue organizations. Last week, brothers Beau and Coup (pictured right) were brought to animal control by someone who left a false address, which prevented them from being returned to the proper location.
"We're never going to turn a cat away if it needs help," said Cameron Moore, First Coast No More Homeless Pets program manager.
Sensing an opportunity, the brothers turned on the charm. Displaying impeccable litter-box habits in addition to extremely affectionate dispositions, they made it a point to purr whenever a person entered the room. Their plan worked, and both were transferred to Lucky Cat Adoptions rescue, where it is hoped they can be adopted together.
Best Friends has pledged to support Feral Freedom through December 2009.
"What makes this so exciting and promising is that it's essentially a way of drastically reducing – if not stopping altogether – the chance that free-roaming cats are summarily brought in for euthanasia," Berry said. "Best Friends is committed to providing help to local groups to solve difficult animal welfare issues.
"The Feral Freedom program is a home run for Jacksonville and, as a model program, could change the way that community cats are treated throughout the country."
Photos by Clay Myers
How to Help
Volunteers are needed for both the Feral Freedom program and the First Coast No More Homeless Pets clinic. If you wish to help, e-mail Debbie Fields at dlfields@bellsouth.net.
Those who live in the Jacksonville area are encouraged to bring their pets to the First Coast No More Homeless Pets free and low-cost spay/neuter clinic. They will soon be celebrating the grand opening of their new facility on the north side of Jacksonville, where they will also offer low-cost veterinary services.