Fjord horse with missing eye is winning hearts
Image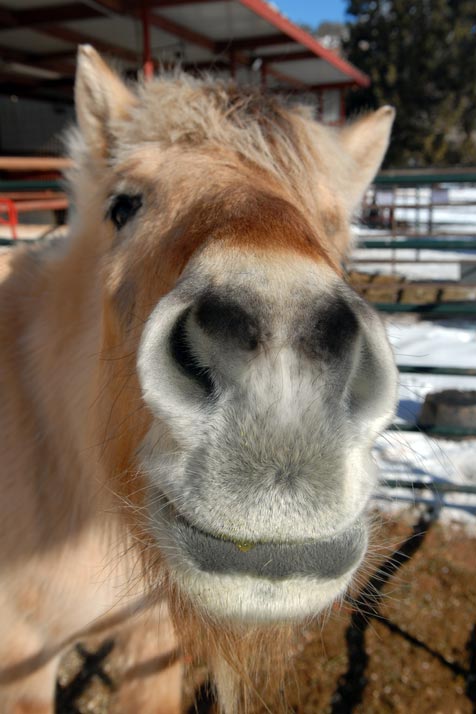 Fjord horse, kicked in the face when he was a baby, is missing an eye from the injury. He's a great horse, but he's had a tough time finding a home.
By David Dickson
Here's a horse destined to leave his hoof-print in the Hollywood star walk of fame. After all, his name is Harrison Fjord. Harrison is a fjord horse, a breed known to work hard and pull harder. With those tree-trunk legs of his, Harrison looks like he could yank a backhoe out of the mud if he wanted.
He's a striking fellow, too. Not just a muscle-man, Harrison Fjord has a creamy light-colored coat and mane with black highlights, another fjord horse trademark. Harrison is the first fjord to come to Best Friends, so please excuse all the fuss!
A horse's tough start in life
Life wasn't always glamour and roses for this guy, sad to say. When Harrison Fjord was a baby, another horse kicked him in the face. It cost him an eye, but that wasn't the worst part. The injury also cost Harrison his home. Several homes, in fact. He was passed around from family to family because of that missing eye.
He can still see fine with his remaining eye, he's sound, and he loves everyone. Even with all that going for him, though, people still thought there was something unacceptable about a one-eyed horse. Nobody hung on to him for long.
Harrison's last stop was with a woman in northern Arizona who finds homes for unwanted animals. She didn't have any luck with Harrison, but then, as chance would have it, space opened up at Best Friends. So Harrison Fjord came to the sanctuary and has been winning fans ever since.
Young, energetic horse
He's a real spitfire, too – only five years old and full of energy. Soon he'll move into a pasture with two other young, energetic male horses and the three of them can practice their Indiana Jones stunt moves to their heart's content. Welcome, Harrison! Better get used to signing autographs.
Browse the horses available for adoption from Best Friends Animal Sanctuary.
Photos by Gary Kalpakoff