Fluffy cat Fern adjusts to life in the great indoors
After healing from a broken jaw, a senior cat named Fern got a lift to New York City and is now loving life with his senior adopter.
By Nicole Hamilton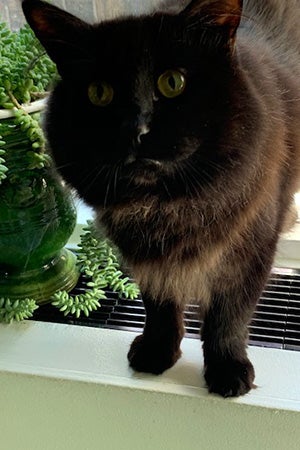 With his long black coat and gorgeous green eyes, Fern is what you might call a stunner. But there's a lot more to the nine-year-old cat than his good looks. What's really extraordinary about him is his journey to his home in New York City, and the comfort he's brought his adopter, Barbara McDaniel, while they wait out the pandemic together.
Today if you go looking for Fern, you'll likely find him wherever Barbara is, or perched in the window, watching birds up high and people down below. But Fern hasn't always lived in the Big Apple. In fact, he started his journey to his new home when he arrived at Best Friends Animal Sanctuary.
The medical team could tell that Fern didn't feel too well. Not only was he way too thin, his coat lacked the luster it has today. When veterinarians took a closer look at him, they discovered that he had a broken jaw. And if that wasn't enough hurt, he also had a soft tissue injury to one of his legs.
Fern's broken jaw was cleaned and sutured. As for his leg, the vets determined it could be treated with rest. After a little time in recovery, Fern's jaw began to heal, his fur regained its signature luster and his personality began to shine, too.
"I love Fern," says Heather Purdy, a Best Friends vet technician. "Once he got some good food into him, his black coat transformed and he now looks like a cat you might see in a shampoo ad."
Desert cat becomes a city cat
Eventually, after charming just about everyone in Cat World, Fern joined some other cats from the Sanctuary on a van ride to Best Friends in New York. It couldn't have come at a better time. You see, this was back in July, when people were staying at home because of COVID-19. Who wouldn't want to quarantine with a sweet cat like Fern?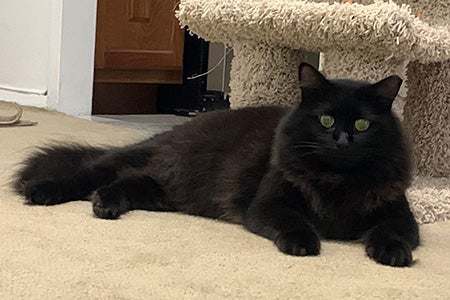 Soon after arriving in New York, Fern went to a foster home. At first, understandably, he was tentative around his foster family. He didn't have much of an appetite, either. But the great thing about foster homes is that pets do better in foster care than they do in a shelter environment. In Fern's case, he not only needed to get used to living indoors, he had to adjust to life in a big city after living in the big desert.
At first, Fern was most active at night, when his foster family was asleep. Even though he was waking them up in the middle of the night, they didn't mind at all. He was in the city that never sleeps, after all. When he started sleeping in a chair next to their bed, they knew he was starting to settle in.
[Lessons from fostering senior dogs]
Waiting out the pandemic with a friend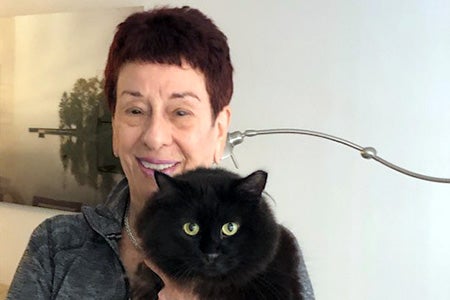 After a couple of weeks in his foster home, Fern caught the eye of Barbara McDaniel. Eighty years young, Barbara was staying inside quite a bit to stay healthy during the pandemic, but she's not one to sit around and was starting to get bored. Before the pandemic, she would go to the theater and travel a lot. "You've got to live life while you're alive," she says, "and see people as much as you can."
Barbara also missed her cat, Sugar, who had recently passed away. So, she reached out to the team at Best Friends about cats who were available for adoption, and they recommended that she meet Fern. A few days later, she had a video chat with Fern's foster family and the man of the hour himself. She decided he was the cat for her, and with that, Fern had a new home.
[Senior cat's meme helps him find a home]
Life lesson from a cat: find joy in the little things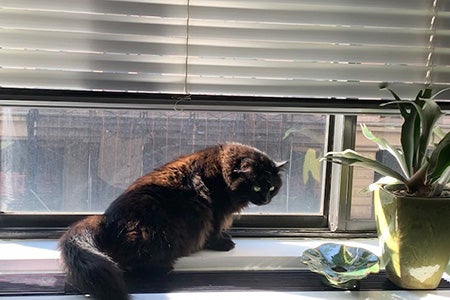 Now Barbara doesn't have to worry about staying inside and not getting daily exercise because Fern loves to play. In fact, she was a little surprised at how spry he is. "He really likes to run around," she says. "We play together a lot. He's keeping me active."
Fern does need to see the veterinarian regularly to help manage a skin condition, but Barbara doesn't mind. She focuses on all the benefits of living with an older cat. "There are pluses to adopting a mature cat," she says. As cute as they are, kittens simply aren't ideal companions for everyone, she notes.
Of course, Barbara still misses visiting her friends and traveling, but having Fern around has helped her feel better about spending more time at home than she's used to. Now, when she relaxes on the couch with Fern by her side or listens to him purr when she brushes him, she's reminded that there's joy to be found in the little things.
"Pets put everything in perspective," she says. "All the love you give them, they give in return."
Be the next stop on a homeless cat's journey
From kittens to seniors like Fern, there are cats at your local shelter waiting for a home. Why not make it yours?
Read more
7 reasons to be thankful for pets
Florida shelter takes a leap of faith, finds jobs for cats in need
Senior cat comforts adopter during cancer treatment
Photos by Molly Wald and courtesy of Barbara McDaniel