Former dog fighting dogs: Saving canine victims of violence
Image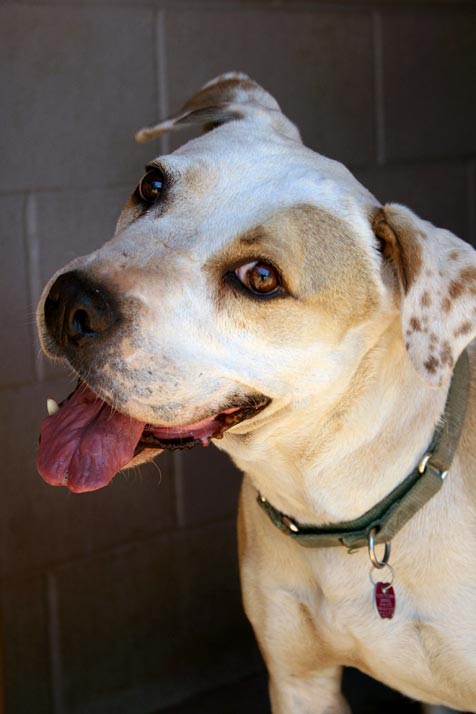 Best Friends and other groups join forces to save pit bulls pulled from dog fighting rings.
By Sandy Miller
Their loyal nature, their eagerness to please, are the very qualities that make pit bulls easy prey for dog fighters.
Dog victims of animal fighting rings
And now, Best Friends Animal Society and other animal welfare groups have joined forces to help future canine victims of this organized crime.
On April 8, representatives from Best Friends, Bad Rap, ASPCA, National Animal Control Association, Maddie's Fund, Nevada Humane Society, Spartanburg Humane Society and the Humane Society of the United States (HSUS) met in Las Vegas to address the matter of dogs seized as a result of cruelty investigations into animal fighting rings.
The meeting was in response to concerns expressed by Best Friends last December regarding HSUS' policies related to animals confiscated in dog fighting busts. The meeting was in the planning stages before Superior Court Judge Ed Wilson Jr. ruled that 145 pit bulls, including approximately 70 puppies, confiscated from Wildside Kennels in Wilkes County, North Carolina, would be euthanized without evaluation to determine suitability for placement.
New policy on dogs saved from fighting rings
Some very positive news came out of that meeting room in Las Vegas. The HSUS now has a new policy that recommends that all dogs be professionally evaluated, according to agreed upon standards, to determine whether they are suitable candidates for adoption. The new policy states that dogs deemed suitable for placement should be offered as appropriate to adopters or to approved rescue organizations. The HSUS plans to update its law enforcement training manual and other materials to reflect the change in policy.
Now, the future victims of dog fighting will get a second chance at life.
"Last year, these dogs would have been summarily killed," said Julie Castle, director of Best Friends Community Programs and Services. "We had only one way to go with this policy, as killing was the only option being recommended. We're very pleased, but recognize we have a lot of details to hammer out."
Donna Reynolds, executive director of the San Francisco-based Bad Rap, said it took a lot of energy and many lives to get to this historic moment in the breed's history.
"The HSUS decision to support the groups that assist the victims of cruelty raids is a long time coming," Reynolds said. "But the battle isn't over by any means. We have a lot of work to do to create realistic, widely accepted policies that will benefit the thousands of yearly victims, and many challenges to having those protocols implemented. The meeting in Las Vegas was a big first step, and the dogs are counting on us to stay on course for the long haul."
And stay the course is just what all the organizations, including the HSUS, intend to do. They agreed to form a working group to develop future protocols for cooperation in addressing needs of dogs seized in raids, such as how to assist with the housing of fighting dogs, how to conduct professional evaluations and how to screen potential adopters.
"This is a very positive first step in addressing the collective concerns related to dogs rescued from dog fighting/cruelty cases," said Best Friends founder Francis Battista.
Wayne Pacelle, president and chief executive officer of the HSUS, agreed.
"I have long felt that pit bulls are the most victimized of dogs, and this new collaboration is another piece of our effort to turn that around," Pacelle said.
The groups agreed that all dogs should be treated as individuals, and that they're the true victims of the organized crime of dog fighting.
Ed Fritz, a campaign specialist who heads up "Pit Bulls: Saving America's Dog," one of four Best Friends campaigns aimed at reaching the goal of No More Homeless Pets, called the HSUS' new policy and the recent collaboration "a great step forward."
"This change in policy removes a large obstacle to reforming the image of these dogs, which in turn will save lives and bring us closer to no more homeless pets," Fritz said. "It won't happen overnight, but it is a significant step."
Read about the Vicktory dogs rescued from NFL player Michael Vick's dog fighting ring.
Photo by Terrah Johnson