Former fighting dog becomes family's sweet one and only
Image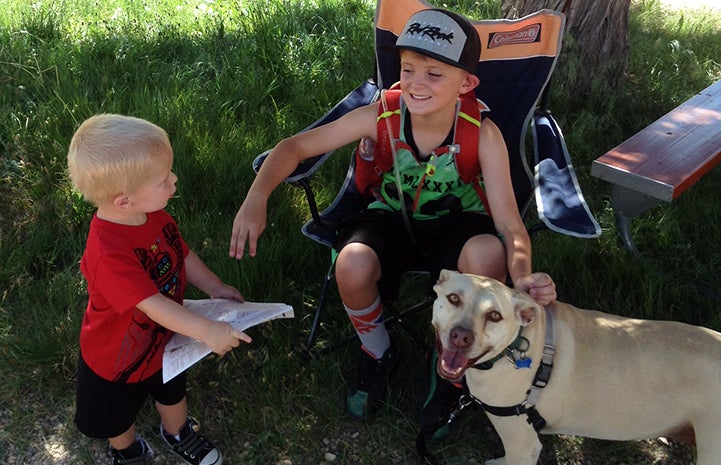 Former fighting dog who has babesia blood parasite cannot live with other dogs due to transmission risk, but still finds the perfect home.
By Christelle L. Del Prete
Pearl had what some might call a fairy tale adoption. At six years old, she's one of the happiest dogs you can meet. Her family includes two young boys who adore her and play with her. She has a big yard to run around in. She has her own bed — although she'll sometimes nap with the kids on the big bed. She is loved and she is cherished. After a long journey, Pearl is living a life she could scarcely imagine before she was brought to Best Friends.
Babesia: Why Pearl can't live with other dogs
Pearl was two years old when she was rescued from an illegal dogfighting ring in Texas. She came to Best Friends to heal from her trauma — and she did. But, like many dogs rescued from fighting situations, Pearl has canine babesiosis, a blood-borne illness also known as babesia. And in a way, having it has changed Pearl's life.
While treatments for babesia can help dogs like Pearl stay healthy and feel good for years, there is no cure. Since there is a risk of transmission to other dogs, Pearl wouldn't be able to be around other dogs for the rest of her life. That's something that can add a significant amount of time for a dog waiting for a new home — since most dog lovers have other dogs.
A healing visit to the Sanctuary
But Lacey Gurr and her six-year-old son, Hayden, didn't have another dog at home when they met Pearl. They had recently lost their beloved 15-year-old dog, and the trip to the Sanctuary was part of their healing process. They knew that visiting the Sanctuary and seeing all the cats, cute dogs and new puppies who had been saved would make them feel better about their loss.
They certainly weren't planning on adopting another dog at that point, but then they saw Pearl. "She came right up to us and was so calm and beautiful," says Lacey. "We learned about Pearl's past and we instantly loved her more."
Lacey couldn't shake the feeling that Pearl was supposed to come home with her and her son — especially since Hayden kept mentioning Pearl and how he loved her so much. Still, when the time came to bring home another dog, she thought he might prefer a puppy. So mother and son decided to spend some time with the puppies. They even picked out an adorable spunky pup, who they thought they might like to adopt as soon as he was old enough to go home.
Learn how to adopt from the Sanctuary
Adopting a puppy or adult dog
Lacey and Hayden got in their car and started driving home, but they didn't get very far before they decided that they didn't want a puppy. They wanted Pearl. Lacey turned the car around, drove back to the Sanctuary and took her home that very day.
This former fighting dog is now truly her family's precious pearl. Lacey says, "Pearl has helped us heal, made us laugh, cuddles with us when we are sad and has given the kids a sense of responsibility. We wouldn't trade her for anything!"
Pearl certainly wouldn't trade her life for any other. She is happy to be living out her very own fairy tale.
Photos courtesy of Lacey Gurr