Former Michael Vick dog inspires outlawing of breed-specific legislation in Rhode Island
Rhode Island bill passes that outlaws dog breed discriminatory legislation and embraces community safety.
By Denise LeBeau
When Rhode Island governor Lincoln Chafee signed House Bill 5671 into law, he officially assigned Rhode Island the distinction of being the 16th state to embrace community safety instead of ineffective breed bans. The bill prevents cities, towns and municipalities from implementing breed-discriminatory legislation (also known as breed-specific legislation) against any animals (including cats). While all the constituents of the state are much better off because of it, there were some especially big grins from the folks working behind the scenes who helped get this important piece of legislation passed. Big grins indeed, the kind only a pit bull terrier can invoke - and there were none bigger than the ones on the faces of Handsome Dan, a Vicktory dog rescued by Best Friends from NFL player Michael Vick's dog-fighting ring, and his adoptive mom, Heather Gutshall.
Adoption of Handsome Dan, former Vick dog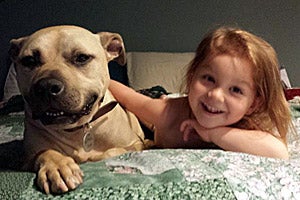 Heather Gutshall had been rescuing and rehabilitating pit bull terriers for years before she submitted her application to adopt Handsome Dan. She was quickly approved. She also incorporated her organization as a 501(c)(3), dubbing it Handsome Dan's Rescue, for pit bull terriers. So it was no wonder that she was one of the driving forces behind HB 5671.
The bill, introduced by Representative Tom Palangio, who also worked with all of the animal welfare groups to form a cohesive voice, was gaining momentum as it made its way through the voting process. Heather supported the work of politically savvy local animal advocates Florette Ruggiero (Friends of Providence Animal Care & Control Center), who was at the helm, and Trisha Torres (board member for Handsome Dan's Rescue), Melissa White (Little Rhodie Bully Breed Club), and Carla Ciccone (Almost Home Rescue), who were rooting for the bill.
"We had so many smart, passionate people behind the bill, including Pam McWilliams, who really exemplified what grassroots efforts can accomplish. She was at every hearing, handing out statistics and support material," shares Heather.
Social media also played a key role - especially Handsome Dan's Rescue's Facebook page. With over 13,000 followers, the animal advocates were able to rally constituents pretty quickly. Best Friends supported the bill with a legislative alert through our Voices for No More Homeless Pets and via social media channels.
When things got questionable about the future of the legislation, Heather reached out to Animal Farm Foundation, which recommended checking out the pit bull initiatives at Best Friends for further support. She was soon talking to Laura Handzel, Best Friends legislative lawyer.
"Laura was on my speed dial, helping keep us on point," says Heather. "She was very helpful in giving us tips to present our case as effectively as possible. Things like look professional when you are at the hearings or testifying - you don't want to show up in your rescue T-shirts with your dogs. You need to be taken seriously; keep emotional aspects out of it. Of course pit bulls are nice, cute dogs, but you're dealing with safety issues; stick to the issues."
Governor signs bill outlawing breed-specific legislation
A bill can pass the House and the Senate, but it's not law until the governor signs it. So it went with HB 5671. With one major vocal opponent, the bill sat on Governor Chaffee's desk. An unsettling feeling started to take hold. It was determined that an official letter bearing a certain gravitas should be presented to the governor right away. A letter from Best Friends' CEO Gregory Castle reiterated the most important considerations: "Such legislation (breed-discriminatory legislation) does nothing to make communities safer. In fact, it makes communities more vulnerable to dangerous and vicious animals. Targeting dogs and cats by breed instead of behavior means animals that are actually dangerous or vicious are left in communities to cause harm or even deaths." The letter also cited the amount of money it would cost to implement a statewide breed ban ($1.6 million, per the Best Friends breed-discriminatory fiscal impact calculator).
On July 16, the governor ushered in a time of increased community safety for all the residents of the Ocean State by signing HB 5671.
Get involved in pro-animal legislation
You can help the animals through pro-animal legislation in your area and beyond by signing up for the Best Friends Legislative Action Center.
Photos by Molly Wald and courtesy of Handsome Dan's Rescue