Former research lab pigeons now living good life
Image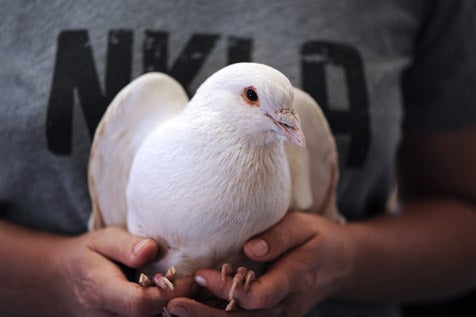 One bird, now known as 'The Todd,' was used as a research pigeon at a university. He and other lab birds are rescued and come to the Sanctuary.
By Aimee Larsen
The Todd, as his name suggests, is quite dashing and debonair. He spends his days "chillaxin," enjoying all the pleasures life has to offer. He's got everything a pigeon could ever want, including a sweet pad with all the amenities and a girlfriend. Intent on living life to the fullest, The Todd is grateful for the dramatic twist of fate that brought him to the Sanctuary.
Pigeons used as research birds
This handsome fellow hasn't always had the easiest go of it. In fact, his early years were downright gloomy. He was one of 30 king pigeons who came to the Sanctuary after spending a number of years as research birds at a university. Wildlife rehabilitator Barbara Weider says, "It wasn't a great life. They were all kept in separate, small cages, where they didn't have access to each other, just the researchers."
When the pigeons had outlived their usefulness as lab birds and were scheduled to be put down, a kind-hearted graduate student contacted Best Friends to see if there was a place for them. They deserved a break.
These boots are made for walking.
King pigeons with various challenges
When they arrived at the Sanctuary, the king pigeons lacked the most basic social skills, since they had lived solitary lives. "They didn't know how to interact with other pigeons," says Barbara. "There was a big learning curve, with a lot of fighting." Caregivers helped the birds learn how to exist in a flock.
Many of the pigeons have experienced some medical challenges as well. Unable to stand on his feet, The Todd rested on his heel joints, which created pressure sores on his legs (a condition known as hocking). Veterinarians at Best Friends tried various treatments to help him, including physical therapy and acupuncture. "He is very patient," says wildlife rehabilitator Bobbie Foster. "He indulges us." Caregivers currently bandage his legs every other day. "He has these cute little booties that he wears," Bobbie explains. "It's a little vet wrap."
Two pigeons find love
The Todd, who is available for adoption, is living it up in his golden years. For one thing, Bobbie says, "he found himself a little hottie." He and his gray pigeon girlfriend have become a bonded pair.
The Todd has a girlfriend.
What's unusual about this match-made-in-heaven is that "pigeons usually hook up with their own type," says Bobbie. That may be so, but The Todd, ever-savvy, knows a sweet thing when he sees her.
The two love birds spend their free time snuggling in a nest box. "We've kind of rigged up his box, so it's good for him and her," says Bobbie. The box even has an AstroTurf ramp, so The Todd can get in and out easily and without tripping.
Though his start in life was difficult, when fate decided to smile upon The Todd, he didn't waste any time learning to appreciate the finer things in life. He certainly deserves all the good things that have come his way.
Helping animals in need
We are able to provide special-needs pigeons, like The Todd, with the love, care and rehabilitation they need, for as long as they need it, because of the generosity of caring people like you. Please consider making a donation to help the animals at the Sanctuary today.
Photos by Molly Wald