Former Vick dog Cherry fighting a bad cough
Image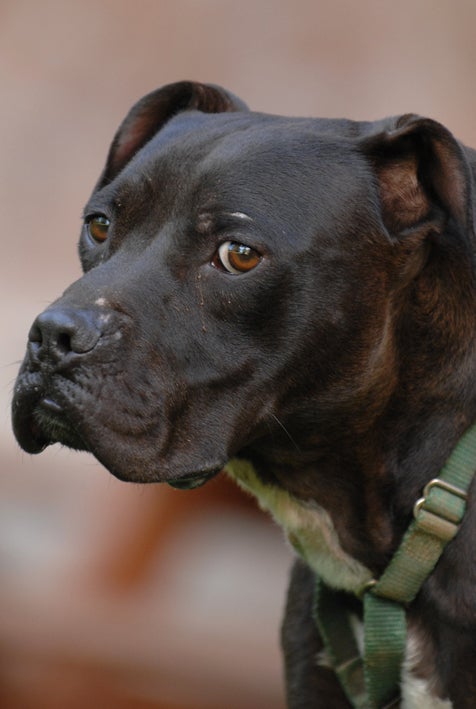 Cherry, the former Michael Vick dog, has made amazing progress, but he now has a medical problem. He has a cough that's not responsive to antibiotics.
By David Dickson
Cherry the Vicktory dog knows much more than he should have to about survival. When he first arrived at Best Friends, he was in poor health and terrified of his own shadow. If the caregivers hooked him up to a leash, he would throw on the brakes and crouch low to the ground. Given a choice, this boy would sooner have crawled under a rock than look anybody in the eye. Safe to say, Cherry had a long climb ahead of him.
Helping a terrified dog
But he had loving support every step of the way. For many months there in the beginning, Cherry and the other dogs confiscated from Michael Vick's property had staff living with them around the clock, seven days a week. The caregivers wanted these dogs to know they had somebody in their corner. Vets performed every imaginable test to make sure the Vicktory dogs were in good health. These dogs, like all the animals at Best Friends, also had the best possible diet tailored individually to their specific needs.
Some of the dogs responded right away to all the TLC and truly blossomed, but not Cherry. At least, not quickly. Whatever happened in his past, he was not letting go easily.
What happened in the long run, though, is no mystery to any fan of Cherry's. His vets, caregivers, trainers, and others around the sanctuary really rallied around him to amazing results. In time, he finally woke up from the bad dream he'd been living in for so long. He began to trust. After many months he even started handing out slobbery kisses to his nearest and dearest! For those who knew him in the beginning, that's such an incredible step forward it makes your head spin. Good for Cherry!
Cherry fighting a bad cough
Now he has another possible mountain to conquer. Cherry has been fighting a cough that has proven unresponsive to antibiotics. Vets did a physical to determine what may be going on and found some swollen lymph nodes under his jaw. X-rays revealed other swollen lymph nodes in his chest and throughout his body. Right away, Dr. Patti Iampietro aspirated (extracting cell samples with a needle) one of the lymph nodes and sent the samples to a lab for testing.
Tests came back showing the cells to be reactive. This could mean lymphoma—cancer—or it could mean a bacterial infection. Dr. Patti and the other vets believe and hope that it's only an infection. But they can't rule out cancer yet. They suspect he's fighting a type of tick-born or fungal infection, yet they need to know for sure. Dr. Patti also sent out a battery of diagnostic tests including full tick and fungal panels as well as to check for valley fever—they're waiting for test results. The next step to help determine what's going on will be to perform a biopsy on one of the lymph nodes.
Best veterinary care for Vicktory dog
It's scary, but the good news is that if this had to happen, at least it happened after Cherry was rescued, and surrounded by people who care about him. At Best Friends, he'll receive top rate medical care—round the clock if he needs it—and as much TLC as he can soak up. Make no mistake, this dog already knows he is loved. But if he has a rough road ahead, that love will only increase. He won't have to go anywhere alone.
So all you Cherry fans out there, all eight zillion of you, please keep him in your thoughts. Remember, he's not a dog who gives in easily to anything! And nobody is going to give up on him, either. We'll keep you posted.
Read more about the rescued Michael Vick dogs.
Photo by Gary Kalpakoff