Foster family welcomes six puppies to the world
Meet a mama dog and her six healthy, wiggly puppies born in a New York City foster home.
By Nicole Hamilton
One of the greatest things about fostering a mom dog and her puppies is that it keeps you focused on the most important task at hand — helping them all stay comfortable and healthy. Mom usually takes care of big tasks like nursing, but you've got to be around to provide back-up. And that leaves little time to think about the dishes in the sink, work deadlines or the fact that a pandemic has temporarily shuttered your city.
That's what Emily DeFelice and her husband learned recently when they welcomed an expectant mama dog named Linda into their home just weeks after the COVID-19 virus forced the temporary closure of the Best Friends Lifesaving Center in New York City.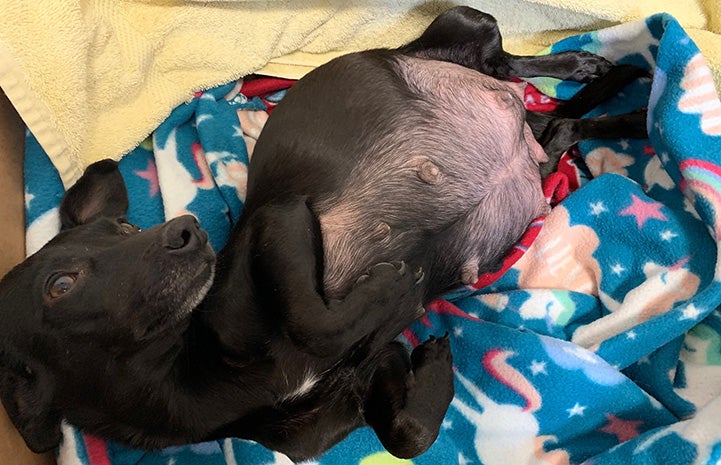 According to the sonograms, Linda was due to give birth to four puppies around the time she arrived at Emily's place. Well, what looked like four puppies turned out to be six. That's right. Just a few days after getting comfortable in her foster home, Linda had six beautiful, healthy puppies.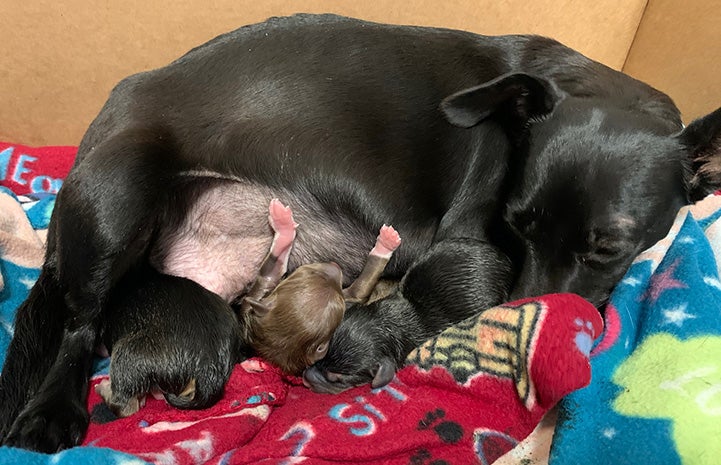 During labor, Linda did all the hard work herself. "We just supervised and would move the pups out of her way when she was uncomfortable," says Emily. "She was very receptive to the puppies and took care of everyone right away."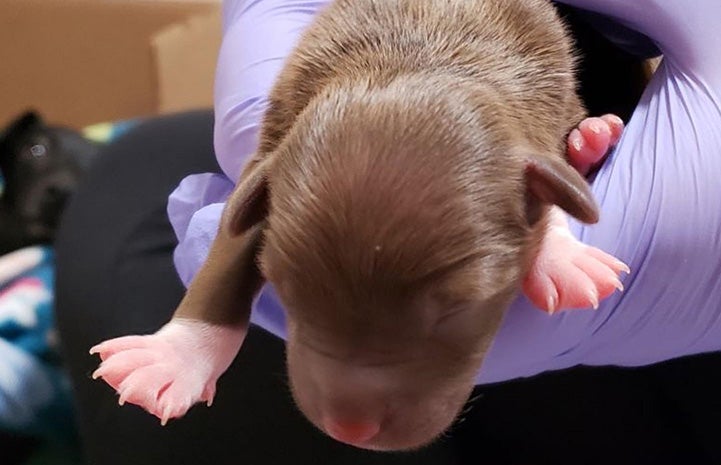 From the moment the little ones arrived into the world, Linda was a doting mother. For their part, Emily and her husband made sure Linda had plenty of food, water and toys, along with a whelping box designed to keep the puppies warm and safe.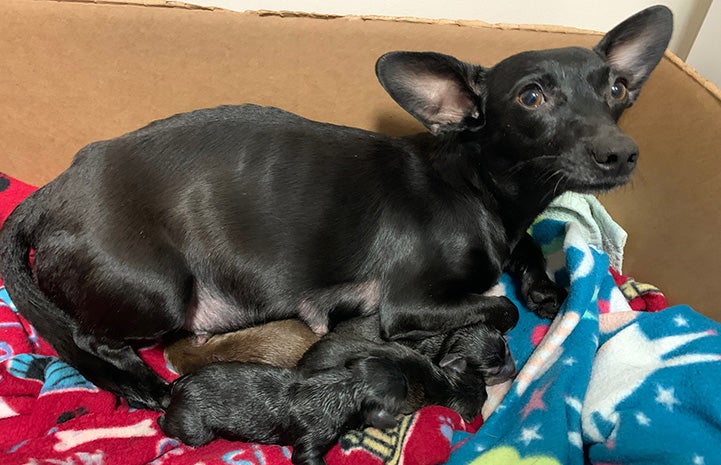 The puppies were born around Valentine's Day, so Emily gave them names that reflect the holiday: Romeo, Venus, Beau, Hershey, Vino and Juliet. Venus was the smallest pup, while Romeo was the biggest. "We would always make sure that Venus was getting ample opportunity to nurse and gave her preferential treatment at the milk bar," says Emily.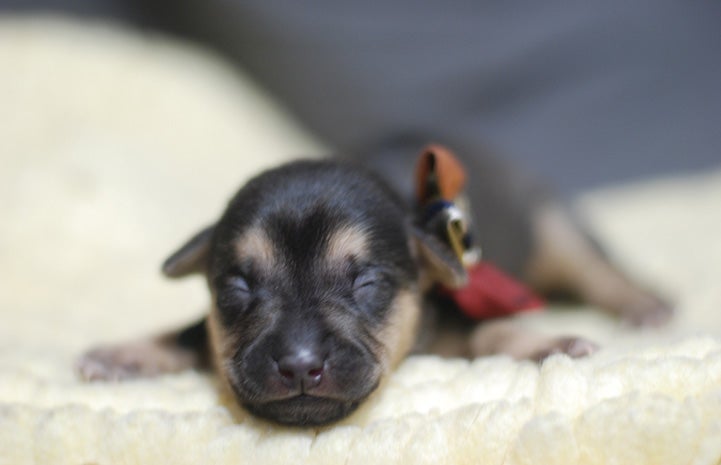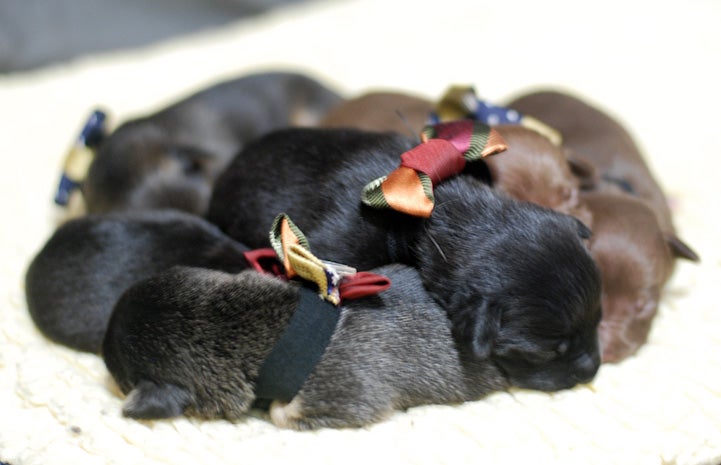 Weaning was the hardest part of the process. When the puppies were around five weeks old, Emily could tell Linda was getting tired of nursing, especially when they started teething. During the weaning process, Linda remained an attentive mom. "She would always go to check on the pups and enjoyed giving them supervised baths and playing with them," says Emily.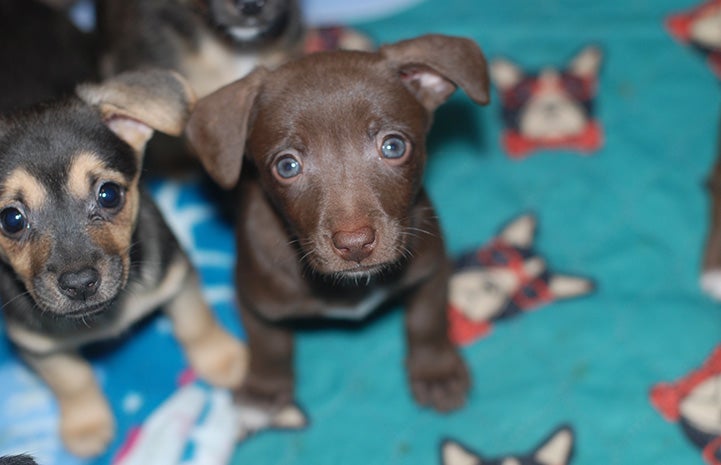 The puppies made Emily and her husband laugh every day, and Emily says caring for them helped take their minds off the coronavirus pandemic. "They were the perfect reminder to be present and enjoy the moment," says Emily.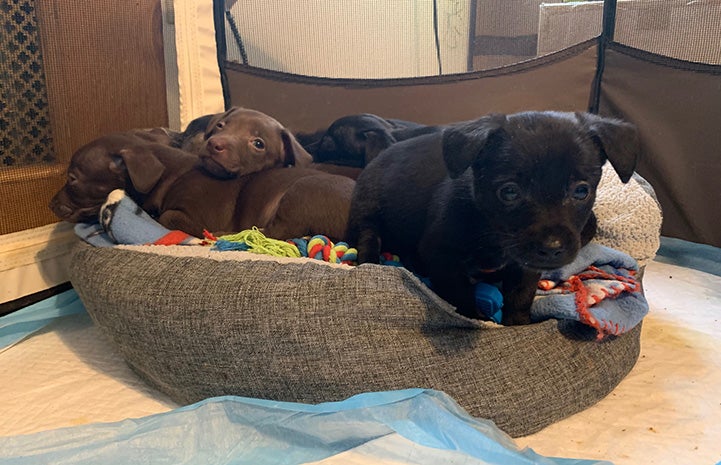 One of the best things about fostering the puppies was watching them learn and observing the mishaps that come along with that, such as eating puppy food off of each other instead of from their bowls and chasing each other's tails.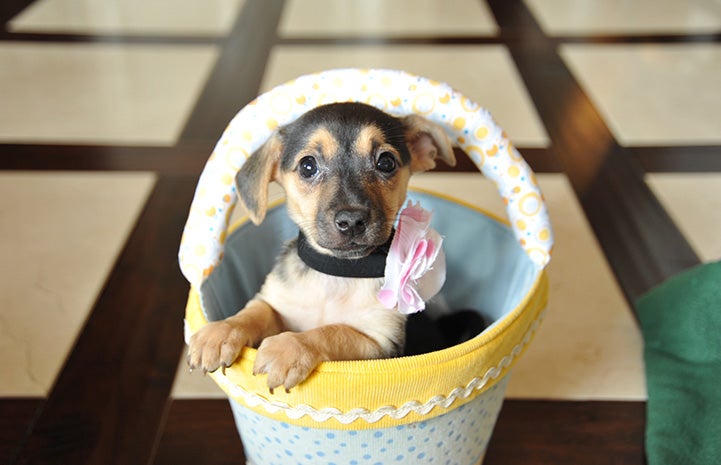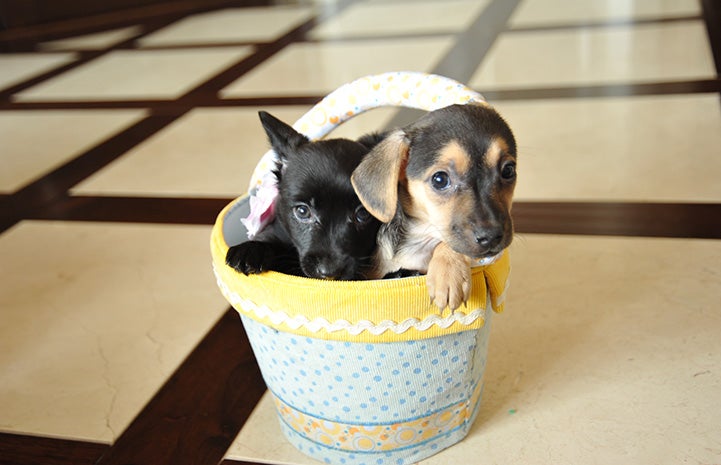 When the puppies were big enough, they were all adopted within a weekend (Linda, too).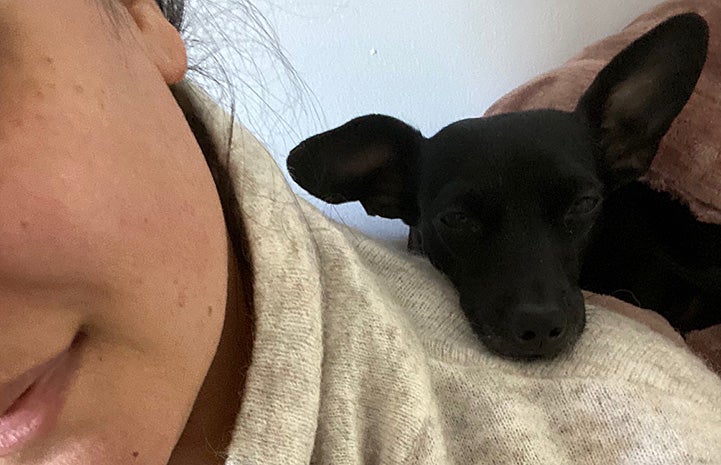 "It was really special to go on the journey with Linda from pregnancy to adoption, and to watch the puppies develop from little babies to seeing them off to their new homes," says Emily, who loved watching all their milestone moments, such as when they first opened their eyes or when they learned to bark.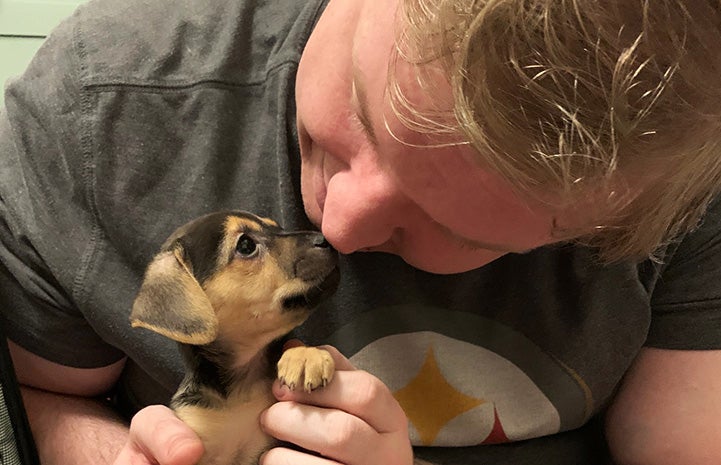 "Even though it takes a lot of time, energy, love (and cleaning), it was really one of the most rewarding experiences of my life," says Emily. "There are so many mamas that do not have the chance to give birth in a safe environment, let alone a home, and we were honored to make sure Linda's puppies came into the world surrounded by love."
Donate to help more dogs like Linda and her pups
Best Friends in New York works collaboratively with city shelters, local animal welfare organizations and individuals to save the lives of pets in shelters in New York City and the surrounding tri-state area. As part of this work, Best Friends has a national lifesaving concept space and pet adoption center in SoHo, hosts adoption and fundraising events, and runs a foster program in partnership with Animal Care Centers of New York City. Together, we will Save Them All.
Photos by Emily DeFelice