Foster a pet, even if it's just for a weekend
Dog fostering program at Best Friends in Los Angeles helps staff learn more about the animals and help pets get adopted more quickly.
By Nicole Hamilton
When Paisley was transported from a Los Angeles city shelter to the Best Friends Pet Adoption and Spay/Neuter Center last April, she came with a mile-long smile and boundless energy. What she didn't come with was the kind of documented history that could help adopters make the decision to take Paisley home.
For starters, it was not clear how Paisley felt about living with children or cats. And while she wasn't a fan of other dogs at the center, it also was unclear if she would feel the same about other dogs in a home setting.
Chukkis was having a similar challenge. Not only was his past a mystery, but he was also nervous at all the activity at the center, and he showed it by barking at potential adopters. But there was good news ahead for both dogs. That's because Paisley and Chukkis, along with eight other dogs, took part in a special weekend-long program called "Slumber Buddies."
Slumber Buddies is designed to give dogs like Paisley and Chukkis a chance to spend a weekend in a foster home and allow their personalities to really shine and, ultimately, help them land permanent homes.
Learn how Best Friends is saving lives in Los Angeles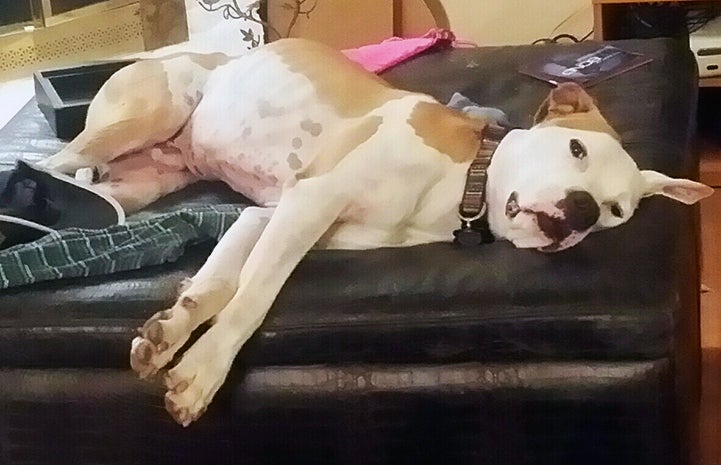 Chukkis, now named Bruno, relaxes in his new home.
Dog fostering program with many benefits
"The program is a great way for us to learn more about these dogs so that we can then give them the best possible chance at getting adopted," says Denise Landaverde, the center's foster coordinator. It's also a way to help get dogs who have been waiting the longest into the homes they deserve.
The Slumber Buddies foster program, open to Best Friends volunteers, exceeded anyone's expectations. Of the 10 dogs who went home with foster families over the weekend, seven were adopted soon after. "It's a win-win," says Denise. "Dogs get a chance to sharpen their socialization skills with a family. And we get invaluable knowledge that helps us find them homes where they can really thrive."
When the foster families bring the dogs back to the center at the end of the weekend, they also share videos and photos that capture the animals at their best. These can really help adopters envision what it would be like to live with the dogs they're considering.
The program is also a perfect way for dog lovers to foster without a longer commitment, and for dog lovers who because of lease restrictions are only able to have dogs as visitors.
Paisley steals the show
Paisley soaked up every minute of her Slumber Buddies getaway with Best Friends volunteer Laura Siciliano and her husband. On Saturday, Paisley stole the show at a big family get-together, where she was confident and well-behaved with everyone. She was also calm and collected around Laura's three cats and gave them lots of space, which helped them to not be afraid of her.
Laura admits that a few tears were shed when it came time to bring Paisley back to the shelter. In fact, Laura's husband suggested they move to a bigger place — just so they could adopt Paisley. But there was no need to keep feeling sad. Because of all the great information gleaned from Paisley's foster stay, staff found her the perfect forever home with an adopter who has three cats. Paisley was just the right fit, and she's now settling into her new family and getting to know her feline friends.
Discover the joy of fostering pets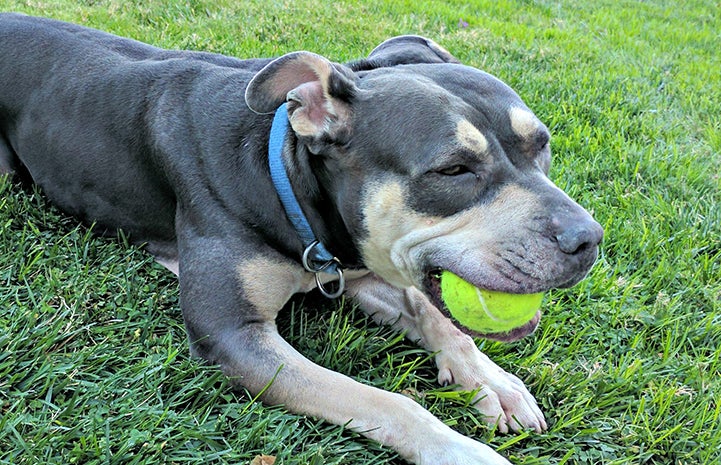 Thanks to Slumber Buddies weekend, Paisley showed everyone what a good girl she is. After capturing the hearts of her foster family during Slumber Buddies weekend, Paisley is enjoying life in her forever home.
Pet foster parent helps dog feel confident
While at the center, Chukkis barked so much that he sometimes scared away potential adopters. But when he stayed with Samantha Daneman's family for Slumber Buddies weekend, he didn't bark once. In fact, the only thing he really wanted to do was play fetch, cuddle, and then play fetch again.
"He fit in immediately," says Samantha, whose two big dogs got along with Chukkis right from the start. "He was snuggly and happy, and just thrilled to be able run in the yard."
The weekend also revealed that Chukkis, who sometimes hides at the center out of fear, is not afraid of the limelight. He soaked up attention at a party Saturday night, and then Sunday he went to a brewery to mingle with everyone at a Best Friends event.
A dog gets his second chance
Back at the center, Chukkis' nerves got the best of him again, and he barked (a lot) to show it. But his days were about to get a lot brighter.
That's because he was soon adopted by Laura Pinho, who visited the center one day looking for a dog to join her family. Laura wasn't looking for a particular breed or size. She just wanted a dog who would get along with her young daughter and the family's other rescued dog, Max. And because of the information from the Slumber Buddies weekend, they learned that Chukkis would fit the bill.
Chukkis finally has someone to play fetch with him every day. Thanks to the weekend spent with his foster family, he's now living the good life. And with many more Slumber Buddies foster weekends to come, more deserving dogs like Paisley and Chukkis will get their chance leave the shelter behind, once and for all.
Save a life. Adopt a pet near you.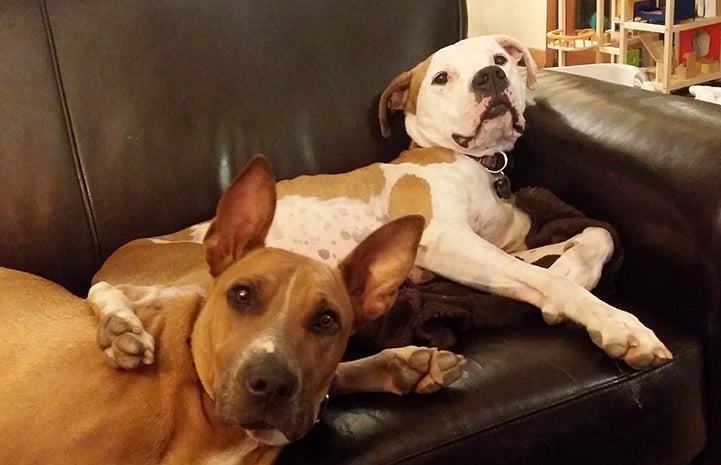 Chukkis, now named Bruno, enjoys relaxing with his new brother Max.
Photos by Kate Mullins, Laura Pinho and Laura Siciliano