Four Arabian horses come to the Sanctuary
Image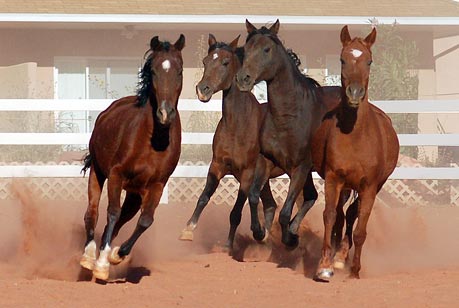 Four Arabian horses come to Best Friends after their person can no longer care for them. These four are a closely bonded group.
By Elizabeth Doyle
Poet, Patty, Gemy, and Bouquet are beautiful Arabians who had just about run out of luck. But now, they're happy new members of Best Friends' Horse Haven. One warning, though: Don't try to separate these four. It's bad for your eardrums!
Four Arabian horses in need
The foursome were living with an elderly Arizona gentleman who could no longer do the very physical work of taking care of horses and mending the pasture fences. That was OK at first; he simply hired someone to do what he couldn't. But when illness struck the family, he had to spend all his money on medical bills. And then, he really didn't know how the horses would be taken care of.
No worries, though. Best Friends had room in its pastures, and was happy to take them in. So the foursome he loved so well made the journey to Utah, where they're settling in very nicely.
A close-knit horse foursome
But it's easy to tell they've lived together their whole lives. Whenever you try to take one of them someplace by herself, to have her hooves done or whatnot, the others start neighing and whinnying as though you've stolen their sister! The noise is enough to make you want to put her right back and say, "Forget about it!" That's what you call devotion to your adoptive siblings. But that's OK. They're living in a pasture all together (for their sake and the sake of everyone's eardrums!) and sending messages back to their person: Don't worry about us. We're doing just great!
Adopt a horse from Best Friends Animal Sanctuary.
Photos by Troy Snow