Four tips to help pets have a happy Fourth of July
Tips for keeping dogs and cats safe and happy this 4th of July. There are also even a few recommendations for horses, rabbits, guinea pigs and birds.
By Christelle L. Del Prete
Whether you live in the middle of New York City or at the edge of a quiet lake, Fourth of July celebrations are likely to be going on in your neck of the woods. While the festivities are fun for most people, they can be particularly stressful for pets. To our furry and feathered friends, those crackling booms and dazzling lights in the sky can be a signal that it's time to run for the hills rather than celebrate. Before you outfit yourself in red, white and blue and join the party, here are a few things you can do to make sure your pets stay safe and happy during the holiday. Fido and his friends will thank you.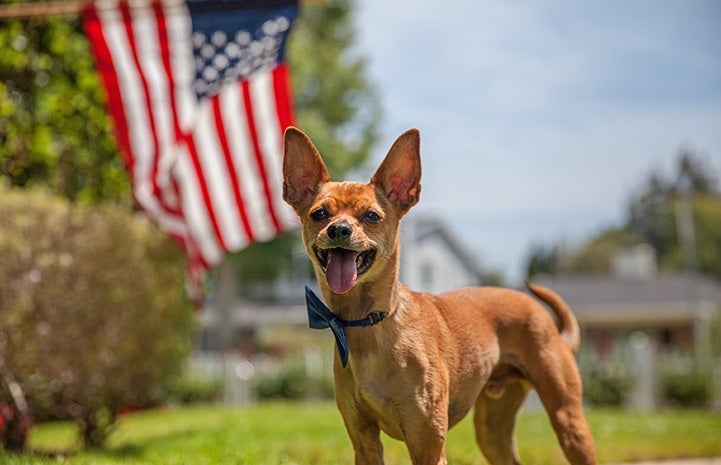 1. Decide if it's best to leave Fido behind
Fourth of July parades and fireworks displays, filled with crowds of people, loud noises and flashing lights in the sky, can be overwhelming for even the most well-adjusted pet. While some dogs can stay composed in chaotic environments, most of them will feel much more comfortable staying at home.
Likewise, a cookout might seem like a fun place to take your dog, but it's important to anticipate and avoid potential dangers. Dr. Erin Katribe, medical director at Best Friends, and veterinarian Dr. Patti Patterson warn that dogs getting into trash, barbeque trimmings, other human food items or alcohol run the risk of stomach upset or severe illnesses like pancreatitis.
Swimming pools can be a drowning hazard, and pets who like to swim or play in water can ingest too much of it in pools (in addition to chlorine and other water treatment chemicals).
Of course, your dog may not be the only four-legged friend at the barbecue. If you wouldn't bring your pal to a dog park, a cookout is probably not the best place to test his or her dog skills. When in doubt, consider that Fido might be perfectly content to stay at home and lounge on the couch.
2. Bring animals indoors if you can
Dr. Erin says that during the Fourth of July, it's best to keep dogs inside and confined, since they are prone to getting scared and getting out of yards. It's also a good time to check that your pet's ID tags and microchip are updated with your current contact information.
While indoor cats will already be in the house, cats with outdoor access should be brought inside well before the fireworks start. If you are a caregiver for free-roaming or community cats, you can give them safe places to hide, such as cat shelters or access to a garage.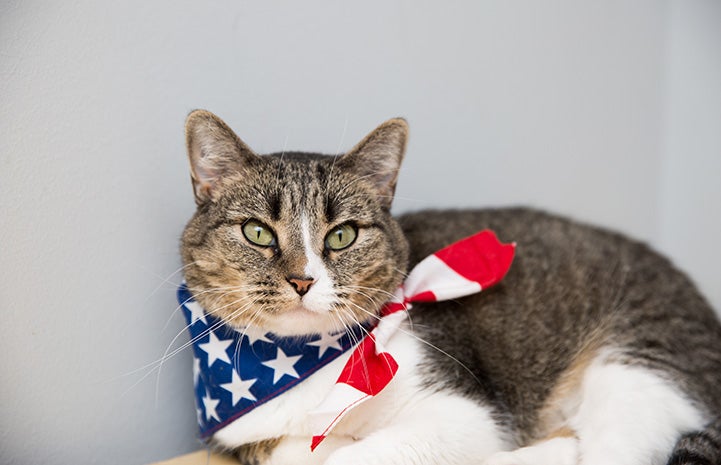 There are also ways to help our equine and barnyard pals living outside. Some housetrained pigs can be brought into the house. If that's not an option, they can be tucked safely into their piggy houses before the festivities begin.
As for horses, Horse Haven team lead Linda Meadows says the best thing you can do is train horses beforehand to make them self-confident so when unexpected things happen, like loud noises, they can calm themselves. And before the holiday arrives, make sure your fences are in good repair so that horses can't escape if they do become frightened.
"A shed or barn is nice to have available for horses to choose," Linda says, "but don't lock them in, as that may make them more afraid. Throwing them extra hay may help some horses, but other horses can't eat anything — even treats — if too scared."
It's also a good idea to get everyone settled in and fed before fireworks start, so they can eat peacefully. If you live in a place where there's bound to be fireworks — even smaller private celebrations — it's advisable to skip the trail ride and get your equine tucked into a safe place.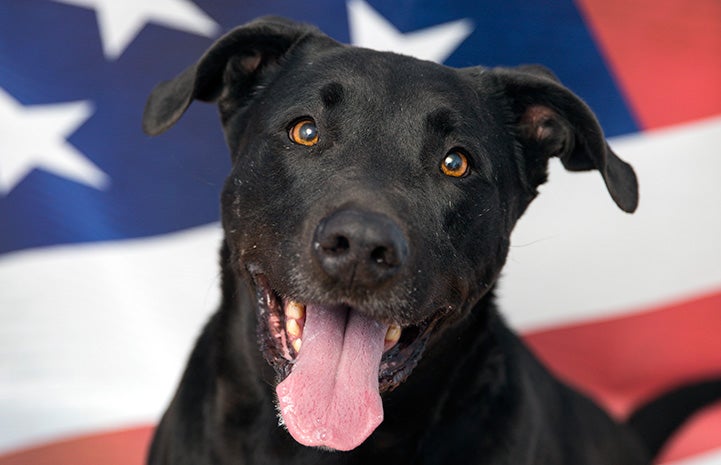 3. Make your house a haven
Dogtown manager Julie Tasch has a dog with severe noise anxiety that is triggered by thunder and fireworks. "Every animal is unique in what works for them, but I know personally Rescue Remedy (an herbal stress-relieving mixture) has worked, playing loud music and use of a ThunderShirt" (a product that fits like a snug T-shirt and uses gentle pressure to calm the pet).
Some dogs with severe anxiety can injure themselves when they are afraid, for example, by breaking out of a crate or jumping through a window. Others may become destructive by chewing up household items — even doors or walls. For those dogs, having their persons or family at home with them can be a huge source of comfort and safety.
"I always try to stay home with (my dog) when I know there are going to be fireworks, because that can be a comfort to him," says Julie. "I can also then ensure he doesn't hurt himself or damage anything if I'm not there. The bathroom is often a really spot for dogs. My dog feels safer in the car. So, sometimes we'll just go sit in the car and listen to music, as long as it's not too hot."
The car should only be used as a safe space if people are in the car with the pet. Never leave pets in the car alone.
Ways to keep pets safe in hot weather
Dogs, cats, bunnies and birds do best when they are insulated from outside noise. Cat World team lead Heather Henley and caregiver Kendra Gardner suggest keeping cats as far removed from firework noises as possible (such as in a middle or innermost room) and turning up the music, the television or the air conditioning unit. Any common or white noise the cat is used to can help drown out the sound of fireworks.
Teresa Fifer, a volunteer coordinator at Cat World, also recommends providing cats with places to hide or making their regular hiding spots more comfortable by setting up a carrier or utilizing a closet or space under a bed where they can retreat when stressed.
Heather also reminds pet owners to also make sure the windows are closed and curtains are drawn to protect against the flashing lights."
Finally, a ThunderShirts aren't just for dogs, but they are also made for cats. A bit of advance training is best so that your dog or cat is used to a ThunderShirt before something scary ,happens, and so pets won't associate the shirt with whatever is causing the stress.
Our feathered friends can also become distressed during noisy celebrations. Parrot Garden caregiver Jessica Hagedorn says: "Make sure that birds are inside the house and in a secure enclosure where they can't fly away if they get scared. If they are very anxious in their cage (and if they will accept it), try covering part of cage with a blanket. You can also play soothing music and distract them with foraging toys and other enrichment to keep their minds on something else."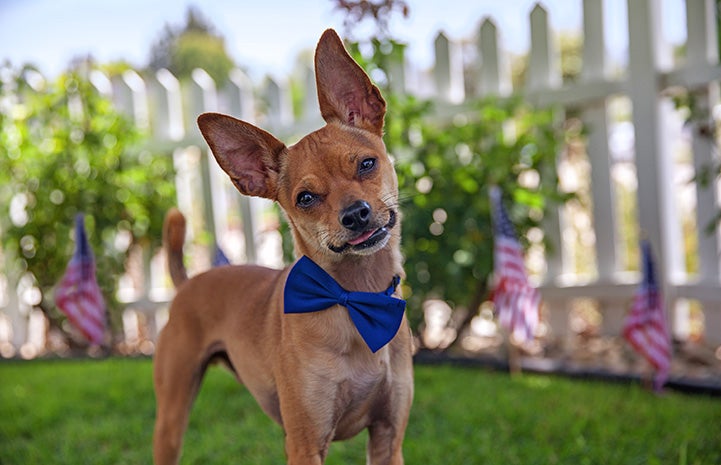 4. Do a pet welfare check
Some pets will shut down when they become frightened, and for some this can be dangerous. Extremely stressed rabbits and guinea pigs, for example, can go into GI stasis, a condition that can cause their digestive systems to stop working and possibly be fatal without immediate treatment.
You know your pet the best, so paying close attention to body language and normal daily habits can clue you in as to whether your pet needs an appointment with the vet or just a little extra comfort and reassurance. Our furry and feathered friends will never understand what all the commotion is about on Independence Day, but we can find ways to make it safe and happy for pets and people alike.
Photos by Sarah Ause Kichas and Lori Fusaro