German shepherd mix helps veteran recover and find purpose after deployment
Dog helps veteran find purpose after he returns from deployment as a reservist with the California National Guard.
By Nicole Hamilton
One of the greatest things about adoption is watching pets' personalities unfold once they realize that your home is now their home, too. For example, after Kenny and Melanie Nakanishi adopted Porter, they learned he loves car rides — so much, in fact, that he sits by the car until they grab the keys and take him for a spin around the block.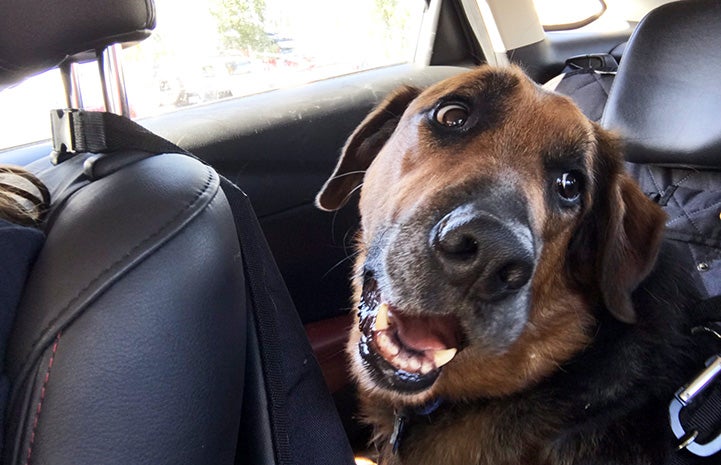 Today Porter is as mellow as the day they met him at the Best Friends Lifesaving Center in Los Angeles — that is, until he catches Kenny or Melanie walking toward the cabinet where the treats are kept.
Kenny and Melanie already knew Porter was motivated by tasty treats. (Who isn't?) But it wasn't until they started getting wakeup calls at the crack of dawn that they learned their new dog is an early riser. And while they'd rather sleep in, on the weekends they're now more apt to get a move on, too, because they know Porter is just excited to start his day. And after a past like his, who can blame him? Life is just too good now to miss.
In fact, there was once a time when Kenny was happy to sleep in. That was back when he returned from deployment as a reservist with the California National Guard. Coming home was a tough transition for Kenny to make, but Porter has made it easier.
A gentle leaner and cuddler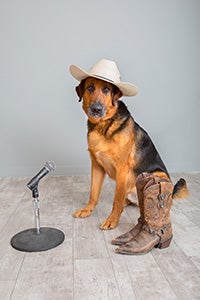 Porter was found in a vacant lot and brought to Los Angeles Animal Services before coming to Best Friends. "Everyone loved him," says Janelle Metiva, dog behavior specialist for Best Friends in Los Angeles. "He's a gentle dog, a leaner and a cuddler."
Porter wasn't without his challenges, though. When he first came to the center, he was very reactive to other dogs while on a leash. Without other dogs around, Janelle says, he'd walk right next to you, lean against you and stare adoringly in your eyes. But that all changed as soon as he saw another dog. Then, he'd pull hard on the leash and sometimes bark.
To help Porter with his reactivity issues, Janelle and the dog behavior team worked with him on parallel walks at far distances with calm dogs. "This helped him to acclimate and be able to walk calmly in closer proximity," she says.
In time, it was much easier to walk Porter. He revealed a penchant for learning and mastered commands like sit, down and paw. He could also stay calmly in a crate and use agility equipment. And the fact that Porter wasn't shy about his love of treats wasn't exactly a bad thing because it helped him stay motivated to learn new things.
How Best Friends is helping Los Angeles become a no-kill city
Finding the right home can take time
Sometimes it takes a while for a pet to find a tried-and-true forever home. His adopters (before Kenny and Melanie) returned him to Best Friends when their living circumstances changed. They said he was "perfect," but felt he deserved a family that could spend more time with him.
Back at the center, Porter picked up where he'd left off. He resumed his lessons with the team, got plenty of love from the staff and volunteers (and gave it in return), and never turned down a treat. Then one day, he met Kenny and Melanie, who came to the center after learning about Porter on the center's website.
Melanie had been thinking that a dog might help Kenny with his transition to civilian life. "The deployment was the easy part. Homecoming is the hardest part," says Kenny, who had been experiencing some depression and agreed that a dog could be the kind of companion he needed to feel better. Based on photos of Porter, he had set his sights on adopting a hound mix. Imagine his surprise when he and Melanie walked into the center and met Porter, a beautiful German shepherd mix.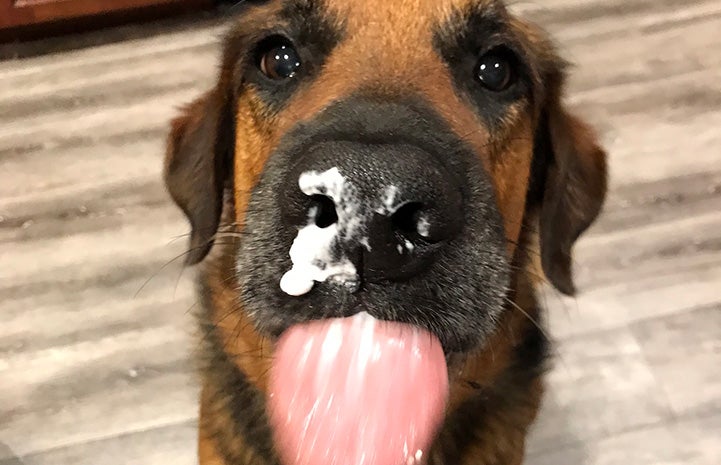 Destination: home
Although Porter was much bigger than they anticipated, they decided to spend some time with him. They thought he looked sweet, and since they live about an hour away, they didn't want to simply turn around and drive home. As Melanie watched Kenny play with Porter in the yard, she saw how happy he was and how well they seemed to get along. That's when she knew Porter would be going home with them.
"Then he came and rested his head in my lap and looked up at me with those big eyes," says Melanie. "It was all over. I wanted to bring him home just as badly." That day, Porter got to do one of his favorite things — take a car ride. This time, he was headed toward a very special destination — home.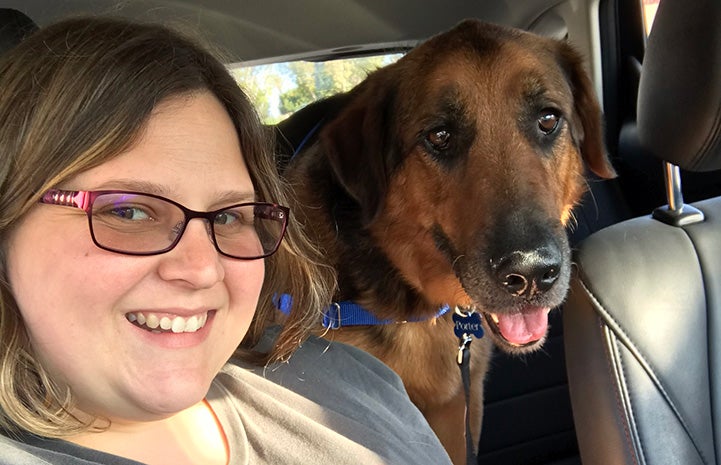 Dog has adopters wrapped around his paw
Sometimes it takes a little time to adjust to new surroundings and Porter was no exception. Kenny and Melanie knew the dog was working on mastering his leash reactivity (still a work in progress). "We knew he was a solo artist, so we understand that taking him out to areas where there could be other dogs can present challenges," says Kenny.
Porter is also working through some anxiety, and although he can have a hard time with new things, he's getting braver and has become much more confident. And since Porter loves nose work, they bought him a snuffle mat, which he can't seem to get enough of.
Kenny and Melanie have also learned that there's no such thing as "long-lasting chews," because Porter tears them apart in minutes. He's also shown that he has a hidden talent: He can carry coffee cups from one room to another without spilling them. (This may come in handy for those early morning wakeup calls.)
"We've had dogs separately, but never together, so he's teaching us that we're going to make terrible parents one day," jokes Melanie. "He really has us wrapped around his paw. Half of the pantry is dedicated to him. We change plans when he gives us those big sad eyes. He runs the house."
A textbook case of 'Who rescued whom?'
Porter has helped Kenny, too, by giving him both purpose and the challenge of being his trainer. Plus, he motivated Kenny to get out of bed when he didn't want to. "He got me up to work on training, be it tricks, obedience or just hanging out for belly scratches," he says. "Melanie thinks it's a textbook case of 'Who rescued whom?'"
If you're thinking of adopting a senior pet, Kenny says do it. "Porter has plenty of energy and loves to play. Give them a chance. They may be older, but they still have plenty of love to give."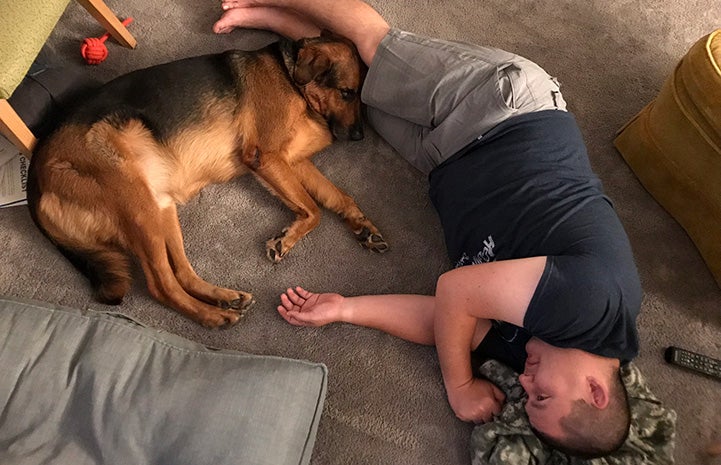 Best Friends in Los Angeles works collaboratively with animal rescue groups, city shelters and passionate individuals, all dedicated to the mission of making Los Angeles a no-kill city. As part of this mission, Best Friends hosts adoption and fundraising events, manages two pet adoption centers, and leads the No-Kill Los Angeles (NKLA) initiative. Together, we will Save Them All.
Photos courtesy of Kenneth Nakanishi and by Lori Fusaro