Grumpy, toothless min pin finds a family who loves everything about him
Senior dog with limited vision lands a home where his quirks are celebrated.
By Peggy Race
Everyone's had an occasional bout of the Monday blues, but have you ever met a dog whose mood always seems sullen? When Ogden arrived at Best Friends in Salt Lake City, he was a grumpy, frail and vision-impaired miniature pinscher on the rebound from two failed adoptions. "He was already fairly old when he got here," says Gillian Freed,  Best Friends lifesaving and care specialist in Salt Lake City. "When I took him out for walks, he didn't need much time to stop and smell the roses."
[Veterinarian is a senior dog's prescription for the good life]
For Ogden, it seemed every rose had a thorn. Displaying his own prickly barbs, Ogden and his get-off-my-lawn vibes radiated his displeasure with life. After all, it's not easy to find your tail-wagging happy dance when you're stricken with a urinary tract infection (UTI) and failing kidneys, on top of your other medical issues.
What Ogden needed was a calm, quiet environment rather than the stressors related to kennel life, and Best Friends had the perfect solution in mind. After the team started Ogden on a renal diet and tended to his medical issues, he was moved to the home of foster volunteer Kelly Smith.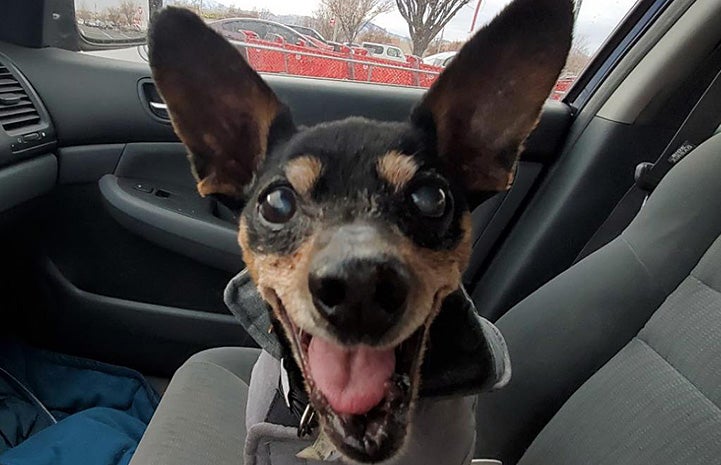 An extra dose of pampering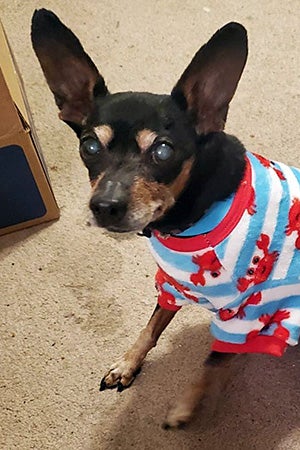 "He didn't like anything: baths, getting his nails trimmed, walks, being picked up, being put down, putting his bowl too close to his face, putting on his diaper, taking off his diaper ― the list goes on," says Kelly. "A lot of that was probably related to his lack of vision and being very easily startled."
Luckily, Kelly understood how scary the world could be for a vision-impaired dog. But what's a foster mom to do when medical challenges become a bit more complicated? Kelly chose the most practical route. She turned up the dial on her comfort thermometer and selected "extra pampering" mode.
Soon pajamas and handmade sweaters, which Kelly knitted herself, adorned Ogden's tiny frame. "He was never not cold," Kelly says, recalling his refusal to eat, his stomach issues and the challenge of keeping a diaper on his tiny butt. "It was a very stressful, scary and messy two weeks, and the adorable pajamas were a nice distraction."
As Ogden's health improved, Kelly admits not all her ideas were practical. Saddened by the idea of spending a milestone 30th birthday alone due to COVID-19 restrictions, Kelly shared her special day with Ogden. "I made us both wear party hats and go to Starbucks for Puppuccinos," says Kelly. "The funny thing was that despite being oh so grumpy, he was a total mush."
Taking time to smell the roses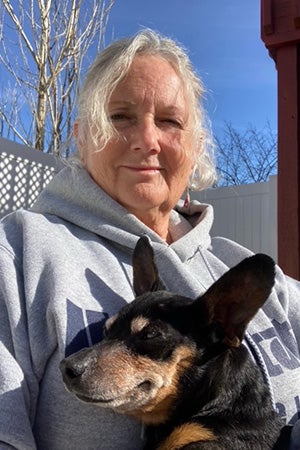 While Ogden settled into his foster home, Sheryl Hall was making the move from Alaska and looking to settle into a new home in northern Utah. A former volunteer with a pet rescue group, Sheryl brought along more than just her two rescued min pins. She packed a carload of memories ― remembrances from the senior animals and those with special needs that she cared for.
Turns out, there are no mileage restrictions on an animal lover's heart. "I honestly don't know why I was even looking to see what dogs were available," says Sheryl. "But as soon as I saw Ogden's picture, my heart was all in."
Sheryl wasted little time in recruiting her son to drive her to Best Friends. She couldn't wait to meet the dog whose photo captured her heart.
Cranky moods and medical issues might have been a sticking point for some, but Sheryl knew her little heartthrob needed a special person to love him in all his glory. "I knew absolutely that Ogden would be coming home with me," says Sheryl. "He can't do stairs or get up or down from furniture by himself. None of these were deal-breakers in bringing this sweet old man into my heart."
The adoption not only filled a hole in Sheryl's heart but it warmed Kelly's as well. "Unfortunately, dogs like Ogden are a tough sell," says Kelly. "He's old, he's blind, he's grumpy, his kidneys are failing. So, for someone to stop and say that yes, despite all his issues that dog deserves a chance, is incredible."
[7 inspiring pet adoption stories (but then, every pet has a story worth telling)]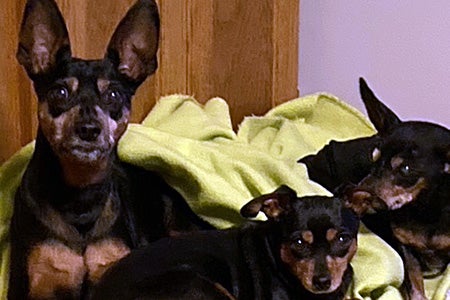 Sheryl's min pin experience also helped pave the way for a noneventful introduction to his new brothers. After a nice warm bath, a nail trim and a warm slurry of soft food, she allowed Ogden to get familiar with his surroundings.
"My dogs are well-acquainted with receiving new housemates, so after brief sniffs they were happy to let him rest," says Sheryl. "After about the third day he wanted to share space with us by lying next to his brothers or snuggling with me."
In fact, as Ogden's body became stronger, he also became more active. Exercise sessions in his fenced-in backyard, combined with the warmth of a sunny afternoon, melted his grumpy mood and exposed a super frisky pup. "He'll lean back and bark real big, clearly because it just feels good and he'll scamper around like he's a teenager." says Sheryl.
Although it took time for Ogden to appreciate a belly rub or welcome a snuggle buddy, things are looking up for him. Since his adoption, his personality has blossomed. "He's independent, but will talk when he wants to be picked up to snuggle on the couch," says Sheryl. "He also insists on a bit of prime real estate on the bed at night."
Without question, Ogden's toothless smile and spirited nature has captured the love of his new family. "He'll be loved and pampered for whatever time he has left, and will never be frightened, sick or alone again," says Sheryl. "Senior pets have so much love to give if someone will just take the chance and open up their heart and home to them."
For a frail and grumpy dog whose rocky past has taken several detours, Ogden's journey finally landed him in the home of his dreams.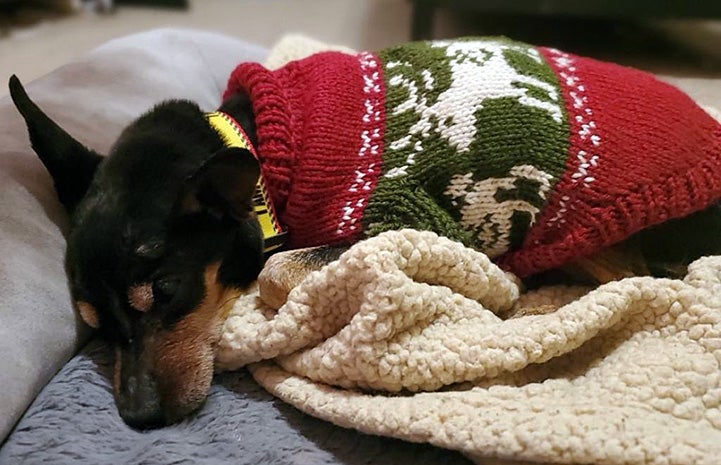 Give a dog a home
Adopt and give a dog a reason to smile (and a reason for you to smile, too).
Read more
Baby meets a kitten his age, cuteness ensues
6 unexpected benefits of fostering dogs during heartworm treatment
Beautiful Lab, terrible manners
Photos by Sarah Ause Kichas, Best Friends staff and courtesy of Sheryl Hall