Handsome Dan the Vicktory dog
Interview with Handsome Dan the Vicktory dog's adopter Heather. Handsome was rescued in the Michael Vick dogfighting bust.
By Best Friends staff
Adopted: December 25, 2009
More about Handsome Dan from adopter Heather:
What has surprised you most about him?
At first, it was his size. The Vicktory dogs are all so much smaller than I was expecting. Over time, his willingness to trust and try. Dan will always be a fearful guy, but he tries so hard to do what we ask of him, even when he is struggling.
What is your favorite thing about him?
Where to start? Dan is my best friend, truly. I have never had such a strong bond with a dog before, and I have fostered over 100. When our daughter, Josephine, was born in 2010, we knew Dan would be great with her. We just had no idea how great. When she was a baby, he would sleep next to her crib. Now that she is a little older, he is so calm and patient with her. Sudden movements have always startled Dan, but the craziness of a toddler doesn't seem to bother him at all. Dan can truly be considered a nanny dog! He has just added so much to our family. He has helped bring so many new friends (both human and dog) into our lives. Our family is just so grateful for all that Dan has added to our life. Oh, and he is a champion snuggler!
What is his favorite thing to do?
Sleep and snuggle. Dan used to be dog social, but has gotten a little cranky as he has aged. But that's OK; he is happy with his small circle of friends. Dan is not able to go for walks or trips to the park like most dogs due to his fears, but he is happy and comfortable in his home and yard and with his routine. Oh, and he is a wiz at targeting!
What has adopting him meant to you?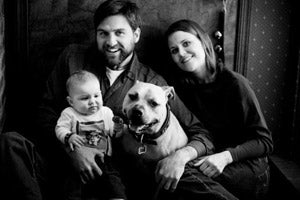 It has literally changed our lives. I have since become a Certified Pet Dog Trainer-KA and co-founded Handsome Dan's Rescue for Pit Bull Type Dogs with my partner, Mark. We focus on dogs in local shelters who are not candidates for adoption due to medical or behavioral issues. I teach group classes where we bring area shelter dogs in to learn skills to make them more appealing to adopters, and we have a network of foster homes and provide free spay/neuter vouchers to owned at-risk pit bull dogs in Rhode Island. In addition to being lead trainer at Handsome Dan's Rescue (HDR), I teach group classes and meet with clients privately through our family's business, Outbound Hounds. I gravitate toward fearful dogs, with similar issues to Dan's, and try to learn as much as I can about how to help them. Dan has been the inspiration for all of this.
Dan has helped bring so many new and interesting people into our lives. His Facebook page and the HDR team have grown in ways that we could have never imagined. Again, we feel so blessed and grateful that we were able to adopt Dan. He has truly given us more than we will ever be able to give him. The addition of him to our family sparked such an incredible time in our lives.
What do you think people can learn from Handsome Dan?
Dan's adoption has also given me an extended Vicktory family. The parents of the other dogs have become close friends. So, we know that a lot of these dogs just needed to be in the right environment to be able to have an amazing and positive life. We work so closely with dogs who are from bad situations, and we see each and every day that these dogs truly understand what living in the moment and true forgiveness are all about.
Read about the former Michael Vick dogs.
Photos courtesy of Heather