Helping a starving mastiff gain weight and find love
Image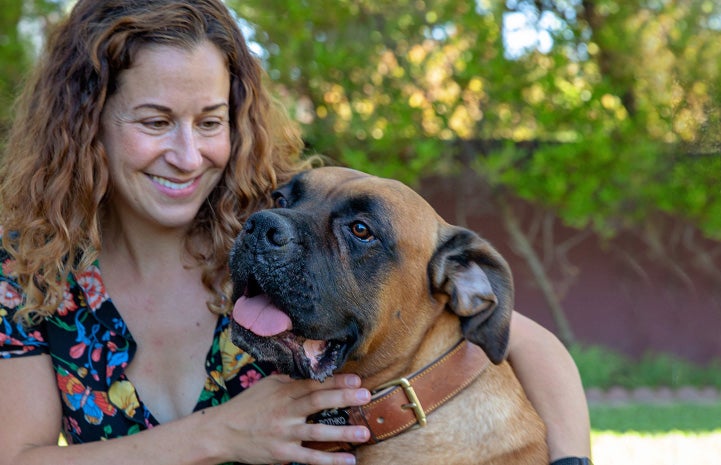 Starving mastiff receives diagnosis -- enzyme deficiency called exocrine pancreatic insufficiency (EPI) and gets medical help. Read his story.
By Nicole Hamilton
Best Friends in Los Angeles works collaboratively with animal rescue groups, city shelters and passionate individuals who are all dedicated to the mission of making Los Angeles a no-kill city. As part of this mission, Best Friends hosts adoption and fundraising events, manages two pet adoption centers, and leads the No-Kill Los Angeles (NKLA) initiative. Together, we will Save Them All.
Santiago is a gentle giant of a dog who loves playing with the little boy he lives with as much as he does curling up with his family on the couch. But he prefers laying on them rather than next to them. Good luck telling Santiago he doesn't fit.
To see Santiago now, you'd never know he once was so skinny that you could see every bone in his body. That's how he looked when he lost his home and ended up at a Los Angeles Animal Services (LAAS) shelter. No matter how much he ate, he kept getting thinner and thinner.
He was eventually transferred to the Best Friends Pet Adoption and Spay/Neuter Center in Los Angeles, where the medical team got to work on why Santiago was so underweight.
Good news for an underweight and ailing dog
It turned out that Santiago has an enzyme deficiency called exocrine pancreatic insufficiency (EPI). "This basically means that he has the inability to produce enough of his own pancreatic enzymes to break down protein, carbohydrates and fat in the food that he is eating," explains Dr. Nicole Petshauer, the center's senior veterinarian.
The good news is that EPI is treatable, and by taking enzyme supplements Santiago was expected to make a full recovery. The good news didn't stop there, because shortly after his diagnosis, Kelsey Gordon, a cat caregiver at the center, stepped up to foster him by giving him a comfy place in her home where he could start feeling better.
Foster home for a perfect gentleman
"He was an absolute dream," says Kelsey, who only wanted her new houseguest to relax and make himself at home, which was easy thanks to his easygoing nature.
Santiago was respectful of Kelsey's cats, and he was friendly and kind to the neighbor's dogs and children. "He loves everyone he meets and just wants to be safe and loved," says Kelsey. "Despite his size, he's convinced he's a lapdog and is happiest when he is right by your side."
In just a few months, the giant dog went from about 60 to 95 pounds — a healthy weight for a giant breed. Santiago was ready to meet someone who could offer him a permanent spot on the family couch. So he was returned to the adoption center, where it didn't take long to find a family interested in adopting him.
Discover the joys of pet fostering
Mastiff finds home, new BFF
Denise Rockwell had been looking for a dog like Santiago who would do well in a busy home with a toddler; so, when she saw a video of Santiago on the NKLA Pet Adoption Center's website, she had a good feeling that she'd found the one.
Santiago warmed up right away to Indigo, the young son of Denise, and after spending a little time getting to know the big dog, she decided to adopt him. The fact that Santiago would need EPI medication every day didn't change her mind one bit.
Kelsey was at the center the day Denise took Santiago home and was able to offer a bittersweet goodbye. "Denise was so kind and thoughtful, and I knew instantly that she was going to give Santiago the perfect home," she says.
More about No-Kill Los Angeles

Gentle giant, couch potato dog
Santiago, who now goes by the name Rothko, is doing great in his new home with his family: Indigo, Denise and her husband, Chris. "He's adjusted very quickly," says Denise. "He's very mellow and likes to please people."
Santiago is patient and gentle with Indigo, who loves his new big dog. And while Santiago went through quite the physical transformation at Best Friends, some things have stayed the same — like how he still takes up the entire couch like nobody's business.
As for the medical problem that once sapped Santiago's energy and made his ribs show through his skin, Denise and Chris are helping to keep that in the past. Denise says that she'd encourage anyone considering adopting a special-needs pet to keep an open mind about it, because the rewards are endless. "He is so trusting and loyal," says Denise, "and so deserving of a home."
Photos courtesy of Kelsey Gordon and Lori Fusaro