Hope for Karou
Cat with special spirit and extra special needs receives treatment and TLC at Best Friends.
By Best Friends Animal Society
By Christelle L. Del Prete
Hope. It is what the name Karou means and what this beautiful little Siamese mix has needed plenty of in her short life. When she was only four weeks old, she was surrendered to a shelter in Seattle, Washington. Although the shelter acted quickly to find her a good foster home, Karou just wasn't thriving. By the time she was eight weeks old, she weighed only 1.3 pounds, and it was clear she had some very serious medical conditions.
A special challenge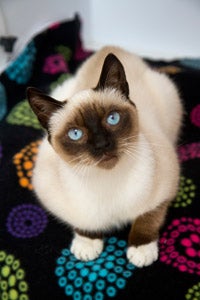 But there was something special about Karou, a gentle sweetness in her wide blue eyes, and so, despite her physical challenges, the compassionate staff at the vet clinic knew they had to save her. They started her on new medications, and sought out the advice of a specialist. Karou's tail, which was neurologically dead, was amputated. And then came the diagnosis: megacolon, an incurable condition, which makes it difficult for her to go to the bathroom, or to make it to the litter box in time when she does. For the rest of her life, Karou will have to take medication and receive extra care for fecal incontinence.
Since her condition has made it a little challenging for Karou to find just the right home, she came to Best Friends, where she is not only receiving the care she needs, but is fitting in with all of the other special-needs pets who live at the Sanctuary. After spending the first few weeks at Hope House, Cat World's medical building, Karou has just moved into one of the main cat rooms in Benton's House, a building for cats with special needs.
Happy, healthy and home
Alisa Alexander, a caregiver at Benton's, knows that it won't be easy to get Karou healthy, happy, and ready for a home of her own. There are medications to administer, baths to give, and special food to provide. Even more importantly, Karou needs love and socialization. Already, she's begun to bond with her caregivers by spending some quality time sitting on their shoulders.
And Alisa, obviously smitten with her new charge, seems undaunted by the task ahead. She says she and the other caregivers have cared for cats like Karou before, and that, with the proper balance of medication, food and affection, they've made vast improvements. "We know we can do this with Karou, too," Alisa says, adding that Karou's spirit is what makes her so sure of her success. She's full of "girl confidence," explains Alisa, so much so that it will come as no surprise if she is soon ruling the Benton's House roost. There is indeed hope for Karou.
See Karou in action.
Consider making a special donation today to help the animals at the Sanctuary, many of whom, like Karou, are receiving extra treatment and care for their special needs.
Photos by Sarah Ause Kichas