Hot off the keyboard: When cats type
The cats at Best Friends Animal Sanctuary have a lot to say, but you may want to bring in a translator to interpret what these five cats typed.
By Sarah Thornton
Cats have a lot of opinions. And while most of us humans don't speak cat, that doesn't stop them from trying to get their point across. Who hasn't had a cat try to get onto their keyboard? It seems like no matter how many times you try to redirect their attention, within seconds they're back stepping on numbers and letters and punctuation. So, we decided to give some cats free rein of our keyboards and see what they've got to say.
These Sanctuary cats have taken to the same keyboards that they always see people type-type-typing on, and we've included their unedited "mewsings." But, further translation is still necessary.
Pipkin gives us the 411(1111111)
As a kitty who calls a Cat World office her home-between-homes, it's safe to say Pipkin is familiar with computers. When we asked for her contribution, she even showed off her computer skills by opening up source codes and (before she was finished) locking up the keyboard. Here's what Pipkin typed:
4
1
11111111
;.//////////////////////////////////////////////////////////////// p[-09fvc
""" ncvvvvvvvvvvvvvvvvvvvvvvvvvvvvvvvvvvvvvvvvvvvvvvvvvvnLLLLLLL
[[[[[[[[[[[[[[[[[[[[[[[[[[
Single-minded Koda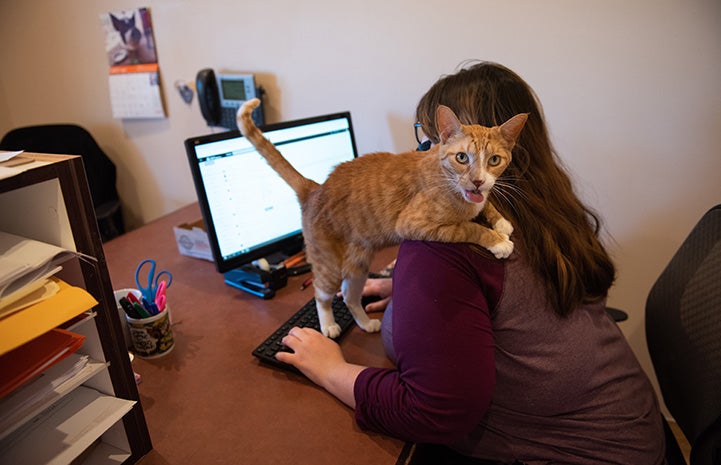 Koda was more than happy to participate and lend a paw to satisfy our curiosity in return for some quality hugs and snuggles. He didn't even have to look at what he was typing to properly express himself. Here's what Koda typed:
Nnnnnnnnnnnnnnnnnnnnnnnnnnnnnnnnnnnnnnnnnnnnnnnnnnnnnnnnnnnnnnnnnnnnnnnnnnnnnnnnnnnnnnnnnnnnnnnnnnnnnnnnnnnnnnnnnnnnnnnnnnnnnnnnnnnnnnnnnnnnnnnnnnnnnnnnnnnnnnnnnnnnnnnnnnnnnnnnnnnnnnnnnnnnnnnnnnnnnnnnnnnnnnnnnnnnnnnnnnnnnnnnnnnnnnnnnnnnnnnnnnnnnnnnnnnnnnnnnnnnnnnnnnnnnnnnnnnnnnnnnnnnnnnnnnnnnnnnnnnnnnnnnnnnnnnnnnnnnnnnnnnnnnnnnnnnnnnnnnnnnnnnnnnnnnnnnnnnnnnnnnn
More translation necessary for Skyler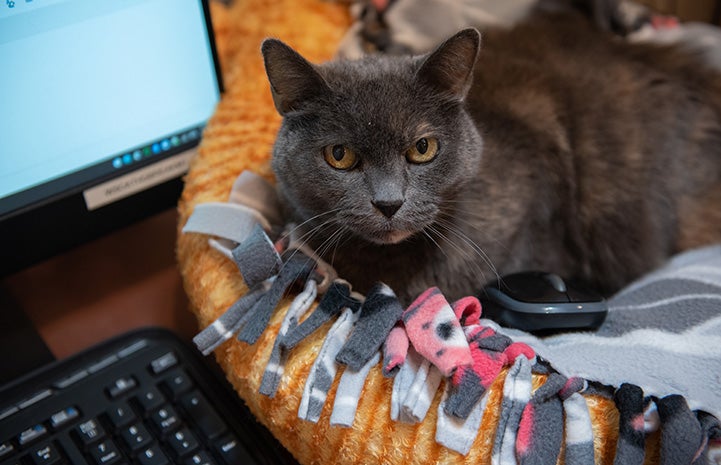 Skyler wasn't entirely sure about the whole thing. A little shy at first (by nature maybe), she was feeling bashful about opening up and typing how she felt while we were watching. It's OK, Skyler. Your secret's safe with us (especially since we can't exactly understand what it is). Here's what Skyler typed:
0--\\\\\\\\\\\\\\\\\\\\\\\\\\\\\\\\\\\\\\\\\.;;;;;;;;;;;;;;;;;;l.4p[-1
Woodrow's musings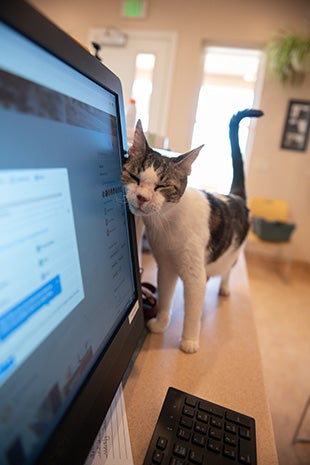 Another sweet guy who was much more interested in scratching all the right places than coming up with a written monologue, Woodrow seems to have gone with just trying to tell us how he feels about being petted. "Mmmmmmm, that feels nice." Here's what Woodrow typed:
4rjkmmmmmmmmmmmmmmmmmmmmmmmmmmmmmmmmmmmmm,,,,,,,,,,,,,,,,,,,,,,,,,,,,,,,,,,,,,,,,,,,,,,,,,,,,,,,,,,,,,,,,,,,,,,,,,,,,,,,,,,,,,,,,,,,,,,,,,,,,,,,,,,,,,,,,,,,,,,,,,,,,,,,,,,,,,,,,,,,,,,,,,,,,,,,,,,,,,,,,,,,,,,,,,,,,,,,,,,,,,,,,,,,,,,,,,,,,,,,,,,,,,,,,,,,,,,,,,,,,,,,,,,,,,,,,,,,,,,,,,,,,
An 'ez' assignment for Twiggy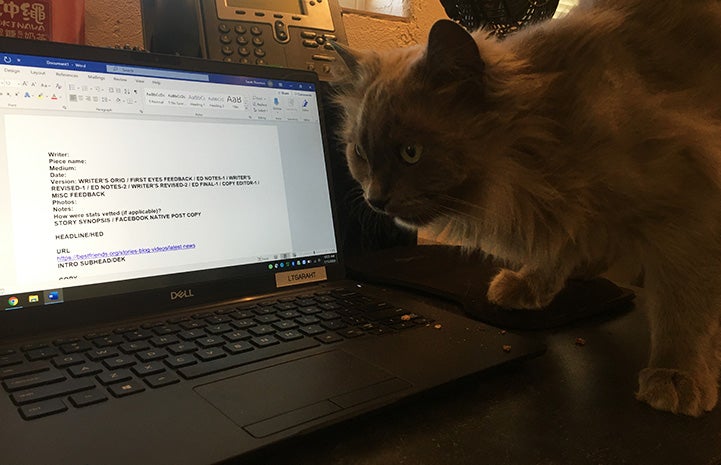 Twiggy has already watched enough typing for the novelty to wear off. She knows what to do and finds the whole thing terribly simple. In her own words:
;………………..ez nmmmmm
Support raw creative talent
While they're not all writers, every animal at the Sanctuary has a different story that led them to safety at Best Friends. The next chapter: new homes. You can help them get there.
Sponsor an animal at Best Friends
Read more
Portraits draw laughs, raise dollars for pets
6 Sanctuary animals with wild lookalikes
Photos by Molly Wald and Sarah Thornton