A hound dog with no manners, no skills, no problem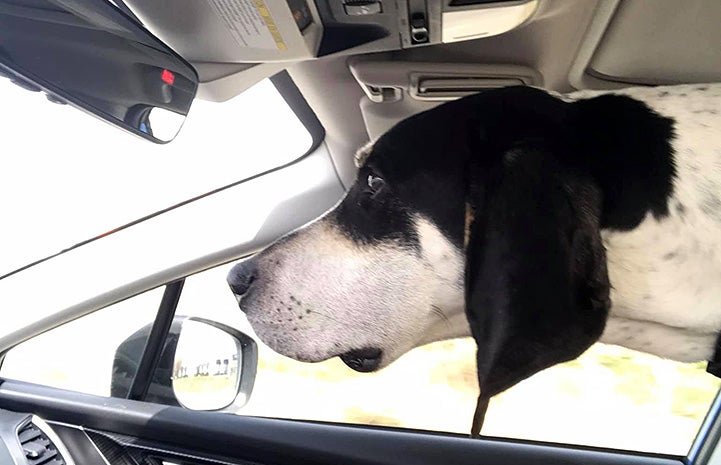 How structure and training from a veteran foster volunteer helped an exuberant hound dog go home after he'd been in a shelter for six months
By Tara McKenney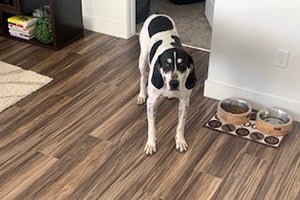 Retired Navy veteran Mike Foster figured his years of experience handling dogs and fostering puppies and kittens had prepared him for just about anything — until he met Comet. Let's just say Comet is a handful. The four-year-old, 60-pound coonhound mix spent six months at Salt Lake County Animal Services, where he known for his larger-than-life exuberance and complete lack of manners. Shelter staffers and volunteers did their best to try and place him in a home and keep him happy and comfortable until that day came.
Then the pandemic took hold and the state's "stay safe, stay home" order went into effect. When Best Friends in Utah put out the call for foster homes, applications came flooding in by the hundreds. Soon every pet was placed, but the team didn't slow down. Instead, it contacted shelter partners and offered to take in some of their animals, including Comet.
Big dog, big howl
According to Comet's foster notes from the Salt Lake County shelter, food could not be left out around Comet because he grabbed food right off the counter. Furthermore, he wasn't trained to walk on a leash. And to top it all off, he had a habit of howling a great, booming hound dog howl whenever he saw another dog.
His first day in a Best Friends foster home didn't go so well, either. A lack of potty training had him back at the Best Friends Lifesaving Center within 24 hours. Linnea Scott, lifesaving and care specialist, says, "It was clear all Comet needed was consistency and someone to take the time to give him a chance." So, they tried again, and that's where Mike came in.
Employed at Hill Air Force Base (30 miles north of Salt Lake City) but temporarily working at home, Mike signed up to foster a pet. When the foster team asked if he'd give Comet a try, he said yes. At their first meeting, Comet bolted toward Mike as a tight ball of energy, unable to focus because he was so excited to be outside of a kennel environment.
Mike wondered what he had gotten himself into. It would later dawn on him that he and his daughter had seen Comet months earlier when they toured the local shelter. Mike's heart went out to the dog, who was down on his luck and still without a home.
Mastering basic training in boot camp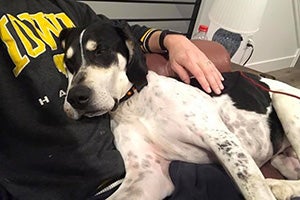 On the 40-minute drive back to Mike's condo, Comet indulged in his freedom with his head out the window and his giant cheeks flapping in the wind. Once they arrived home and Comet had a quick sniff around, he was ready to be taken for a walk ― that is, Comet took Mike for a walk. A hard puller and zig-zagger, Comet caused Mike to trip, but the new foster parent was undaunted.
By the second day and with several miles behind them, Comet was beginning to pick up on cues and loosening the tension on the leash, which made for a more enjoyable walk. It turned out Comet was a quick learner, but his eagerness to meet other dogs resulted in loud howling and dragging Mike in the direction of the other dog. Maintaining a calm demeanor and redirecting Comet's attention with a cue, Mike was able to diminish Comet's overreaction and disengage. Within a week, Comet could approach a dog calmly.
The next challenge came in the kitchen, where Comet wanted to serve as sous-chef and taste tester. And it wasn't just grabbing food from the counter. "He was so brazen that he would try to take the food off my plate while I was eating," says Mike. "He slowly and grudgingly started to accept the idea that his food would be delivered only in one place — his bowl."
Eating together but separately, Comet got the idea of whose food belonged to whom, and soon started to give up on begging. He was adapting and learning how to live in a home with people.
On a trip to the dog park, Mike saw how Comet was consumed by his own exuberance when he ran around for two hours straight until exhaustion set in. Once home, he fell asleep snoring on Mike's lap. That moment was a turning point. "I knew he was finally a happy dog and we started to bond," Mike says.
Mike came to know Comet as an oversized lap dog with a funny personality who loved to be held and hugged. He would lean all his weight on Mike or tap his chest to signal that he wanted to go outside. Their bond grew quickly and the family considered adopting him outright. But the timing just wasn't right.
Comet gets adopted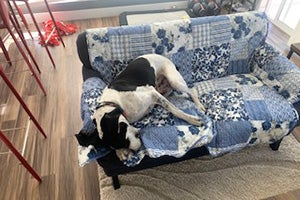 Comet wouldn't be staying with Mike, but it turns out that he did settle into a new home less than two weeks from the day he left the county shelter. That's because David Goodin was about to become a first-time dog parent after spotting Comet on the Best Friends website. The stay-at-home mandate offered the perfect time to help a dog transition to his home. "I felt that with my schedule being generally pretty free, Comet would have more than enough time for physical activity and nurturing, loving, and mental stimulation," says David.
David and Mike held a virtual meet-and-greet, now a standard process while shelters are closed. Instantly taken with Comet, David says: "He's really just a handsome dog. He has the cutest white spots over his eyes that look like expressive eyebrows."
Mike helped David make an informed decision by sharing his own experiences with the dog. David was up to the challenge and equally eager to get to know Comet's endearing side. So they arranged for Mike to drop off Comet at the center and David could pick him up.
From kennel to camping: a permanent change of station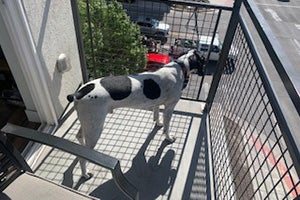 Even with Mike's input, David couldn't have anticipated Comet's raw energy level until the two actually met. But so far, the duo is getting along beautifully. Comet's daily routine includes multiple walks for about two miles and playing fetch. Comet engages in a "wild fit" after his post-dinner walk when he jumps from couch to couch barking.
David's apartment has a balcony where Comet loves to watch the pedestrian traffic below. "He has quite the bark and is vociferous at any dogs he sees," says David.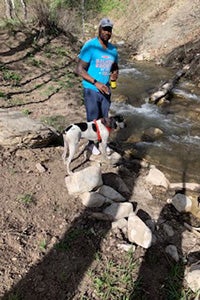 Since Comet gets anxious when left alone, David quickly learned to limit being away to short periods so that Comet would understand that he'd be back and everything would be OK. David plans to keep training Comet and to spend lots of recreational time with him. In fact, Comet has already gone camping twice. "He really enjoys exploring and digging holes," says David.
The right match always means finding a dog with an energy level that meets the adopter's lifestyle. David's active life outdoors offers them both the opportunity to thrive together. To those on the fence about adoption, David recommends doing research ahead of time, especially if the potential adopter is a first-time dog owner.
"Be prepared for a lot of work potentially as it can be stressful, yet highly rewarding," he says. "The value in doing something good in the world can never be understated, and you'll gain a great friend!"
Foster a shelter pet in need near you
Best Friends in Utah works collaboratively with animal rescue groups, city shelters and passionate individuals, all dedicated to the mission of making Utah a no-kill state. As part of this mission, Best Friends hosts adoption and fundraising events, runs the Best Friends Lifesaving Center in Salt Lake City, operates a spay/neuter clinic and leads the No-Kill Utah (NKUT) initiative. Together, we will Save Them All.
Photos courtesy of Mike Foster and David Goodin