Housing for cats with FeLV discordance
Image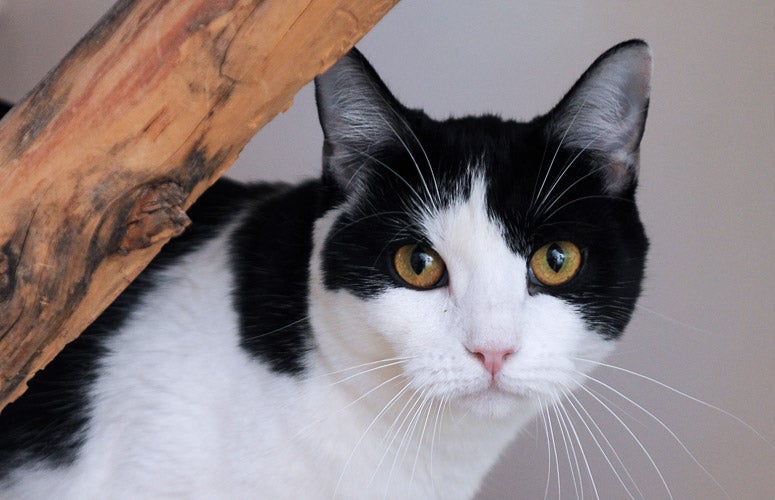 The Sanctuary has a new suite for FeLV discordant cats. These cats test positive on one test and negative on another for the feline leukemia virus.
By  Christelle L. Del Prete
There's a snazzy new suite for discordant cats in Cat World Headquarters. To understand why this is exciting (and important), you first have to know a thing or two about discordant cats and why they need to be housed separately from the other cats in Cat World.
Feline leukemia (FeLV) is a virus that attacks a cat's immune system. If a cat is unable to fight off the virus, he or she is vulnerable to secondary conditions or infections, such as gum disease, upper respiratory infections, and lymphoma. Because FeLV is a "social disease" (it is easily spread from one cat to another through close physical contact), FeLV-positive cats must be kept separate from those who don't have the virus in order to avoid infecting them.
FeLV discordant 'in-between' cats
But discordant cats don't fall into either category; they are in-betweens because they test positive for FeLV on one test and negative on another. Usually, they test positive on the SNAP test (which tests for the virus in the blood stream), and negative on the IFA test (which tests for the virus in the bone marrow). Though the SNAP test results can be read right at the clinic, and the IFA test results must go through a laboratory, both of these tests are antigen tests, which means that they detect the presence of proteins from the virus.
Once a cat is deemed discordant, housing becomes a bit of a dilemma. Most Cat World residents live in community rooms of up to 20 cats. If a discordant cat actually does have FeLV, he or she would put all the other cats in the room at risk. On the other hand, placing a discordant cat with one who clearly tests positive places the discordant cat at risk if he or she really doesn't have the disease.
Of course, discordant cats can be housed individually, though that is difficult to do within the space limitations in Cat World. Instead, they are kept with other discordant cats to reduce the risk to the general Cat World population as much as possible. Originally, the room set aside for this purpose was small and lacked a cattery. However, as soon as two larger, adjoining rooms became available, caregivers opened them up and installed Plexiglas on the walls of the cattery to protect the (FeLV negative) cats using the neighboring cattery. And then it was time for four Cat World residents to move into their posh new digs.
Read a story about a super senior FeLV cat.
The FeLV suite mates
Diamond is the youngest and the spunkiest of the suite mates. A true kitten, she provides plenty of amusement for her caregivers. Recently, she decided to rearrange the silverware drawer in the kitchen - and to leave a trail of spoons in the hallway so that her caregivers would notice her good work.
Chloe Girl, Diamond's suite mate, may not have kicked the FeLV virus yet, but she is already a true survivor. She was rescued from Hurricane Katrina and then subsequently survived cancer after having all of her mammary glands removed. She's a little shy around people, but she's come a long way from the rafter cat she was when she first arrived at Best Friends.
The room's two other residents are Pebbles, a pretty black-and-white cat who came to Best Friends when the property her rescue organization was renting changed hands, and Seth, a handsome buff tabby who came from a hoarding situation.
So far, the four are getting along just fine, though it's not clear how long they'll be living together. Their caregivers are hoping that their bodies will fight off the virus and that they'll have negative results on their next tests. So, the length of their stay in the discordant suite all depends on the results of their future FeLV tests.
For more information about FeLV, click here.
Read about a cat named Phanty who tested positive to FeLV and what happened to him because of that.
Photos by Best Friends staff