How a dog and cat rescued after Hurricane Katrina changed their families' lives
Baxter the cat and Larry, a big black dog, recently passed away, but not before filling their homes with joy and love.
By Nicole Hamilton
Baxter the cat and Larry, a big black dog have a lot in common. They both lost their homes during Hurricane Katrina, then got help from Best Friends volunteers who adopted them. Then, for almost 17 years, they filled their homes with comfort, laughter and love.
As animal lovers, we honor our pets' lives, both while they're with us after they are gone. That's why at Best Friends we've been celebrating Pet Memorial Day all month long, and why we have places like Angels Rest and Angels Overlook, where cherished pets are remembered.
In the following, the families of Baxter and Larry honor them by sharing more about how they met their special pets and what they mean to them, now and forever.
Cat loses home, helps adopter find direction
When Lisa Moretti's time volunteering with Best Friends after Hurricane Katrina in Tylertown, Mississippi, came to an end, she left knowing that she helped make a difference in the lives of people and pets affected by the storm and its aftermath. But it was Baxter who made a difference in her life.
"Baxter turned my world around," Lisa says. "We had a couple of good years to bond, as I was a bit lost, wondering what to do with myself after being a professional wrestler for WWE (World Wrestling Entertainment)." Her experiences volunteering led her to a life in animal care and to adopting another cat, Rio, who came from another Best Friends emergency response case.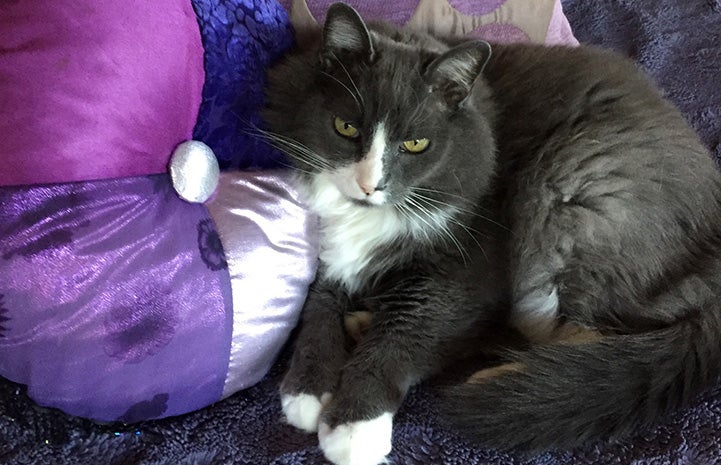 Lisa's hurricane survivor and feline friend was both caring and confident. "Baxter was the lead cat in the household of four others and a big dog," she says. "He ruled with wisdom and confidence."
Baxter had a big life filled with road trips, ladder climbing (one of his special skills) and even baths and blowouts, which he liked.
Losing Baxter recently was hard on Lisa, who feels the loss every day. "He snuggled and purred me to sleep every night," she says, adding that her bed is no longer cozy without him.
Baxter was a courageous survivor who was there when she needed him the most, and then for years after that. "We were both lost and we found a wonderful life together," she says.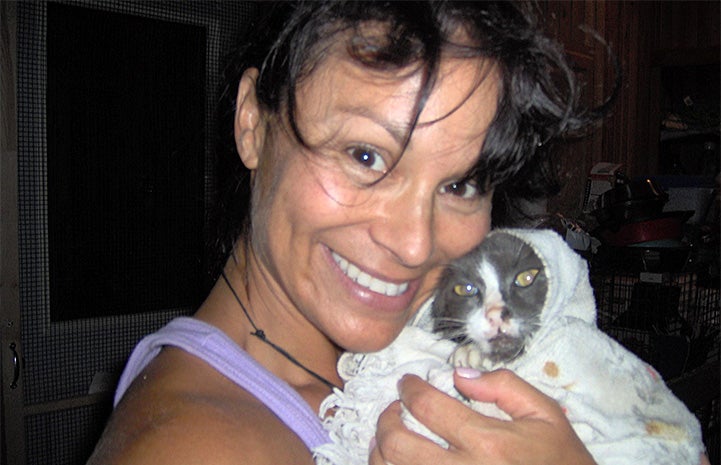 Transport volunteers drive dog home (their home, that is)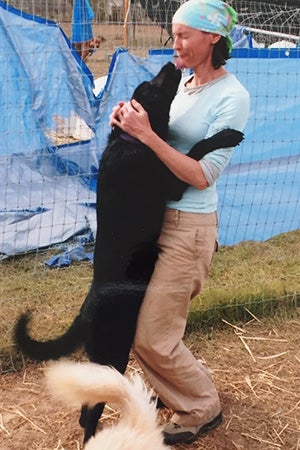 Rick Jones and Donna Hampton (like Lisa) volunteered with Best Friends in Tylertown  after following Katrina in 2005. In addition to caring for the many animals temporarily sheltered there, they also helped by transporting pets to new, loving homes or reuniting them with families they were separated from during the storm.
"None of those reunions left us with dry eyes and (they) will always bring us such gratitude to Best Friends and to all the dedicated volunteers who helped to make those reunions possible," says Donna.
It was while they volunteered in Tylertown that they met and fell in love with a lanky, playful, goofy, young, big black dog. They named him Larry, and since they couldn't find his family, they ended up transporting him, too, to their home when their time volunteering in Tylertown came to an end.
For nearly 17 years, Larry brought so much love and companionship to Rick and Donna, as well as his canine companions Lilly and Fred, and feline friend, Bella. Together, they hiked trails throughout North Carolina and Virginia, ambled along the beaches of their beloved Ocracoke Island, and logged thousands of miles walking in their neighborhood.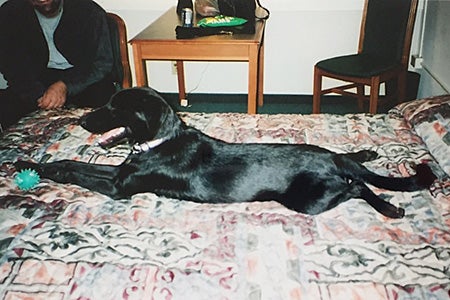 Larry's unassuming and gentle demeanor enabled him to make friends everywhere he went — from coffee shops and stores to breweries and wineries, to concerts and festivals. He absolutely loved riding with his head out the window, sniffing all the smells.
After losing his dog brother and sister, he later welcomed two more adopted canine siblings into his home, Grace Jones and Henry.
Quite the handsome pup, Larry was featured in Dogs of Winston-Salem, a beautiful coffee table book created by a philanthropic photographer to benefit a local canine rescue group.
Recently, Larry passed away, but his legacy of steadfast love remains. Rick and Donna are still passionately committed to helping the U.S. reach no-kill. Their commitment is due in part to the big black dog who lost his home during Hurricane Katrina, only to end up in another home where he gave and was given so much love.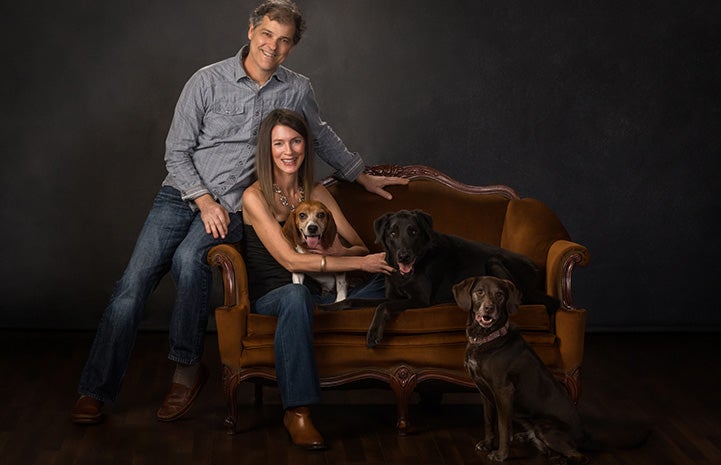 Honor a special pet who has touched your life
You're invited to attend a special memorial blessing at Angels Landing at Best Friends Animal Sanctuary this Thursday, September 30 at 5:30 p.m. Mountain time. Can't make it to Kanab? Join us from your home instead, via steaming on YouTube and Facebook. Participants can register to attend, and in the meantime enjoy this amazing video tour of Angels Rest, guided by co-founder Faith Maloney.
Read more
Foster mom's dedication helps puppies beat parvo and thrive
Senior dog finds calling as kitten dad
Meet four champions for pets in Northwest Arkansas
Photos courtesy of Donna Hampton and Lisa Moretti