How to keep a senior dog happy
Senior boxer dog receives medications, supplements and spa treatments (laser, hydrotherapy, acupuncture and chiropractic sessions) to feel his best.
By Christelle L. Del Prete
What's life like at the Sanctuary for a dog who's called Dogtown home for many years? For Romo, a 12-year-old boxer mix with some behavioral challenges and a long medical history, it's a balance of specialized care and lots of time spent doing the things he loves with people who love him.
Since Romo's made a lot of friends over the years, he has a group of Best Friends caregivers, vets and volunteers who rally around him to make sure he stays happy and comfortable. That means a long list of therapeutic treatments, but the smile on Romo's face makes it all worthwhile.
Laser treatments, hydrotherapy, acupuncture, chiropractic for dogs
Romo is no longer a pup, and over the years arthritis has set in to his legs. Luckily, there are plenty of treatment options for Sanctuary dogs like him. Besides medications and supplements, he receives a medley of spa-like treatments that include laser treatments, hydrotherapy, acupuncture and chiropractic sessions.
Romo's been a good sport about all of it, and it's one of his qualities that make him a favorite with those who take care of him. He particularly enjoys hydrotherapy and loves holding one of his toys during the whole treatment. He would rather hold his toy than be rewarded with treats for walking on the treadmill in the hydro tank. ​And if he doesn't have his toy? "He voices his opinion the whole time," says Best Friends rehabilitation tech Jami Arraj, one of Romo's good friends. "He's a good dog and always the first one to greet me when I go over to Dogtown."
All of the physical support for Romo allows him to focus on enjoying his golden years, rather than sitting them out. And getting out and about is a big part of his life, too.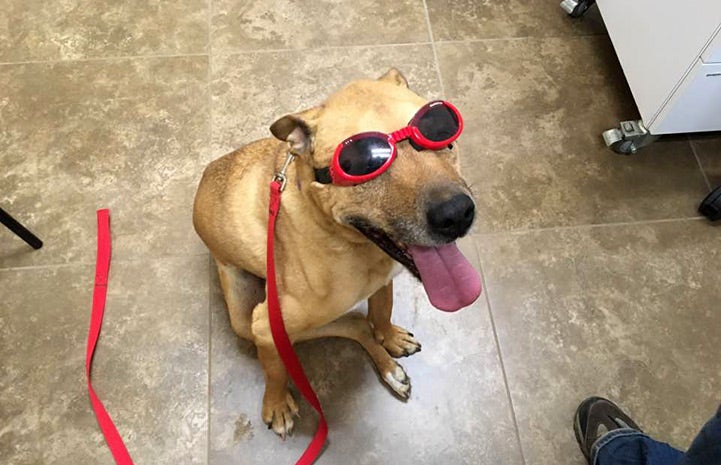 Sleepovers make sweet senior smile
Dogtown volunteers Kim and Mark Spragg have hosted Romo on sleepovers where he's the center of attention, which leads to a great time for all three of them.
On a recent sleepover, Romo showered them with affection and kisses, and liked to hang out on the floor in whatever room they were in, lying right next to Kim or Mark so that he wouldn't miss out on any scratches or ear rubs. He also demonstrated another one of his favorite pastimes ― quickly and efficiently disabling the squeaker in as many toys as possible. His silly antics make the Spraggs laugh, but it's his softness and happiness that wins them over every time.
"When I picture Romo in my mind, I see his soft, happy brown eyes and his smile. He's a love, and we enjoy hosting him for sleepovers," says Kim.

Romo makes a great office mate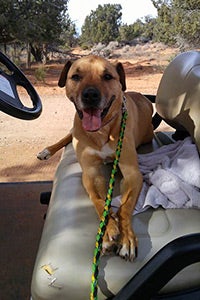 When he's not on a sleepover or having one of his various therapeutic treatments, Romo can often be found hanging out in Dogtown headquarters. He shares an office with Dogtown team lead Tierney Sain, who says Romo loves his office days and is a great office mate.
"If there are fluffy toys, he immediately grabs them and walks around showing them off. Then he makes his way to a comfy bed and plops down for a nap. He is a wonderful dog to share the office with," says Tierney.
Since long walks are hard for Romo, he rides in the golf cart to get to where he needs to go (including to Tierney's office). "It's fairly easy for him to climb on and off (the cart)," she says. "He loves the golf cart, and he lies down on the seat next to you and enjoys cuddles."
A beloved inspiration
Although Romo's had a bumpy road physically and some behavioral challenges that he'll likely always have, he's always persevered, impressing all who know him with his happy, can-do spirit. "He's an inspiration," says Best Friends vet Dr. Chris Hansen.  
Whether Romo finds a loving home of his own or he spends the rest of his days at the Sanctuary, he'll always be a beloved member of the Dogtown family and of an extended family of Sanctuary volunteers whose hearts he's won over the years.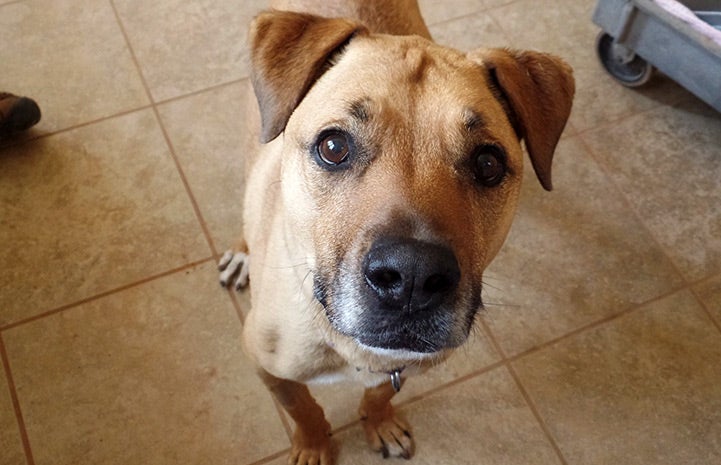 Photos courtesy of Layne Dicker, Mark and Kim Spragg, Tierney Sain and Judie Chudy