Hurricane aftermath
Image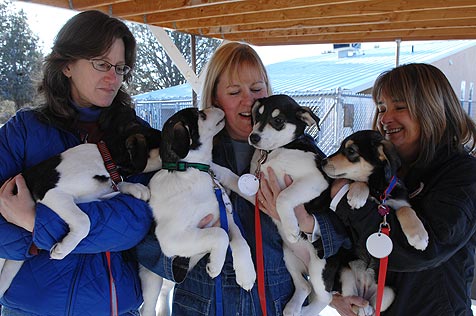 Volunteers from the Katrina floods reunite at Best Friends.
By Best Friends Animal Society
They decided to fly with Southwest for a reason. You see, Southwest doesn't allow animals on their planes, but this time, there was one advantage to that. These three friends from upstate New York knew they might be tempted otherwise to bring back a couple new members of the family from their recent visit to the sanctuary! Brenda Cromwell, Wendy Castleman, and Sue Mahoney recently volunteered at Best Friends. They've volunteered many times before, including during Best Friends' Hurricane Katrina and Middle East rescues. In fact, Sue met Brenda and Wendy at the Katrina rescue. For all three, Hurricane Katrina was a turning point in their lives. Wendy and Brenda were already doing rescue at their local county shelter before the hurricane hit. After volunteering in the aftermath of Hurricane Katrina, however, they brought back a whole new bag of tricks for their rescue work. One of the tricks was allowing the dogs to play in groups. Before, the dogs had always stayed solo. One major problem with that sort of structure always came up in the adoption inquiries. People would ask if a certain dog could get along with other dogs and they never knew the answer. Now, they can always give an accurate answer. And if they find a dog doesn't like playing with other dogs very much, they can now work on the problem.Sue Mahoney made an even bigger change after Hurricane Katrina. She decided to start her own rescue. Though Sue lives in upstate New York, she pulls most of her animals from Ohio. There's a huge need in Ohio for animal rescue and Sue wanted to help out. Volunteers take turns driving animals 15 hours from the Ohio shelters to Sue's house in New York. Once at Sue's, they go into various foster homes and then finally find families. The three friends all love coming to Best Friends for more ideas. This time, they visited the cats from the Pahrump rescue and took some video of how to work with shy cats to socialize them. Brenda and Wendy have shy cats at their shelter back home. They'll take the footage back and use it to teach others about the techniques from the Best Friends Feline Finishing School. All of these tricks seem to be working. When Wendy and Brenda started volunteering at their local shelter, the euthanasia rate was around 60 percent. Now it's down to about 4 percent. Wow! During their visit, they also spent every morning at the Best Friends puppy class. Sue often takes in pregnant dogs and then raises the puppies at her rescue. Guess what? Her puppies have a reputation for being the best socialized in the area. Now she has even more ideas for what works and what doesn't. How's that for putting knowledge to good use?
Story by David Dickson

Photo by: Gary KalpakoffTo learn how to volunteer at Best Friends, please see
Visiting Best Friends
.